Posted on
Wed, Apr 20, 2011 : 10:59 a.m.
Some memorable moments from Iggy & the Stooges concert at the Michigan Theater
By AnnArbor.com Staff
With the ears still ringing from Tuesday night's Iggy and the Stooges concert at the Michigan Theater—a tribute to the band's original guitarist, the late Ron Asheton—here are some stray memorable moments on the morning after:
• Steve Mackay's tender saxophone solo as security tried to clear the stage after dancers took it over the first time was a the musical highlight. Mackay, who continues to play in his own free-jazz collective, hit just the right whiskery tone to bring some calm to a frenzied scene.
&bull, Late in the show, as Iggy Pop reflected on Asheton and his talent, he characterized Ann Arbor as a "great, weird little town."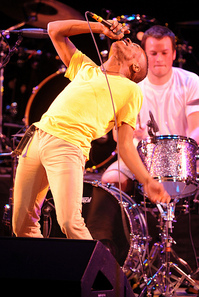 Melanie Maxwell | AnnArbor.com
• Special mention to the Space Age Toasters, the local punk band who got the opening slot on Tuesday's bill. It's clear the future of punk is in good hands. And they can always say they got to open for Iggy and the Stooges. How cool is that?
• Although some of his stage moves may be choreographed these days, that certainly wasn't the case with the face-first fall that Iggy Pop took after he became tangled in Deniz Tek's guitar cable. Pop appeared momentarily dazed and stayed down for several moments although, no stranger to such incidents during his career, he didn't miss a single phrase of the song.
• It was a little tentative and he didn't get very far, but it's encouraging to see Iggy still crowd surfing after all these years.
• Ron Asheton wasn't the first Stooge to pass away. And in all fitting the remembrances to Asheton on Tuesday, no one mentioned original bassist Dave Alexander, who died in 1974, after leaving the band. So it was nice to see a young man — someone who certainly wasn't yet born when Alexander died — in the crowd wearing a T-shirt with Alexander's likeness.
• The first of several times that Iggy called for the house lights to be brought up, he gazed out at the crowd and said "Nice to see you" ... and it seemed quite sincere.
— by Will Stewart, Bob Needham and Roger LeLievre
What's your memorable moment? Let us know by posting a comment below: