Posted on
Wed, Jun 5, 2013 : 5:57 a.m.
Jay Farrar talks about Son Volt's latest musical explorations ahead of sold-out Ark show
By Kevin Ransom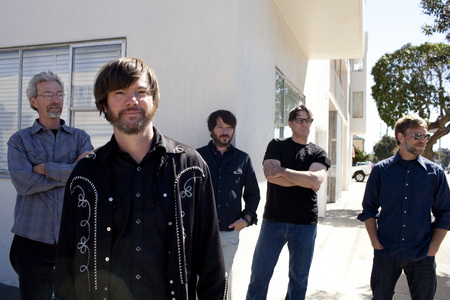 It's a given that, ever since its inception, almost 20 years ago,
Son Volt
has been one of the most important and influential bands on the alt-country scene.
And it certainly has a righteous pedigree. The group's founder / frontman / songwriter Jay Farrar spent several years in Uncle Tupelo, a pioneering ensemble that was the most influential band in the early-1990s alt-country movement—before forming Son Volt when Tupelo fractured in 1994. That split was due to longstanding creative differences between co-leaders (and longtime friends) Farrar and Jeff Tweedy, who went on to form Wilco.
And ever since Son Volt's 1995 debut album, "Trace," the group has been mingling hard-country twang, gritty roots-rock and spare, wistful acoustic-folk, in heady, inspired fashion, with the proportions always in flux.
And on the band's last two albums, "American Central Dust" in 2009 and the current "Honky Tonk," they've gone in a decidedly acoustic direction. "There's always been that duality in Son Volt's music," says Farrar, who brings his band to The Ark for a sold-out show on Sunday. "At times, it's been more electric, at times it's been more acoustic, but these last couple of albums, we've just been drawn to the acoustic side. Our music has always been on that kind of continuum, and lately, we've just been wanting to get back to that acoustic sound."
And this time out, part of the lure was that Farrar also found himself drawn to the Bakersfield honky-tonk tradition—a rich one that includes giants like Merle Haggard and Buck Owens. That, in turn, was inspired by his having taken up the pedal-steel guitar and occasionally gigging around his St. Louis hometown in a local band dubbed Colonel Ford (which includes a couple more members of Son Volt and which will open Sunday's show).
"I've always loved steel guitar, and for the previous 5 years, I'd been taking a lap-steel out on the road. So, that evolved into an interest in pedal steel, which is much more complex than the lap steel - you can get a wider variety of sounds out of it, and it has all of these different tuning combinations, and it's an incredibly expressive instrument," says Farrar during a recent phone interview from the road. And, once he got deeper into playing the pedal-steel, it was only a matter of time before he got tugged in the honky-tonk direction—which didn't really require much of a leap, given how much Son Volt has always drawn on various country-music sub-genres.
PREVIEW
Son Volt
Who: One of the most important and influential alt-country bands of the last 20 years. With Colonel Ford.
What: A mix of country twang, gritty roots-rock and spare, melancholy acoustic folk.
Where: The Ark, 316 S. Main St., Ann Arbor.
When: Sunday, June 9, 7:30 p.m.
How much: Sold out. More info: 734-761-1451.
And he'd also began hearing the twin-fiddle sound—another signature of Bakersfield honky-tonk music—in his head. "Yeah, at some point, I just knew I wanted to make a record that had twin fiddles and pedal steel, and pay homage to that great honky-tonk scene of the 1950s and early '60s.There's just something about two fiddles playing together that I've always loved," says Farrar.
"If you listen to performances from the Grand Ole Opry from the old days, you can hear other fiddle players joining in with the featured band, and it's just such a transcendent sound, to hear them layered like that, with them playing the same notes, but at a different pitch."
But as much as he loves classic honky-tonk, Farrar also wanted the songs to sound contemporary: "We didn't want to feel limited by the parameters of that period. We didn't want to do a nostalgia thing." Plus, Farrar has always been keen to strike a balance, in Son Volt's music, between the immediacy of a live, rootsy sound and a bit of in-studio polish. "I like our music best when we start out playing live, in the studio, because I love that live energy, and that's when exciting things happen, when you're playing off of each other," he says. "But then after we've recorded the tracks live like that, we like to go back and add a few things, maybe a bit of polish here, or some different effects there."
To that end, several of the songs have generous amounts of echo or distortion. And the song "Hearts and Minds" also incorporates a double-time Cajun-waltz feel into the mix, and "Down the Highway" is also infused with Irish-folk-rock elements, while "Livin' On" was inspired in part by soul music. "Yeah, we were thinking of Solomon Burke or Otis Redding on that one, but I also wanted to get some distorted harmonica in there. That's something Bob Dylan does a lot when he plays live—runs the harmonica through an amp, to get that dissonant sound."
Of course, most of the great country / honky-tonk songs have been about heartache, lost love and hard times. So, starting with "American Central Dust," Farrar had to overcome his previous aversion to writing about love, or even using the words "love" and "heart" in his new songs. "Those subjects have obviously been written about forever in pop and rock and country songs, with good reason, because they're so universal—a lot of great writers have written great songs about it, but I often found my songs going in a different direction, and I always sort of resisted using that language," says Farrar.
"But, I knew that if I was going to make this kind of record, I would have to embrace the lexicon of country music, and write songs that touch on heartbreak and loss." And on "Honky Tonk" he does a fine job of plumbing that rich emotional vein. The pensive "Brick Walls" and "Barricades" for example, are poignant renderings of heartache, but also convey the need to move forward, and heal. "No wage can buy what the world never wanted," Farrar sings, in his signature melancholy fashion. "Hearts press on anyway, undaunted."
And on the perfectly titled "Bakersfield," Farrar conjures Haggard when he sings about the "sound of heartbreak from a jail cell" and the bars where "hell breaks loose on Saturday night." Farrarr also wrote a book that was released at the same time as "Honky Tonk," in March. Titled "Falling Cars and Junkyard Dogs," it also features Farrar's own black-and-white photographs.
"Yeah, that was a new endeavor for me—I'd never written anything but songs and postcards," says Farrar wryly. "But I did feel a natural inclination to want to write in other forms. It's a combination of essays about music, plus some of my own impressions of real-life events, and short-story-like vignettes, that are related to growing up, and to my early forays into music, and to a lot of the great, inspirational characters I met when I was coming up and starting to play music."
In the book, Farrar also writes about his falling-out with Tweedy, but without referring to him by name—instead, he refers to Tweedy as "the bass player" in the book.
"We've conversed a few times over the years," Farrar recently remarked to the Wall Street Journal. "But I haven't spoken with him in a while. We travel in different circles."
Kevin Ransom, a freelance writer who covers music for AnnArbor.com, first wrote about Son Volt in 1995, for Guitar Player magazine. He can be reached at KevinRansom10@aol.com.