Posted on
Wed, Apr 11, 2012 : 8:50 a.m.
Sonic Inertia concert at Kerrytown Concert House to showcase local composer
By Susan Isaacs Nisbett
This article was amended to accurately establish the author of the show's program notes.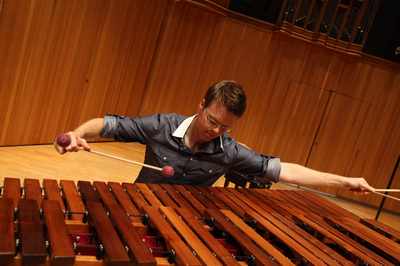 The collaborative percussion ensemble coming to Kerrytown Concert House Sunday evening bears the moniker
"Sonic Inertia."
But there's nothing lifeless about this group, led by nationally known percussionist
Matthew Coley
, starting with the group's initial work with dancers and choreographers and continuing with the two vibrant pieces by local composer Steven Simpson that are featured on the 7:30 p.m. KCH bill.
The program also includes pieces by composers like Xenakis, Berkhout and Stankovych. Simpson, now in his mid-40s, hails from Maryland, but he's "local" by virtue of a doctor of music degree from the University of Michigan in 2003. He's continued to make Ann Arbor home since then, composing, teaching privately and working at the U-M.
His compositions range from large orchestral works to small chamber works, and his music has been performed by various groups and individuals throughout the United States, including the Cleveland Chamber Orchestra, the Carolina Pops Orchestra, the University of Michigan Symphony Orchestra, and the new music ensemble Relaché. He was also the first-prize winner in the 2010 Classical Lounge Competition for Orchestra and garnered the 14th Annual Bowling Green New Music Festival Award, among others.
In 2011, his marimba quartet, "Radioactive Octopus" won second prize in the 38th Percussive Arts Society's contest. "Once I got that, I had lots of performances, " Simpson said. I had people contacting me, and I have a lot more performances coming up of 'Octopus.'"
PREVIEW
Matthew Coley and Sonic Inertia
Who: Percussion ensemble.
What: Compositions by local composer Steven Simpson, and other works.
Where: Kerrytown Concert House, 415 N. Fourth Ave.
When: Sunday, 7:30 p.m.
How much: $15 general admission, $10 students. Reservations available at kerrytownconcerthouse.com or 734-769-2999.
That includes Sunday's show with Coley.
"Radioactive Octopus'' was inspired by the earthquake and subsequent nuclear disaster in Japan in March 2011. Simpson says, in program notes, that he visualized the octopus moving through dangerous waters to safety.
"Each player represents two of the tentacles of the octopus, and a visual movement of the octopus is portrayed through imitation of musical lines," he wrote. "Additionally, changing textures, harmonic shifts, and sudden dynamic contrast portray the uncertain movements of the ocean environment."
Simpson describes himself as being "fond of percussion, quite a bit," and Sonic Inertia's show includes another of his percussion-focused works, "Flow," for cello and marimba. It's from 2010, but Sunday marks its premiere.
"It hasn't had a performance yet," said Simpson, who describes the work as "musically modal" and "very melodic." "There's a lot of interaction between the instruments, a lot of counterpoint and dialog."