Posted on
Fri, May 10, 2013 : 8:30 a.m.
Complete 2013 Sonic Lunch lineup announced
By Jenn McKee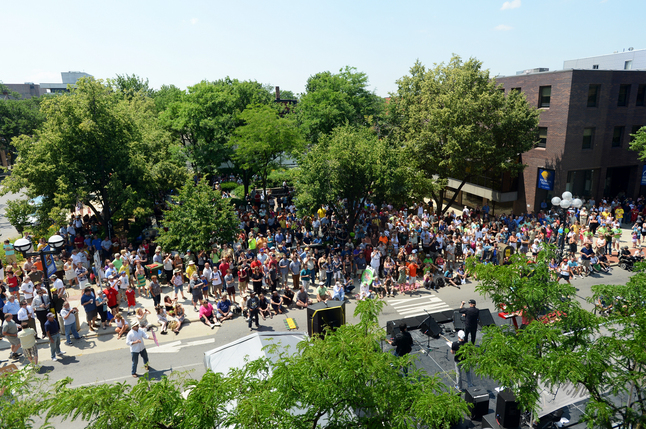 Melanie Maxwell | AnnArbor.com
Another sure sign that summer is fast approaching in Ann Arbor is the return of Sonic Lunch - a free, hugely popular outdoor concert series that happens downtown at Liberty Plaza (unless otherwise noted) on Thursdays - and this year's lineup was just announced. (AnnArbor.com previously reported that Martha Reeves and the Vandellas, and "Glee" star and U-M grad Darren Criss, would be first-up on Sonic Lunch's roster.)
This year's series kicks off June 6, and concludes August 29, with shows running from noon to 1:30 p.m. (Shows with a special guest, abbreviated as "w/s/g," start at 11:30 a.m.) Without further ado, here's SL's 2013 lineup:
6/06 Martha Reeves & The Vandellas
6/13 Darren Criss w/s/g Theo Katzman (at the Michigan Theater)
6/20 Family of the Year
6/27 Dale Earnhardt Jr. Jr.
7/11 Luke Winslow-King
7/25 Brett Dennen w/s/g Dan Henig
8/01 The Ragbirds
8/08 Laith Al-Saadi
8/15 Greensky Bluegrass
8/22 Kopecky Family Band w/s/g Kate Peterson
8/29 George Bedard & The Kingpins

"When I gathered our team in early 2008 to create Sonic Lunch, we had a vision for a free summer-long lunchtime concert series to enliven a downtown city park, showcase local musical talent, and further support the arts and culture of this community," said Tim Marshall, President and CEO of Bank of Ann Arbor, in a press release. "Each year we spend a lot of time in the planning process to make sure we are delivering a very appealing and well-rounded concert series. This year, our sixth, has all the makings to be one of the most exciting yet. From our opener with a Motown legend and Rock and Roll Hall of Fame member, Martha Reeves & the Vandellas, followed by University of Michigan graduate and Glee's Darren Criss, the 2013 Sonic Lunch kicks off with a huge burst of energy. All summer long and as a gift to our community, we're bringing some of the best local, regional and national performers to downtown Ann Arbor for free music in Liberty Park. People really need to block off every Thursday in June, July and August for a Sonic Lunch!"
The press release also contains further details about each act that will be part of Sonic Lunch this year.
June 6: Martha Reeves and the Vandellas
A Detroit Motown Legend who was inducted into the Rock & Roll Hall of Fame in 1995, Martha Reeves and the Vandellas charted over twenty-six hits including "Heat Wave", "Nowhere to Run", "Jimmy Mack" and "Dancing in the Street". Rolling Stone magazine ranked Martha and the Vandellas #96 on their list of the 100 greatest artists of all time. Founded in 1960 by friends Annette Beard, Rosalind Ashford and Gloria Williams, the band eventually included Martha Reeves, who moved up in ranks as lead vocalist of the group after Williams' departure in 1962. The group signed with and eventually recorded all of their singles for Motown's Gordy imprint. Martha just completed a four-year run as a member of the Detroit City Council. She is back on the road full time, making sure that no one ever forgets the Motor City.

June 13: Darren Criss
Darren Criss, a graduate of University of Michigan, is a passionate actor/musician/songwriter who has—in the course of one year—gone from YouTube sensation to a 4-time Billboard charting musician and composer to joining the cast of FOX's Emmy Award-winning series Glee. Criss' breakout performance of Katy Perry's "Teenage Dream" in his first episode set a milestone for Glee, debuting at #1 on Billboard for the first time in the show's history and selling over 500,000 tracks in its first week. Quickly emerging as one the most promising actors and musicians of his generation, Criss made his television debut in 2009 as Josh Burton on ABC's "Eastwick", with Rebecca Romijn, Lindsay Price and Jaime Ray Newman, and also appeared in CBS' "Cold Case".

In his senior year at University of Michigan, Criss and his friends created a Harry Potter musical parody entitled, "A Very Potter Musical" as a fun project for their classmates, friends, and other Harry Potter fans. Along with starring as the boy wizard himself, Criss also lent several of his songs to be used in the show. Within weeks of posting the musical online, it became a YouTube hit, garnering 9,000,000 views and the attention of the musical theater world.

June 13 Special Guest: Theo Katzman
Theo Katzman's debut album Romance Without Finance is nine songs of raw emotion with utter sincerity created in the vision of marrying elegance and grit, raw and refined. Theo is a masterful songwriter taking his memories, loved ones, and places in his travels and effortlessly transforming them into melodies with one unified artistic statement. A scholar and multi-instrumentalist from the University of Michigan Music School, Theo played drums, guitar, and the majority of the bass on Romance Without Finance. During his college experience Theo was a classmate of Darren Criss, member of My Dear Disco and performed at numerous national festivals including SXSW. Eventually leaving the band in 2009 to pursue his solo career and become a music educator and mentor teaching drums, guitar and bass in Ann Arbor.

June 20: Family of the Year
Family of the Year ("Family") use melodic male/female vocal harmonies and folk tale-style lyrics to instantly create a dance party with their "feel good summer" sound. In October 2009, Family was handpicked out of 700 artists by Ben Folds and Keith Lockhart to open for Ben and The Boston Pops at Symphony Hall. Shortly after, the band flew west for California shows with Bell X1 before returning east for the CMJ Music Marathon, marking Family of the Year's New York debut. SPIN.com selected the band as one 25 Must-Hear Artists from the 2009 CMJ Festival. Shortly after CMJ, they hit the road with Edward Sharpe and The Magnetic Zeros in support of Family's debut album, Songbook. 2012 was a fantastic year for the Family, with nationwide sold out shows including a stop in August at Lollapalooza.

June 27: Dale Earnhardt Jr. Jr.
Formed in late 2009, Dale Earnhardt Jr. Jr. is the off-kilter title under which Detroit-area natives Joshua Epstein and Daniel Zott record, release and perform electro-indie pop music. In just a few short years, fans have seen the project grow from basement recording project -Â to media curiosity -Â to an international touring ensemble widely recognized for their joy-fueled live offerings. Electronics and tongue-in-cheek NASCAR jumpsuits aside, they are humble and earnest enough to invite the epiphany that this might be like the Simon & Garfunkel of the 22nd century.

July 4: INDEPENDENCE DAY (No Sonic Lunch)

July 11: Luke Winslow-King
It took more than a decade, but Michigan native Luke Winslow-King earned his stripes in the music mecca of New Orleans. In 2001, Winslow-King traveled to New Orleans with other Michigan musicians. His car was stolen, leaving him stranded in the Big Easy. He ended up staying to study the rich music of the city. A dozen years later, the city's scene has fully embraced him. He was recently nominated for Best Male Performer by the Big Easy Music Awards. He's up against "heavy hitters" Dr. John and John Boutte. Winslow-King was raised in Cadillac, Michigan and attended the Interlochen Center for the Arts. He attended Western Michigan University before his 2001 trip to New Orleans and subsequently studied music theory at New Orleans University. Winslow-King busked on the streets, built relationships with other musicians, and worked his way into weekly gigs. In April 2013, Winslow-King released his new studio album, "The Coming Tide," on Chicago's Bloodshot Records, which signed him earlier this year. He deftly mixes his music education with his street picker sentimentality. You hear jazz, Delta blues, folk and hints of gospel. The album also gets a boost from New Orleans-via-Ann Arbor vocalist Esther Rose. Winslow-King anticipates big things ahead. He's already opened for Taj Mahal and Jack White and recently performed at SXSW & the New Orleans Jazz Festival.

July 18: ANN ARBOR ART FAIR (No Sonic Lunch)

July 25: Brett Dennen
Every now and then an artist emerges on the scene as if fully formed. The voice is distinct, immediate in its character. The songs feel like they truly belong to the singer. A level of self-possession animates the performances, delivers them right to your doorstep. Nothing feels forced . . . it just is. There's an aura of inevitability that surrounds the emergence of such artists. Brett Dennen is one of these artists and rightfully so named by Rolling Stone magazine as an "Artist to Watch" for 2008. In 2008 he released Hope for the Hopeless, which debuted at #41 on the Billboard Top 200 and firmly established Dennen as a definitive new voice in modern songwriting. His most recent release in 2011, Loverboy, debuted at #55 on the Billboard chart and the single "Comeback Kid" because an instant radio hit.

He's worked with Femi Kuti, Natalie Merchant, and Jason Mraz. He's toured with Dave Matthews, John Mayer, Sheryl Crow, Rodrigo y Gabriela, and The John Butler Trio. He's played Bonarroo, Austin City Limits, Coachella, Outside Lands, and Newport Folk Festival and now, Sonic Lunch!

July 25 Special Guest Dan Henig
Henig's fluid pop melodies are at once endearing and honest. Lyrically, Henig deftly paints a picture of an often-conflicted interior life. Yet coupled with the EP's upbeat instrumentation - the result is irresistible. Henig's melodies easily commit to memory. His are the type of songs that you'll find yourself humming spontaneously, long after the CD stops playing. With festival appearances at Ann Arbor's Top of the Park, and Midwest tour dates in Chicago, Ohio and Metro Detroit under his belt, Henig is set to bring his accessible sound to as many people who will listen.

August 1: The Ragbirds
Led by dynamic, energetic front woman and multi-instrumentalist Erin Zindle, Ann Arbor's The Ragbirds utilize an arsenal of instruments from around the world. The Ragbirds are a fusion of folk rock and pop hooks over danceable world rhythms stirred with a Celtic fiddler's bow. Surrounding Zindle's earthy-sweet voice is the whirlwind of guitarist T.J. Zindle, dynamic bassist Brian Crist, world-beat grooves of drummer Loren Kranz and percussionist Randall Moore. Zindle skillfully switches between violin, mandolin, banjo, accordion, and percussion, all while dancing around the stage, drawing the awe of audiences across the country. The Ragbirds albums have received local and national praise, hailed "Highly impressive!" by USA Today and touted as "Astounding international eclecticism" by Reveal Arts. The Ragbirds have performed in over 30 states to the tune of more than 150 shows a year, crisscrossing the nation in their diesel bus that was converted to run on recycled waste vegetable oil. The Ragbirds have played at every Sonic Lunch since 2008.

August 8: Laith Al-Saadi
Laith Al-Saadi, a Sonic Lunch favorite since 2008. Laith has been a staple of the Michigan music scene for most of his adult life. Since 2000, Laith Al-Saadi has enjoyed growing success as the Detroit area's premier singer and guitarist. Working relentlessly around town, Al-Saadi generally can be found playing at least 5 nights a week. This determination has led to recent opening slots for artists like Kenny Wayne Shepherd, Leon Russell, Robben Ford, Johnny Winter, Hubert Sumlin, Olu Dara, Ten Years After, Mountain, The Yardbirds and - most notably- BB King at the House of Blues in Chicago (June 8, 2006). In 2006, Al-Saadi was crowned "King of the Blues" for the Northern Region of the United States by Guitar Center. This makes him one of the top 4 Blues guitarists in the Country. In Guitar World magazine (Nov. 2006) Al-Saadi was heralded as sounding like "Danny Gatton and Buddy Guy at their best."

August 15: Greensky Bluegrass
If you are familiar with bluegrass music, then you are tuned in to some of what Michigan's Greensky Bluegrass does. They're known to throw a great party with their amazing songwriting and contagious musicianship, which has prominently placed them as one of the future leaders on the American bluegrass scene. "Greensky Bluegrass is representing the genre for a whole new generation" Rolling Stone magazine. They are unquestionably a team of friends that traverse the country making music they enjoy. This quintet from Kalamazoo, Michigan has been staying up late at national festivals and stopping to play favorite clubs and theaters across America for 11 years. With nearly 175 shows per year, Greensky Bluegrass isn't slowing down. "They're coming to your town to help you party down."

August 22: Kopecky Family Band
"Family" is a word that encompasses a variety of definitions. With that in mind, let this introduction to Nashville's Kopecky Family Band be taken with an open mind and with a grain of salt. This family is connected not by blood or by heritage, but by circumstance. No, this is a family bound by the miles on their odometer and by the songs they have crafted over the years. These six young musicians have created a family through their commitment to each other and to their craft. The Kopecky Family Band - a non-traditional family, at that - is dynamic, and they wield an equally dynamic slew of instruments. Their thoughtful songwriting is supported by a diverse backdrop of sound. And the musical canvas is covered with broad brushstrokes - ranging from clanging tambourines and guitars, booming percussion, intelligent string arrangements, and triumphant horns. These six bandmates - siblings, if you will - swap their musical tools without a second thought, creating an emotive, adventurous, and energetic environment onstage.

August 22 Special Guest: Kate Peterson
Half of the Michigan-based, "pleasantly aggressive folk duo" Nervous but Excited (Kate Peterson & Sarah Cleaver), Kate is now growing artistically as a solo performer and songwriter. With a repertoire of original songs ranging from smart, introspective narratives to tactfully political, interspersed with songs of love and loss that will undoubtedly tug on your heart. You might cry, you'll definitely laugh, but you'll leave feeling that your heart has grown just a little bigger than it was before you arrived.

August 29: George Bedard & The Kingpins
George Bedard has been a seminal figure on the Michigan roots rock scene for more than 30 years with his rockabilly & blues/rock dance party. A member of the Silvertones in the 1970s and Tracy Lee & the Leonards in the 1980s, Bedard has been attracting the attention that his energetic guitar playing and gutsy vocals deserve as leader of his own band, the Kingpins. Goldmine recently called Bedard "one of the best rockabilly pickers on the planet," while Record Roundup wrote "Bedard may not become the next trendy thing, but as far as this kind of music, he's already the next cool thing." The Kingpins, featuring Randy Tessier on bass and Rich Dishman on drums, have developed a reputation as one of Michigan's best bands since their formation in the early 1990s. While other youngsters in the 60's were listening to British Invasion bands and wishing they were on the Ed Sullivan show, a young George Bedard was in his basement teaching himself guitar, playing along with records by blues legends Howlin' Wolf, B. B. King, and Muddy Waters. By the early 70's, Bedard was teaming up with blues harpist/guitarist Steve Nardella to form the Silvertones, one of the finest Ann Arbor, Michigan blues/rockabilly bands of the era. There's not much Bedard can't play extremely well in any of these idioms, his style always informed by taste and economy. Though his solo recordings have been few, George Bedard remains a guitar hero's guitar hero.

About Sonic Lunch
Each week a different area restaurant is on-site selling a Sonic Lunch for concert goers to purchase. Other restaurants offer special discounts for concert-goers to pick up to take to the park.

Sonic Lunch concerts are free and suitable for all ages. Seating is available but lawn chairs are welcome. Sonic Lunch provides a refreshing getaway from the office in a cool urban setting for meeting friends and the opportunity to dance in the streets in the middle of the day for hundreds this summer.

Sonic Lunch is the result of a collaborative effort created and spearheaded by Bank of Ann Arbor. Ann Arbor Radio and their popular morning host on 107one, Martin Bandyke, provide promotional support and host each concert. Perich + Partners, a national advertising agency headquartered in Ann Arbor, contributes the branding and annual design of Sonic Lunch posters, banners, and t-shirts. Fleming Artists participates in the concert series planning. All of these four companies work together to make Bank of Ann Arbor's Sonic Lunch become one of the coolest summer events in Ann Arbor.
Jenn McKee is an entertainment reporter for AnnArbor.com. Reach her at jennmckee@annarbor.com or 734-623-2546, and follow her on Twitter @jennmckee.