Posted on
Thu, Nov 24, 2011 : 7 a.m.
South Lyon East High School took audiences by storm with 'Singin' in the Rain'
By AnnArbor.com Freelance Journalist
This is part of an ongoing series of theater reviews of local high school productions, written by high school students appearing on AnnArbor.com. This week, Skyline High School's Jonathan Jue-Wong (see bio at end of story) reviews South Lyon East High School's production of "Singin' in the Rain."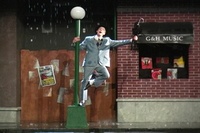 Photo by Jeremy Salo
In Hollywood history, few movie scenes are as classic as the rain-soaked actor
Gene Kelly
swinging around the lamp post in "Singin' in the Rain." These kinds of iconic tableaus, large song-and-dance numbers, and timeless melodies all were elements of South Lyon East High School's recent production of "Singin' in the Rain," directed by
Donna Kupper
.
Set amid the tinsel and glamour of 1927 Hollywood, "Singin' in the Rain" is an old-fashioned Hollywood romance between a dashing film star, Don Lockwood, and an up-and-coming young actress, Kathy Selden. Meanwhile, Lockwood and co-star Lina Lamont's silent film careers are threatened when rival studio Warner Brothers releases the revolutionary and successful first "talkie" film with spoken dialogue. Through the scheming and cleverness of the studio's producer, director, and Lockwood's sidekick Cosmo Brown, the characters are able to save Lockwood's career and set actress Selden on her path to stardom.
Given its original incarnation as a flashy, exciting, landmark 1952 Hollywood musical film, "Singin' in the Rain" calls for effective and strong dance numbers. In South Lyon East's production, various period dance styles—from tap to ballroom, vaudeville to burlesque—were incorporated into the show's many dance numbers. Choreographers Melissa Kupper Rapela and Tina Evans designed highly entertaining choreography. The tap dancing was especially impressive, in musical numbers like "Moses Supposes" and the finale "Singin' in the Rain (reprise)," which featured the synchronized full company tap-dancing in yellow raincoats. The costume design by Jill Stevenson was strictly period and nicely reflected the various characters and their temperaments.
Good choreography must be executed by able and adept performers, and "Singin' in the Rain" featured several of these. The title number, "Singin' In the Rain," was remarkably performed by a beaming Don Lockwood (Noah Bizer), who nimbly danced on the slick surface while turning tricks with his umbrella. Kathy Selden (Renae Bowers) was also a strong dancer, deftly stepping and turning in "All I Do is Dream of You" with an excellent female ensemble.
High-quality dancing demands excellent musical accompaniment, which was supplied by a very solid and capable pit orchestra under the direction of Patrick Heber. Several of the orchestra's members were professional musicians, who skillfully handled the beloved score.
The strongest acting and dialogue in this cast came from the charming character roles. The vivacious Lina Lamont (Helena Baron) was superb as the pretty silent film star with the tinny, nasal voice. Her "What's Wrong with Me?" number was the highlight of the second act, including cheeky and playful choreography along with the strongest vocal energy during the show. R.F. Simpson (Wyatt Clement) was a naive, at-wit's-end studio producer, struggling with the breezy, artistic, over-the-top film director Roscoe Dexter (Greg Jones) to save the studio and salvage its latest movie. Cosmo Brown (Bryce Bizer) had some difficulties delivering his many one-liners with conviction, but as the show progressed his comic delivery and antics greatly improved; his "Make 'Em Laugh" number was quite humorous and energized.
Set designer Al Chapin's sets were elaborate and rich, depicting locations as diverse as Graumann's Chinese Theater, film sets, offices, and of course the famous falling rain set for the title number. In a classic coup taken straight from a Roaring Twenties movie musical, a group of flowery dancers laid on a revolving pedestal while a large mirror was lowered to show the audience the overhead view of the dancers' movements during "Beautiful Girl." However, the heavy and sophisticated sets posed an immense challenge to the running crew, and the show was peppered with several long, black-out scene changes. The short movies in the show, which were central to the plot, were excellently produced and staged. The intentionally glitch-filled preview film of "The Dueling Cavalier" was extremely comical and a delight to the audience.
According to director Donna Kupper, a show like "Singin' in the Rain" was something that South Lyon East High School had never attempted in the past. Said Kupper, "I have tried to give (the students) something different every year. I knew this was a new challenge… especially with the comedy and the dance." Some of the features that attracted Kupper to directing this musical were the special technical elements of the show. Special effects like the rain and the film shorts were things that Kupper wanted to try her hand at; "I wanted to do something very different."
With her strong production team and enthusiastic cast, Kupper likely pleased dozens of long-time "Singin' in the Rain" fans and made more "Singin'" fans out of a new generation of theatergoers.
Jonathan Jue-Wong is a senior at Skyline High School. He is a member of Ann Arbor Civic Theatre and has performed in productions there and elsewhere. Favorite past roles include Monsieur Andre in The Phantom of the Opera (PTG) and Thuy in Miss Saigon (A2CT). Since 2009, he has been a member of the International Thespian Society, Troop #7400. He is interested in theatre and journalism, and is considering a career in those fields.