Posted on
Tue, Nov 29, 2011 : 1:05 p.m.
Ypsilanti extra in new 'Sparkle' movie talks about his experience
By Jenn McKee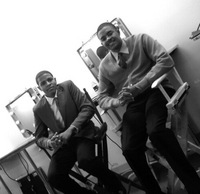 Ypsilanti resident
Damarqio K. Williams
, 18, and three friends recently spent time working as extras on the remake of "Sparkle," filmed in Detroit.
Inspired by The Supremes, the original,1976 movie "Sparkle" starred Lonette McKee, Irene Cara, and Philip Michael Thomas, and told the story of a Harlem-based girl group that rises to fame, only to then fall prey to drugs, violence and disillusionment.
The updated version is set in Detroit during the height of the Motown era, and "American Idol" champion Jordin Sparks stars as the title character. Whitney Houston plays Sparks' mother, and Cee-lo Green plays the group's opening act.
"We went down to Detroit … for a costume fitting for a few scenes, and when we got there, we met the casting director and the director (Salim Akil) of the film," said Williams, a Washtenaw Community College student. "They wanted us to be in 2 different scenes: the church and the discovery club."
The latter is so named because it's where the singing group is discovered, and Williams pretty much had a front-row vantage point, affording him the opportunity to talk to Sparks and Green.
"My impression (of the stars) was that they were very down to earth," said Williams. "They were everyday people, asking us about Michigan and the area. They were just humble, nice people."
The church scene, meanwhile, focused on Sparkle "coming back to her faith, and coming back to whatever you call God, where the mother (Houston) welcomes the daughter back," Williams explained. "She's had a taste of the world, and now she's coming back to the church."
Williams learned about the opportunity to work on "Sparkle" via Twitter. He traveled to Hamtramck for hair and makeup, and then was shuttled to the film sets (Detroit's Music Hall and the Masonic Temple) from there.
Though Williams only worked on the set for two days, he's hoping the experience will lead to more work. "I definitely networked with the ('Sparkle') director," said Williams. "He was talking about doing a sitcom in Detroit, and that he'd be looking for extras. I dropped my name in that conversation to let him know I'd be interested in doing that."
Jenn McKee is the entertainment digital journalist for AnnArbor.com. Reach her at jennmckee@annarbor.com or 734-623-2546, and follow her on Twitter @jennmckee.