Posted on
Thu, Jan 31, 2013 : 1:12 p.m.
Speed date with the Derby Dimes
By Ann Dwyer
WANTED: M or W who would like to spend time with sassy, brassy babes on wheels. Any race or orientation. No creeps.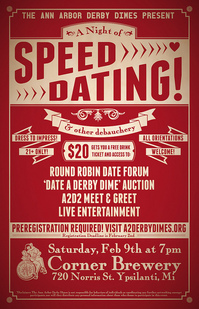 Lonely? But not because you're creepy or anything. Maybe you're new in town, or maybe you just haven't found the right girl yet. You're not looking for anything serious, anyway. Maybe just a cool friend to hang out with. Preferably friends who have cool nicknames that illustrate how tough, yet literate and pop-culturally aware they are.
If that's you, then you need A Night of Speed Dating with the Ann Arbor Derby Dimes at the Corner Brewery. There will be no discrimination on gender or orientation. So whether you're searching for a casual courtship, friendship or an everlasting valentine, it will be fun for all.
There will live entertainment, and you'll get to rub elbow pads one-on-one with the baddest chicks on eight wheels—the Derby Dimes, Ann Arbor's roller derby team.
Saturday, Feb. 9, 2013. 7 p.m. Register by Feb. 2. $20, includes a drink ticket and access to a round robin date forum, 'Date a Derby Dime' auction, A2D2 meet & greet, and live entertainment. The Corner Brewery is at 720 Norris St, Ypsilanti.