Posted on
Thu, Sep 6, 2012 : 11:39 a.m.
Spoken-word artist Saul Williams to appear at the Blind Pig
By Jenn McKee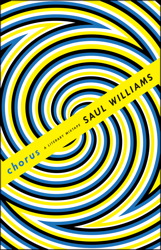 Saul Williams
has created art in so many different forms that it's hard to pigeonhole him simply as a "poet" or "actor" or "musician" or "filmmaker."
But the Newburgh, New York native—whose current spoken-word tour will bring him to The Blind Pig on Sept. 11—first caught people's attention as a charismatic spoken word poet in New York City's then-blossoming poetry slam scene (chronicled in the 1996 documentary "SlamNation"); he also co-wrote and starred in the 1998 feature film "Slam," which earned the Sundance Festival Grand Jury Prize and the Palme d'Or at Cannes.
In addition, his musical endeavors have earned him a place performing with artists like Nas, The Fugees, KRS-One, Erykah Badu and Nine Inch Nails; and his most recent book release, "Chorus: A Literary Mixtape"—co-edited with Dufflyn Lammers and Aja Monet—indicates from the outset that there's a knowing, witty, busy mind at work behind the words: "blah blah hard-hitting / first line. / …Â ask a question/to throw everyone off. / explain the past/in terms acceptable/to the present. / challenge the present / to re-consider / its coping mechanisms. / blame myself in the process."
Perhaps nothing has done more to bring Williams' work to the mainstream, however, than Nike's choice to use his song "List of Demands (Reparations)" for a 2008 commercial, included below.
Canadian television show host George Stroumboulopoulos recently interviewed Williams on a show called, "The Hour," and talked about this commercial and more.
Saul Williams appears at the Blind Pig, 201 S. First St., with doors opening at 9 p.m. Sept. 11. Tickets: $15. Advance tickets available here.
Jenn McKee is the entertainment digital journalist for AnnArbor.com. Reach her at jennmckee@annarbor.com or 734-623-2546, and follow her on Twitter @jennmckee.