Posted on
Tue, May 11, 2010 : 5:15 a.m.
SpokeSongs Bicycle Tour features rides, plus music from Steel Wheels Duo
By Roger LeLievre
Cycling and music are about to mix it up in Ypsilanti.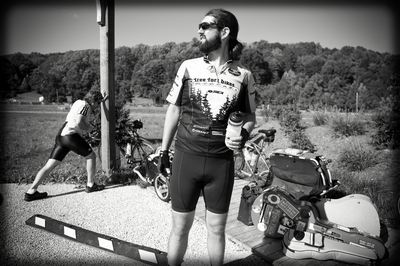 Although the idea of riding a bike to a concert might be considered a little unusual, organizers of the SpokeSongs Bicycle Tour 2010 hope an event this Saturday could convince folks it's an idea whose time has come.
Several organized bike rides that afternoon will start from and return to Savoy (formerly Club Divine) in downtown Ypsilanti. A concert at the club will follow, featuring Americana-style music from The Steel Wheels Duo, with Wayward Roots opening.
The festival will include a day of riding, music, bicycling camaraderie and advocacy, said Alan Barnosky of Ypsilanti's Tree Fort Bikes, which is sponsoring the activity.
"We think that the cross-pollination of bringing together hundreds of cyclists and music enthusiasts will be a great boon for cycling in the local community," Barnosky said. "We're trying to get people out riding and coming to this event by bike just to put forth the idea that it's a lot more fun, efficient and completely accessible to ride bikes to concerts and any other types of situations."
PREVIEW
Who: The Steel Wheels Duo, in conjunction with local cycling groups. Wayward Roots opens. Sponsored by Ypsilanti business Tree Fort Bikes.
What: Several organized bike rides, followed by a concert featuring Americana-style music.
Where: Savoy (formerly Club Divine), 23 North Washington Street, Ypsilanti.
When: Saturday, May 15. Rides will leave from Savoy at 4 p.m. (riders should meet there around 3:30 p.m.). Rain or shine. Doors open at 7 p.m. for the concert.
How much: Concert is $10 (if you ride a bike, $5).
The event will start with several organized rides leaving from The Savoy, including a short and a long road ride as well as a mountain bike ride on a local trail. To help push the belief that it's just simply more fun to make it there by bike, those who ride to The Savoy will receive free staffed bike parking and half-price entry to the event.
The Michigan Mountain Biking Association, The League of Michigan Bicyclists, The Washtenaw Bicycling and Walking Coalition and the Friends of the Border-to-Border Trail are all helping out with the organization of event and will be sharing their mission and literature at booths set up around the venue.
"We're going to have one mountain bike ride that goes out to Rolling Hills Park, there's a new 3-4 mile mountain bike trail there," Barnosky explained. "We've got an organized ride with the Ann Arbor Bicycle Touring Society that's going to be a longer road ride, and Bike Yspi is putting on the Heavy Metal Ride. It's like a scavenger hunt where participants ride around the city trying to find huge chunks of metal on the side of the road, and the people who get the most weight win."
He said when Jay Lapp of The Steel Wheels approached Tree Fort Bikes with the idea of supporting their bicycle tour, they jumped at the idea.
"For one, they make great music and we wanted to support that. But equally we wanted to help promote bicycling in a way that is environmentally positive and provides a good example to aspiring cyclists," Barnosky said.
"If two regular guys can ride through several states on modified bikes while carrying multiple instruments and still meet show deadlines, it makes a 10- or 20-mile commute, or even just getting out and enjoying a ride, a much less daunting task for the rest of us."
Besides Lapp, the other member of the The Steel Wheels Duo is Trent Wagler.
"It's basically Americana," Barnosky said of the band's sound. "For this tour, the 2 main members (which is usually a foursome known as the Steel Wheels) combine to play guitar, banjo and mandolin. They're playing the same kind of songs, the same kind of feeling. It's just a little but stripped down."
The Ypsilanti appearance is the final event on the duo's tour, billed as "7 Shows in 7 days, 3 instruments, 2 bicycles, nearly 300 miles," which was slated to begin with a May 5 show at Circus in Ann Arbor.

Roger LeLievre is a freelance writer who covers music for AnnArbor.com.
Listen to the Steel Wheels album "Red Wing":