Posted on
Sun, Jul 21, 2013 : 1:36 p.m.
'Springsteen & I' coming to Quality 16 and Rave
By Jenn McKee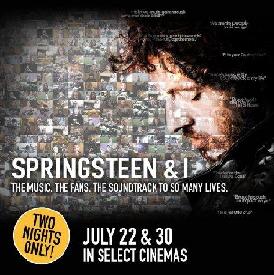 Katrease Stafford | AnnArbor.com
Heads up, Springsteen fans: NCM Fathom Events and Arts Alliance Media will celebrate the rock and roll legend through the eyes of his fans when "Springsteen & I" arrives in theaters nationwide (Quality 16 and Ann Arbor 20, locally) for a special two night event on Monday, July 22 and Tuesday, July 30 at 7:30 p.m.
Full details can be found in the press release:
With more than 120 million albums sold worldwide and numerous awards, including a staggering 20 Grammy Awards, Bruce Springsteen's music defines a generation. In celebration of 40 years of iconic music, NCM Fathom Events and Arts Alliance Media present "Springsteen and I" in select U.S. movie theaters on Monday, July 22 and Tuesday, July 30 at 7:30 p.m. local time. "Springsteen and I" will take audiences on an emotional journey through the personal insights and reflections of their fellow Springsteen fans. Directed by Baillie Walsh and produced by Ridley Scott Associates and Mr. Wolf, "Springsteen and I" incorporates the efforts of more than 2,000 fans around the world who submitted personal video clips to make the ultimate collective filmmaking experience about how Springsteen and his music became the soundtrack to so many lives. Including Springsteen performing some of his greatest hits and exclusive never-before-seen archival concert footage, the cinema event features unreleased big-screen performance highlights from the London Hard Rock Calling Wrecking Ball tour and a behind-the-scenes fan meet-and-greet with their hero.

"This beautifully crafted film provides a unique insight into the powerful bond between a recording artist and those who connect so profoundly with his music," said Ridley Scott.

"Springsteen and I" will be presented in nearly 500 select movie theaters around the country through NCM's exclusive Digital Broadcast Network. Tickets are available at participating theater box offices and online at www.fathomevents.com. For a complete list of theater locations and prices, visit the NCM Fathom Events website (theaters and participants are subject to change).

'Springsteen and I' is totally unique - audiences have never seen Bruce and his influence presented like this before," said Dan Diamond, senior vice president of Business Development for Fathom Events. "This Fathom Event is a rare opportunity for fans to gather together in movie theaters, experience and share their love of all things 'Bruce' - as it was produced by the fans, for the fans."
Jenn McKee is an entertainment reporter for AnnArbor.com. Reach her at jennmckee@annarbor.com or 734-623-2546, and follow her on Twitter @jennmckee.