Posted on
Tue, Feb 2, 2010 : 5:30 a.m.
SPUR Studios supplies demand for studio and practice space, reaches capacity
By Jennifer Eberbach
Ypsilanti's new arts incubator, SPUR Studios, booked up fast.
After leases became available, in July 2009, an eager creative community staked claim to the 30 artist studios and band practice spaces located at the converted manufacturing office building at 800 Lowell. Within the first 2 months, 70 percent of the studios were rented. With only 2 units currently unclaimed, SPUR Studios is close to reaching full capacity, according to founder James Marks.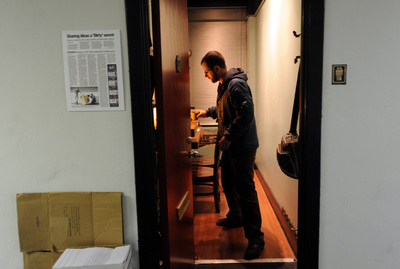 Melanie Maxwell I AnnArbor.com
Marks, who runs SPUR Studios with managers Chris Sandon and Steve Emschwiller, fell for 800 Lowell while he was looking for a new location to house his local merchandising company VGKids. He recognized immediately that the building was inappropriate for VGKids, but he saw potential for transforming the space into affordable studio space for artists, musicians, writers and other creative professionals and serious non-professionals.
"I grew up in the punk and hardcore music scene. I remember being 17 years old, looking up at the stars, having conversations with people about what we were all going to do to change the world. Wouldn't it be great if we could have a space where people could play music or run a zine distribution, and do this and that?" he remembers.
"Growing up how I grew up," deciding to transform 800 Lowell into studio space "was the most obvious thing in the world. Of course that's what you would do with a building," according to Marks.
Sandon and Emschwiller were surprised by how fast the studios were rented, but they agree that "a huge demand for this kind of space already existed" before SPUR Studios opened, Emschwiller says. SPUR is "centrally located and many of the people live blocks away, " which provides tenants a "convenient and secure" space to store their equipment and "work in a place where they aren't isolated" Sandon explains.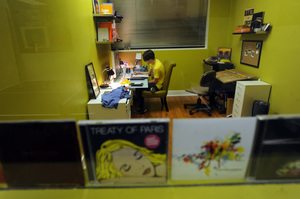 Melanie Maxwell I AnnArbor.com
SPUR Studios —Â the name is designed to convey spurring along both individual creativity and larger-scale change — houses a diverse group of creative types. "We have everything from graphic designers, to someone who does clothing, to someone who does leatherwork, to a writer, to all of these various types of bands — from death metal to hip hop, to whatever," Sandon explains.
SPUR's focus on being a "professional workspace" also makes it an attractive alternative to some of the other communal spaces in the region where artists and musicians work. Some of these toe the line of legitimacy, they have had problems with people living in their studios, and they are frequently in poor physical condition. Fortunately, SPUR has attracted "people who respect the space," according to Marks.
According to SPUR's managers, operations are going smoothly so far. "The main thing that Chris has had to deal with upstairs is the internet for the artists — and downstairs, I've had to deal with bands tripping the fuses. Other than that, we get calls about random stuff, but that's about it. We haven't had any major problems," Emschwiller laughs.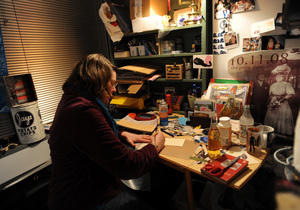 Melanie Maxwell I AnnArbor.com
Musicians Dave Niles and his wife, Renee Hytinen, a visual artist who sews and creates collage art, found out about SPUR Studios "at the perfect time," according to Niles. The couple was moving out of a house they shared with friends, where he housed his professional recording studio equipment and their various bands held practices. Now Hytinen and Niles regularly practice with their band Ghostlady, and Niles practices with his band Jamie Register and the Glendales in the space, as well as playing with fellow SPUR Studios tenant Scotty Karate's band Scotch Bonnet.
Hytinen was also lacking space for her art supplies and had put everything into storage for a year or two. In addition to sharing band practice space downstairs, she also shares an artist studio upstairs with painter and illustrator Sarah Demmon. "SPUR was a space that I could afford where I could bring this stuff out and make art a part of my life again," Hytinen says.
Demmon has a similar story. Before renting the studio at SPUR, she did not have room in her apartment to create and store large-scale paintings. Now her half of the friends' 10-by-12 studio is all she needs to get back to making large-scale paintings. She adds that "SPUR is not just a studio space. It's like a community or a neighborhood. Half of the time I come here I'm talking to people. We leave our door open. It's social. Renee and I also like to come in together, because it's nice to not be isolated when your are making your art," she says.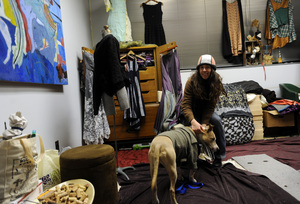 Melanie Maxwell I AnnArbor.com
Part-time writer and amateur photographer Thomas Kula creates his zines "Haiku a Day" and "Late Night Thinking" from his office space at SPUR Studios. He never considered getting office space until he heard about the studios at an informational event held at the Corner Brewery this summer. "I was impressed by how up front they were about what their plans for running the space were and what the rules of the building where, especially because I've heard about other facilities in the area that have had problems. It's not the most pristine building, but it's in good shape. It's a nice facility, not a dank dive," he says.
Kula also enjoys working around other creative people. "Even if you don't outright do some collaboration with someone, the fact that you are being exposed fairly directly to a wide variety of people's creative processes is a great feature of this place. I like it when I see other people's ideas because they get to bubble through my head," which might "inspire collaboration in the future" or "spark something related to something I'm already interested in," he says.
In addition to attracting tenants who respect the space, SPUR Studios reports a good relationship with property owner Howard Weaver. Weaver is "forward thinking and very welcoming," according to Marks. "I think he wanted to give back to the community," and he has approached SPUR Studios with "benevolence," he says.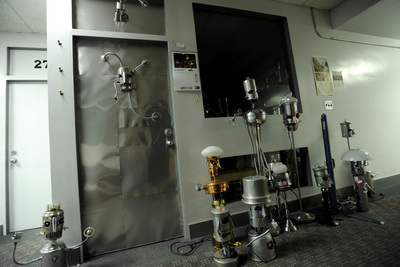 Melanie Maxwell I AnnArbor.com
Marks recognizes that "the creative economy can make a neighborhood a more desirable place to live." Although attracting new people and businesses to an area positively impacts a city's health, Marks remains wary of allowing the type of "gentrification" that would "eventually push us out along with all of the poor people."
Marks hopes that SPUR Studios can "serve as a proof of concept" that creative spaces can be "responsibly managed" and "financially viable," he says. "It is important for us to become stakeholders in the community and not just act as a temporary stopgap so that other more lucrative offers can come in. If we can get in as property owners, as people who are firmly rooted, then we can help control that arc. Rather than being the stepping stone that paves the way for a Starbucks, we should be a part of the end result — having this really vibrant creative community," Marks explains.
Jennifer Eberbach is a free-lance writer who covers art for AnnArbor.com.