restaurant review
Squares offers inexpensive lunch option downtown
Posted on Thu, Feb 3, 2011 : 5:41 a.m.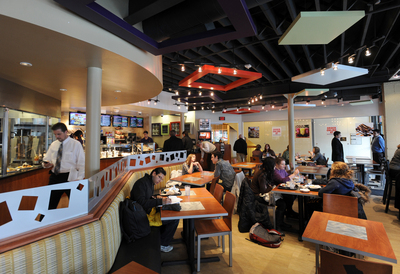 Lon Horwedel | AnnArbor.com
Note: Story updated to correct outdated information on side dishes.
A restaurant with a square motif, including square sandwiches, square shapes on the ceiling, even square-shaped omeletes: that's the premise behind — you guessed it — the new restaurant Squares. It succeeds the short-lived Mediterranean restaurant Yoshi's, which suffered from poor visibility on East Liberty. That's a situation its successor has wisely addressed, with a huge sign announcing the restaurant that you can't miss.

It's a cute concept, one that intrigued my kids enough to give it a try. The interior is light, bright and contemporary, with a clean, stark look. Brown tables with a big silver square in the middle of each sit underneath giant shapes of squares on the ceiling. You place your order, cafeteria-style, and then wait for servers to bring your food to you. Squares offers both breakfast and lunch, specializing in sandwiches, salads and egg dishes.
No bread is served here for breakfast or lunch. Instead, sandwiches are prepared on square-shaped pitas, either white or whole wheat.
RESTAURANT REVIEW
Squares Restaurant
241 E. Liberty St., Ann Arbor
734-761-6700
Hours: Sunday-Thursday, 8 a.m.-9 p.m.; Friday and Saturday, 8 a.m.-11 p.m. Breakfast is served 8-10:30 a.m. every day.
Plastic: Visa, Mastercard, American Express, Discover.
Liquor: No.
Prices: Inexpensive. Sandwiches are only $5.99.
Value: Good.
Noise level: Quiet.
Wheelchair access: Yes, through the back of the building.
I'll start with the highlights, like the gyro square. The tender, perfectly seasoned gyro meat was outstanding, especially when paired with the lettuce, tomatoes and "signature Square sauce." I also enjoyed the turkey square, which featured fresh-tasting rotisserie turkey breast, along with the same toppings as the gyro square. The pita also was crispy and nicely grilled.
There's a sparse kids menu. We sampled the grilled cheese. Two unmelted slices of processed American cheese slapped between a square pita, it didn't impress.
As for the side dishes, the broasted potatoes were delicious, thick, slightly crispy and perfectly seasoned. And the berry and strawberry smoothies we ordered were a refreshing way to wash down our food.
But there was much we tried here that simply didn't cut it. The square theme permeated the chicken Caesar salad, which had brittle little white pita squares. The chicken was overcooked; the dressing lacked pizazz. Roasted butternut squash was bitter.
The variety of muffins had eye appeal from the display case, and I particularly enjoyed the fresh-tasting oat bran muffin. The same cannot be said for the remaining baked goods we sampled, among them the giant, but hard, oatmeal and chocolate chip cookies. The cinnamon bun looked sad. Tiny and rock hard, it tasted like it had been in the case for days; the danishes on display had similarly dismal appearances.

At breakfast, coffee came in a square-shaped mug, perpetuating the theme. We had a wonderful, fluffy Swiss cheese and red pepper omelete. But quiche Lorraine was overcooked, spongy and lukewarm. Like the pastries, it seemed like it was sitting far too long. The oatmeal was fine, and there are several choices in toppings.

On both visits, we received our food quickly, though we were the only customers. And prices here are reasonable. But Squares could stand to do more to shore up the consistency of its offerings than just providing square-shaped food.