Posted on
Sat, Mar 16, 2013 : 11:50 a.m.
St. Patrick's Day bringing special events, early bar openings
By Ann Dwyer
St. Patrick's Day returns Sunday, and several local events will mark the occasion. Here's a sampling (to add an item to the list, email AnnDwyer@annarbor.com):
• The University of Michigan student government is presenting a "Bash on the Diag."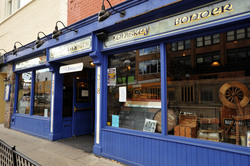 •
Conor O'Neill's
will open at 7 a.m. and will have live music all day until close. They will also have Irish dancers and bag pipers throughout the day. They will also do this on Saturday ("St. Practice Day"), from noon to close.
• Irish bar the Blue Leprechuan will open at 7 a.m. They will have St. Paddy's T-shirts available and serve Irish breakfast $5 all day long.
• Arbor Brewing Company will open at 7 a.m. and feature a special breakfast menu a morning Happy Hour until 11 a.m. Dragon Wagon plays at 7:30 p.m.
• The Corner Brewery will offer a special breakfast starting at 7 a.m. at their St. Patrick's Day Extravaganza along with daily specials. Live music by Kevin and the Glen Leven. A beer bus will be running every 45 minutes between Corner Brewery and Arbor Brewing.
• The Ypsilanti Pipe Organ Festival is offering a special St. Patrick's Day concert.
• St. Andrew the Apostle Catholic Church in Saline will host a St. Patrick's Feast to benefit Father Patrick Jackson House.
• Grizzly Peak is featuring a special Irishfest menu.
• Bar Louie will be celebrating both Saturday and Sunday for their St. Paddy's Party. $10 per day will get you breakfast, a T-shirt, DJs on Saturday night and live entertainment all day Sunday. They will also open at 7 a.m.
• Ashley's will have Saturday Green Beer Specials 6 p.m.-close. Sunday, they will open at 6:30 a.m. and serve alcohol at 7 a.m. $10 cover includes breakfast and a St. Paddy's Day Ashley's T-shirt. • Bill's Beer Garden will be opening for the St. Paddy's weekend, March 15-17. 5-11 p.m.
• The Ragbirds are giving a free St. Paddy's Day concert at Woodruff's in Ypsilanti.
• Looking for a family friendly, alcohol-free alternative? How about Around the World with Music at the Michigan Theater?
• Have St. Patrick's Day Dinner at Livingston County Wildlife Conservation Club.