Posted on
Sun, Mar 17, 2013 : 11:01 a.m.
St. Patrick's Day morning in Ann Arbor: booze, soggy eggs and business school students
By Richard Retyi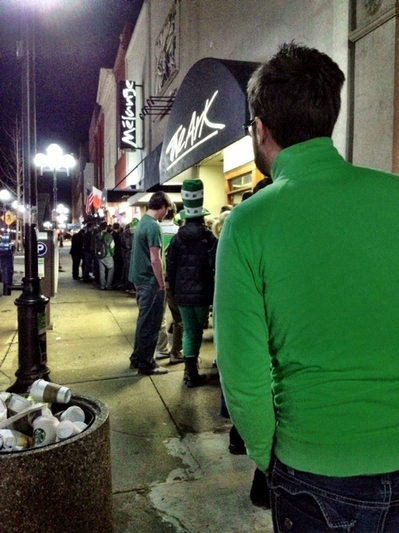 Rich Retyi | Ann Arbor.com Contributor
To help guide you through St. Patrick's Day in Ann Arbor, intrepid reporter Richard Retyi hit the streets at 6:30 a.m. to get a lay of the land, talk to the hardcore St. Paddy's Day revelers on the street and help you avoid the places worth avoiding. Take his advice or leave it — but be safe out there, kids.
6:37 a.m.
The human body is made up primarily of water, and it's freezing outside
It's midnight black when I roll down Main Street to check on the line outside Conor O'Neill's on this St. Patrick's Day morning. Not even a sliver of light. It's cold and dark but that hasn't kept around 150 people from creating a zig-zaggedy line stretching from the front doors of Ann Arbor's most beloved Irish pub all the way past The Ark.
A few minutes later, driving past Ashley's, a similar line of 50 people stretches to the Jimmy John's. Just down the street by the Michigan Union, three brave souls stand behind a large table (Free Bagels!) hopping up and down trying to stay warm, while a left turn away, 30 people wait outside for the opening bell at the Blue Leprechaun with about half as many standing outside Good Time Charley's waiting for discounted car bombs.
There's a reason the sidewalks are empty save for anxious drinkers willing to pay $10 cash for plastic cups of green beer, a free breakfast and maybe a free T-shirt. Water freezes at 32 degrees Fahrenheit, the body is primarily of water, and it's 25 degrees out, without wind chill. Plus it's 6:37 a.m. on a Sunday morning. Abandon all hope, ye who stand in line.
One place that isn't empty is the Tim Horton's on South University. A line queues for hot drinks, one girl with matted hair sitting this one out with her head down on a counter and a big yellow blanket thrown over her shoulders.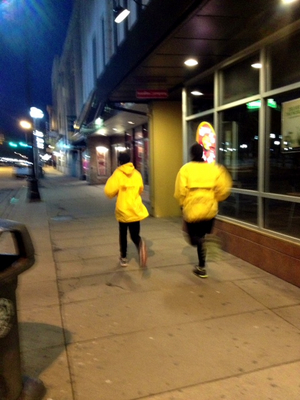 Rich Retyi | Ann Arbor.com Contributor
"Why do we have to have jobs?" she says to a friend, who answers by walking to the restroom.
I drive back to Main Street, passing a few joggers. Joggers, really? There's something egotistical or masochistic about jogging in sub-zero temperatures at 6 a.m. on St. Patrick's Day. A pair of masochists in bright yellow jackets kick past my car. I'll pass them again later when they run down State Street. I take a picture of them to prove the people standing in line aren't the only crazy people in Ann Arbor this morning. Show-offs.
6:54 a.m.
Like a winter version of a Michigan football Saturday
Back in line at Conor O'Neill's, the crowd is getting anxious. A group of St. Patrick's Day revelers have been up since 5:40 a.m. — one even drove in from Lansing the night before to spend the day in our fair city. The sound the line makes is like a giant tailgate party, which is what one of the party-goers compares this morning to, "like a winter version of a Michigan football Saturday." They're excited about the Irish coffee, live music and breakfasts awaiting them inside, and damn the consequences of dehydration or lack of sleep for school tomorrow.
A cheer ripples through the crowd as the doors open and the line inches closer to the front doors where Conor's staff IDs and slaps wristbands on revelers. Green plastic hats (popular this year), green hoodies and a few green kilts disappear through the doors, but most of the St. Paddy's Day kit is covered in parkas and scarves and toques. I'd say St. Patrick's Day is Halloween for college kids, if Halloween wasn't Halloween for college kids.
7:08 a.m.
These are all good touches, said the Ann Arbor Police officer
The line is only 12 deep at Ashley's but it's a crowded 12 deep.
"Cram in and close the door," yells the poor hostess, ID'ing and clicking an electronic counter as each patron gives up $10 for a T-shirt, a plastic plate of breakfast and the honor of spending St. Patrick's Day at a British pub (blasphemy!).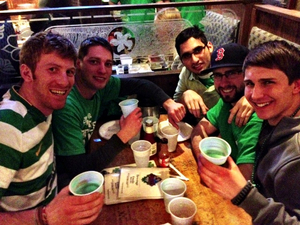 Rich Retyi | Ann Arbor.com Contributor
"I didn't just work on my thesis last night. I went and saw Yo Yo Ma and the Silk Road Ensemble," says a girl crammed in line in front of me. This isn't your typical boozy crowd. There are some brains in here.
An Ann Arbor police officer squeezes through the mass, his gut and holster parting the line. "These are all good touches," he says, working his way to the front. I note the name on his name tag, but opt to keep it out of the official record.
Inside Ashley's it's as green as green can be. Plastic cups of green beer are on nearly every table in various states of empty, though some patrons opt for the real stuff, served in real glass mugs. Healthy appetites shovel eggs, sausage, bacon and some kind of mini-muffins into their mouths as a steady stream of more plastic plates of food are shuttled out of the kitchen two at a time. Every once in awhile a server goes into a restroom in the back and pulls a free T-shirt out of one of the big cardboard boxes lying on the floor. Happy St. Paddy's not-the-most-hygienic Day!
7:23 a.m.
The Beach Boys playing in the Mexican bar
The line is exhausted and the sun is up outside Ashley's. Birds chirp, crows caw and the guy working in the 7-Eleven stares at me suspiciously through the front window. I drive to Good Time Charley's and walk past a worker sweeping the sidewalk in the cold.
The staff looks amazing in their green tees and tanks, but just two tables of patrons stacked up against the windows drink beer and chatter. The scene at BTB Cantina is a little more depressing with zero patrons enjoying St. Patrick's Day in the second-floor Mexican bar. I comment on a Beach Boys song playing on the sound system and a guy at the bar tells me they're saving the Dropkick Murphys for later. Cheeky.


7:34 a.m.
Can I get a Mimosa?
Rich Retyi | Ann Arbor.com Contributor
"Wow, it's light outside," a girl says, emerging from the Blue Leprechaun. Inside, tables and necks are decked out with glowing green necklaces and, guess what, a Dropkick Murphys song blares on the sound system. I do a lap and talk to a long table of folks sharing huge pitchers of green beer.
They're eagerly awaiting breakfast, which they say won't be served until 8 a.m., and they feel bamboozled that there aren't any free T-shirts, as advertised. They suggest I do an exposé, and I counter with an offer to take their picture. Two revelers are particularly excited to have their photo taken — this being their second appearance in the cyber-pages of AnnArbor.com — the first being a story about a fire.
I sidle up to the bar for a breather and ask the bartender how the morning has been.
"It's been good," she says. "We had a nice line this morning. I wouldn't call it hectic. It's St. Patrick's Day!"
"Can I get a mimosa?" someone shouts down the bar, and I head out the door.
7:49 a.m.
"It's called public intoxication, sweetie."
The city is properly waking up. More "open" signs blink on and on the sidewalks someone walks with purpose wearing a sensible backpack and another walks a small dog.
"I waited for you," a slurring kid in a green sweater yells into his cell phone standing outside Conor O'Neill's. "It's not my fault. Let's make this a good day. You're good, I'm good. Mom! I'm having a good day!"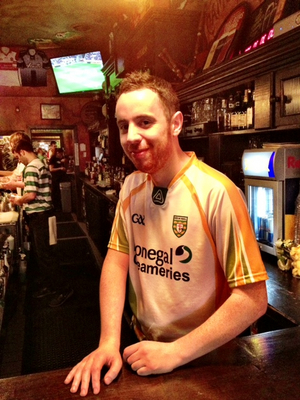 Rich Retyi | Ann Arbor.com Contributor
Let me reiterate that a $10 cover is crazy. When one of the doormen says I might need to pay $10 to walk around the establishment, I reflexively (and in hindsight rudely) laugh in his general direction. They let me in without incident. It's not nearly as busy as a random Friday or Saturday night — in fact Conor's is downright roomy. A guy plays acoustic guitar, singing wonderful Irish songs and the crowd claps to the beat with big smiles on their faces.
The food looks a lot better here than anywhere else. Actual plates with actual cutlery. It's hard to see what they're serving because everyone eats so quickly. With space for 300 people, the place is about two-thirds full, with a less sloppy scene than many of Ann Arbor's other St. Paddy's locations. Rumor of Irish dancers arriving later in the day piques my interest. I see a number of police cars and witness one arrest.
"Why are they arresting that man?" a little girl asks.
"It's called public intoxication, sweetie," the mom says matter-of-factly.
8:13 a.m.
The most disgusting thing all day
I walk down the street to Starbucks and order my second giant coffee of the morning. A lone patron sits at a table reading something on his Kindle. I plug in, get comfortable and write my story.
Near the end of my detail, three Ross School of Business students dressed in slightly different hues of blue button-down shirts sit beside me, prepping for some breakfast meeting/presentation, but one of them can't figure out the free wireless. He complains and finally gives up and pulls up a seat next to one of his team members. They talk about SWOT analyses, dynamics and use the word "solutions" 900 times. They name-drop celebrities and champions of industry and mention Jupiter, Fla., a lot, for some reason. It's by far the most disgusting thing I've seen all morning.
Richard Retyi returns to AnnArbor.com with his new column Hidden Ann Arbor. Rich will write about the hidden side of Ann Arbor and the things locals take for granted. In his day job, Rich is a social media director for a digital marketing agency in Ann Arbor. Read more of his stuff at RichRetyi.com or follow him on Twitter.