Posted on
Sat, Nov 12, 2011 : 5:28 a.m.
Stage musical version of 'It's a Wonderful Life' returning to Dexter's Encore Theatre
By Jenn McKee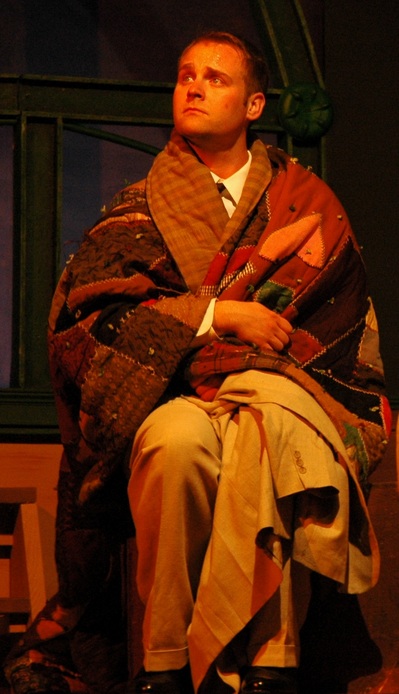 Photo by Joyce Obradovich
It's already time for "It's a Wonderful Life" again—but not just in the black and film film medium you're accustomed to.
Last year, Dexter's Encore Theatre presented a workshop production of an original stage musical adaptation—with a book by Jon Huffman, music by John McDaniel ("The Rosie O'Donnell Show"'s band leader), and lyrics by Kathie Lee Gifford (yes, that one), with additional lyrics by Encore co-founder Dan Cooney—of George Capra's classic 1946 movie; and now the Encore will present a "new and improved" version of the same musical, with some additional material.
"It was a joy to spend a whole year thinking how to make it better," said director Barb Cullen. "Those who saw it last year, and decide to see it again, will think, 'Wow it's a lot different.' … I think this year, it's an even better show."
The iconic story focuses on George Bailey, a man who always does the right thing, even though it's at the expense of his own ambitions. When, in a crisis, he wonders aloud if the world would be better off if he'd never been born, a guardian angel named Clarence arrives and invites George to find out.
Although the 2010 production of "It's a Wonderful Life" didn't permit reviews by critics, due to its workshop nature, audiences showed up in droves.
PREVIEW
"It's a Wonderful Life"
Who: Encore Theatre.
What: Kathie Lee Gifford ("The Today Show"), John McDaniel ("The Rosie O'Donnell Show"), Jon Huffman and Dan Cooney's stage musical adaptation of Frank Capra's classic film, which tells the story of a man, George Bailey, who's forced to give up his dreams, and then wonders if the world would have been better off if he'd never been born.
Where: 3126 Broad St. in Dexter.
When: Thursdays at 7 p.m., Fridays at 8 p.m., Saturdays at 3 and 8 p.m., and Sundays at 3 p.m. (with some additional special performances), from Nov. 17-Dec. 23.
How much: $28 ($25 for seniors and youths).
"Everybody that I talked to really loved it," said Cullen. "We had such a great turnout. It completely sold out. We even had a waiting list last year. Of course, it's such a wonderful piece, such a great Christmas story. It definitely puts everybody in the holiday spirit."
As testimony to this fact, tickets are already selling at a brisk rate.
"We're always a little shocked when a show is selling so well this far ahead," said Cullen.
One of the common difficulties of translating a film to the stage, though, is dealing with a large number of quick location changes. This year's production employs set designer Leo Babcock's signage and musical transitions to this end.
"The show moves so quickly," said Cullen. "There are 15 scenes in both acts, and the scenes are at most 3 pages long. Then you're into an entirely new scene. So the challenge for me as a director has been to just keep (the production) moving."
Last year's core of lead actors—Rusty Mewha as George Bailey, Liz Griffiths as Mary, and Steve DeBruyne as Clarence - will return to reprise their roles, but there will be new faces on Encore's stage, also.
"We were hoping to have some new recruits this year, to give new flavor, and new energy to the show, and that's what we've got," said Cullen. "We've got some fabulous energy on stage. It's been really exciting to watch."
Jenn McKee is the entertainment digital journalist for AnnArbor.com. Reach her at jennmckee@annarbor.com or 734-623-2546, and follow her on Twitter @jennmckee.