Posted on
Sat, Nov 5, 2011 : 2:23 a.m.
StarKid thrills loyal fans at the Michigan Theater
By Jenn McKee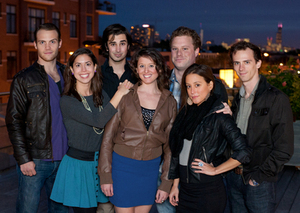 Dylan Saunders
- part of the Chicago-based group of recent U-M drama and musical theater grads who call themselves
Team StarKid
- stood on the
Michigan Theater
stage Friday night and sang a song from the viral smash "A Very Potter Sequel" that contains the line, "This is how it must feel to have a home."
Frankly, we should all be so lucky. For throughout the show, StarKid—which officially kicked off its first-ever 14 city, month-long SPACE concert tour here in Ann Arbor—got the kind of adoring, wildly enthusiastic reception you could only expect if you filled a huge theater with clones of your mom and your best friend.
StarKid first earned its passionate (and generally young) fan base in July 2009, when the group posted, in its entirety, an original fan parody musical called "A Very Potter Musical," which the students created and performed as part of U-M's Basement Arts series. (Soon-to-be "Glee" star Darren Criss, who will only appear in the tour's New York shows, played Harry and wrote much of the music.) Harry Potter fans ate it up, and when other StarKid original musicals ("Me and My D***," "A Very Potter Sequel," "Starship") followed, so did the fans.
While those mostly young, mostly female fans didn't quite sell out the Michigan Theater Friday night, they came close, and made up for any empty seats there were with shrieks of excitement.
Singer/songwriter Charlene Kaye, also a U-M grad, opened the StarKid show with a well-received half-hour set, performing her single "Dress and Tie" (which she recorded with Criss) with Saunders before launching into two songs from the album she's currently recording, "Animal Love." To get a small taste of the title track, check out this short video from Friday night's show:
Kaye's musical style most resembles Adele, with perhaps a bit more of a rock-and-roll edge.
During the show's intermission, fans quickly spotted "Potter" co-creator Nick Lang in one of the aisles, and a line to take photos with him grew longer and longer until finally, the lights dimmed.
The crowd heard the StarKid performers—Saunders, Meredith Stepien, Lauren Lopez, Brian Holden, Joseph Walker, Joey Richter, and Jaime Lyn Beatty—talking backstage before they all appeared in motorcycle helmets, took them off, and performed "I Wanna Be" from "Starship."
And while this whipped up the crowd, it was nothing compared to the next song, "Harry Freakin' Potter," which received a blow-the-roof-off-the-place response.
Indeed, the songs from the two Potter shows—including "The Coolest Girl," "Granger Danger," "Home," and "Stutter"—consistently generated the most ear-splitting excitement. Lesser known fare included two songs ("Boy Toy" and "It's Over Now") from a pre-Potter web series called "Little White Lie," as well as three original songs performed by Jim and the Povolos, a side-project music group composed Beatty, Holden, Lopez, Saunders, and Stepien, as well as SPACE Tour band members Clark Baxtresser (keyboards) and Mark Swiderski (drums). These songs, which came in the middle of the show, exuded a laid-back, Jason Mraz or Jack Johnson kind of vibe. And like most StarKid things, the band's name is an inside joke: Jim Povolo is the U-M actor who played Goyle in the Potter shows (and who was also in the audience Friday night).
StarKid's women dressed in dark, short, sparkly outfits, while the men favored casual street clothes. In addition to executing choreography, the performers also offered brief observations, or banter, between songs, and the nearly two-hour show moved smoothly.
In terms of the set list, the show's latter half was "Starship"-heavy, with the four men showing off impressive harmonies on "Status Quo," and the whole tour company singing "Beauty" to end the regular set.
But as with all concerts, Starkid saved their ace for the encore, performing a medley that concluded with "Get Back to Hogwarts"—which had the crowd dancing and singing/screaming along.
The show suffered some minor sound problems—occasional mic feedback, even near the show's end, and during the early songs, the band sometimes threatened to drown out the singers —but the fans hardly seemed to notice.
"It was awesome," said Lauren Masserant, 16, of Dundee, who originally found Starkid while searching "Harry Potter" on YouTube.
Sisters Chelsea and Emily VanCamp joined with Massarant to add, "Totally awesome," quoting Starkid's "Hogwarts" song.
"I wasn't quite sure what to expect, because I've never been to anything quite like this," said Sarah Noble, 16, of Wyandotte. "Especially because it was an adaptation from show into more of a concert. But it was fantastic. They did every song that I could've possibly wanted them to do, and I think that they're all great people, and what I love most is that they're all from right here, in Michigan. … You know they're students, like us."
"I think it's so great they came back to U of M," said Central Michigan University student and Wyandotte native Sarah Haggerty, 18. "When I first heard about the tour, I thought they would just go to big cities. … I didn't think they'd come back here."
"I've been having a countdown (to the concert) for two and a half weeks," added Noble.
Finally, Cat Lautar, 18, and Kate Frost, 19, from the Toledo area, answered in unison when asked about their favorite part of Starkid's show: "All of it."
Jenn McKee is the entertainment digital journalist for AnnArbor.com. Reach her at jennmckee@annarbor.com or 734-623-2546, and follow her on Twitter @jennmckee.