Posted on
Tue, Jul 30, 2013 : 5:19 a.m.
Starkid Joe Moses bringing his 'Showses' to the Michigan Theater
By Jenn McKee
The thing that brought cult-like fame to Joe Moses—who will bring his touring live sketch comedy/music/stand-up show, "Joe Moses Showses," to the Michigan Theater on Aug. 3—was his over-the-top performance as Severus Snape in the student-created, online viral hit production of "A Very Potter Musical" at the University of Michigan.
But how did he end up playing Snape?
"I honestly don't know," said Moses, who spent a good part of his childhood in Troy. "Some of the guys, the parts were written for them. Like, Darren (Criss) wrote his own music, so everyone knew he'd be Harry, and Voldemort was written for Joe Walker. But I auditioned. I just wanted to be part of it. And I think (the casting choice) came from me doing accents. I started doing Snape with this kind of John Lennon, Liverpool accent, and it just evolved and got weirder from there."
"AVPM"'s free Basement Arts performances happened during the spring of Moses' senior year as a theater major at U-M, in 2009; and even before the company, Team StarKid, put the production online, in its entirety, the student performers had the feeling that they'd struck gold.
"Before we even put it online, when we were just doing it in the Walgreen Drama Center, it was wildly popular," said Moses. "We were used to seeing our friends at shows, but people we'd never seen before or heard of were coming out, and high school kids were coming out. So that was our first indication. And after opening night, several people came a second time."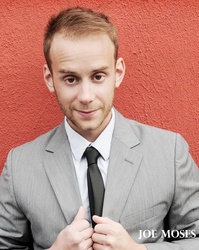 When complete footage of the musical was posted online in late June 2009, the response was, according to Moses, "instantaneous. I remember getting a call from Darren, not long after we put it out there, and he said, 'Have you seen the numbers?'"
Moses and his friends, consequently, enjoyed a strange, relatively new kind of fame—Internet fame—at a young age.
"Almost all of us were, in some way, performing-arts majors, so this was what we wanted to do, anyway, and in this business, you take any avenue you can get to start working professionally," said Moses. "But it was so unexpected. … We're all so grateful. It's really hard to catch a break, and it happened so early and was such a positive experience. … We were just a group of friends at school that enjoyed working together."
Moses followed "AVPM" (and "A Very Potter Sequel") with a web series called "Potion Master's Corner," in which Moses, as Snape, interviewed other StarKid performers as themselves. (The clip below contains contains adult language.) And those who come to see "Joe Moses Showses" will likely get brief glimpses of Snape, too - in addition to Moses' co-stars, Curt Mega (the "Glee" Warbler who sang lead on "Uptown Girl") and Tessa Netting (who performed in "Billy Elliot" on Broadway and "Glee," as one of Adam's Apples, with fellow Starkid Joey Richter).
"(Snape)'s still such a fun character," said Moses. "I thought it would be funny to see him outside of the context of Harry Potter, which was initially why I did 'Potion Master's Corner.' … When I first started ('Joe Moses Showses'), that was about half the show. It's more like a small, recurring theme now."
Moses created his first version of the show, which often sold out, while working as a bartender in New York—for although many of Moses' StarKid co-stars headed to Chicago, in hopes of working together more as a company, Moses took a different path.
PREVIEW
Joe Moses Showses
What: Michigan native, U-M alum, and one of the stars of Starkid's viral "Very Potter Musical" brings his all-ages touring comedy show - a combination of sketch comedy, music, parodies, and stand-up - to Ann Arbor, co-starring Curt Mega ("Glee") and Tessa Netting ("Billy Elliot").
Where: Michigan Theater, 603 E. Liberty St. in Ann Arbor.
When: Saturday, August 3 at 3 p.m.
How much: Tickets cost $20 at the door and include a VIP meet and greet with the cast one hour before each performance. For more information, visit www.michtheater.org or http://www.thejoemoses.com.
"It was a tough decision," said Moses. "I thought a lot about that. … But I really wanted to focus on working professionally, and New York seemed to have more opportunities than Chicago at the time. I also wanted to do my own stuff, and I had connections in New York who were doing comedy, so New York seemed like a busy, happening place to be."
The New York Times Magazine once profiled Moses, focusing on the way he was both famous and not famous; in the story, Moses compared his experience to that of the iconic character Hannah Montana.
"I just put on a different wig," said Moses. "It was good, in that I had an audience, and they came quickly. But while I was trained at (U-M), I hadn't done a lot of professional work, so I kind of had to work backwards, and do some skill-building. That's what New York was for me - learning to write comedy and perform comedy while doing it. And though I don't think anyone likes to work a day job, too, it was a good experience in a way, because you can never get too caught up in the Internet fame bubble when you have to clean the bar each night."
Now based in L.A., since last October, Moses is touring his "Showses" in places like New York, Boston and Chicago, but he considers the tour's Ann Arbor stop to be "a huge homecoming for me. I love Ann Arbor, and I watched my favorite bands and artists peform at the Michigan Theater. So to be on that stage will be a dream come true for me."
Jenn McKee is an entertainment reporter for AnnArbor.com. Reach her at jennmckee@annarbor.com or 734-623-2546, and follow her on Twitter @jennmckee.