Posted on
Tue, Nov 1, 2011 : 5:56 a.m.
Online sensation StarKid coming home to launch tour in Ann Arbor
By Jenn McKee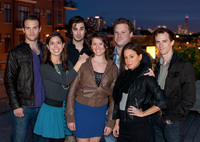 Photo by Chris Dzombak
Team StarKid. a theater troupe composed of recent University of Michigan grads that became an online sensation, will kick off a tour of concert-style shows on Nov. 4 at the Michigan Theater.
The tour will feature the group's "greatest hits," largely drawn from the company's original stage productions that went viral online ("A Very Potter Musical," "A Very Potter Sequel," etc.), and their most recent show, "Starship."
The 14-stop SPACE (StarKid Precarious Auditory Concert Experience) tour will end in New York City Nov. 26.
Despite its viral fame, if you haven't heard of the company—which is now based in Chicago—before, you're hardly alone.
"Some of these (tour) venues—these club owners are like, 'I don't know who StarKid is. What is this?'" said Julia Albain, who's directing Starkid's tour show. "Then (the show) sells out overnight and they go, 'Oh, OK, sure you can play a concert here.'"
Why the disconnect? Because even though StarKid has cultivated its young, passionately loyal fan base by way of the Internet, and has received attention from mainstream media outlets like Entertainment Weekly, MTV, and National Public Radio, they haven't yet become household names.
"Part of the purpose of (the tour) was that we would expand our audience a little bit, and draw in some people that may not have known about us before, but will see the concert and want to go check out the musicals," said Albain.
StarKid's most famous member—"Glee" star Darren Criss—will only be able to be perform at the tour's New York stops, due to scheduling constraints; but he composed most of the concert's songs; and one of his musical collaborators, fellow U-M grad Charlene Kaye, will be the opener.
"People are getting busier and busier and have a lot of projects," Albain said. "So scheduling can get pretty tricky. But people in our group really want to do this. Also, when something like this pops up, everyone individually pretty much starts bending over backwards to make a schedule work for whatever it is that we want to do. But we're lucky in that sense. That all of us are just really excited and thankful to be able to do what we're doing, so we make a lot of allowances."
The idea for a concert-style tour came about earlier this year, when StarKid participated in YouTube's Digitour—specifically, the shows in Urbana, Illinois and Lawrence, Kansas.
"That was our first taste of a concert-style performance, and it was really fun," said Brian Holden, a StarKid writer/performer who will appear in the tour show. " … It also seemed like it was something more manageable than taking a full production on the road."
PREVIEW
Team Starkid: The SPACE Tour
What: Team Starkid - a group of recent drama and musical theater grads of the University of Michigan, now based in Chicago - will perform a concert-style show of "greatest hits," drawn from the troupe's original stage productions that went viral online ("A Very Potter Musical," "A Very Potter Sequel," etc.). Singer/songwriter (and U-M grad) Charlene Kaye will be the opener.
Where: Michigan Theater, 603 E. Liberty.
When: Friday, November 4 at 8 p.m.
How much: Tickets are $25-$35, available at Ticketmaster.com and Livenation.com.
This is because, when Starkid's first productions premiered as part of U-M's student-run Basement Arts series, the casts were large. And when the company quietly posted "A Very Potter Musical" on YouTube, success happened so quickly that the troupe scrambled to name itself.
"StarKid was—it's actually a line, from the first show, that Draco (Lauren Lopez) has, where she's kind of mocking Harry, and she says, 'Ooh, star kid Potter, moon shoes Potter,'" Albain said. "And so, when the whole thing blew up on YouTube—they hadn't really planned to make a company out of all this—they needed a name real fast for the YouTube page and the Facebook page and all that. So that's what they picked."
Though LiveNation helped StarKid organize their tour, stops were partly determined by way of user information culled from YouTube, where the company maintains a popular channel, and Facebook.
"A lot of artists are embracing the Internet, and then a lot of artists are saying, 'Ugh, it's spoiling it—TV and other media are spoiling it all,'" Albain said. "And I just think that, it's not going away, so you might as well harness it, and use it, and put good stuff out there. … But whenever our tickets go on sale, it's always this weird thing where, we know we have fans, but we don't see them. … So it's always surprising when these shows sell so fast. I'm excited for this (tour), because it is a chance to see so many fans we haven't seen before."
"We've always survived on the 'do it yourself' attitude that Internet created for this generation," said Holden. " … People are watching a lot of content on the Internet, on their computers, and this has really leveled the playing field for groups like us."
Perhaps what faithful StarKid fans want to know more than anything else, though, is whether a third and final "Potter" musical will happen.
"The short and long answer is, it's always a possibility," Albain said. "It's an issue of finding a pocket of time. I think, if and when it ever happens, it will probably happen fast and furious."
Jenn McKee is the entertainment digital journalist for AnnArbor.com. Reach her at jennmckee@annarbor.com or 734-623-2546, and follow her on Twitter @jennmckee.