Posted on
Mon, Jan 2, 2012 : 5:47 a.m.
Finally back in action, Starling Electric playing the Blind Pig
By Kevin Ransom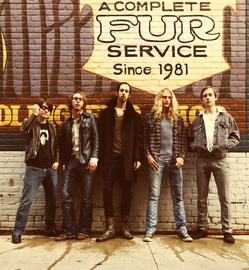 Caleb Dillon
, singer-songwriter for the Ann Arbor band
Starling Electric
, is definitely not one to be hemmed in, stylistically. Same goes for his bandmates.
Dillon and the band draw on many influences, like the shimmery, orchestrated vocal harmonies of the "Smile"-era Beach Boys; the popcraft and studio experimentation of the Beatles; the baroque arrangements and intricacy of progressive-rock pioneers like Yes and early Genesis; and the "pomp" (his word) of Queen, the Who and '70s-era Elton John. Oh, and 10cc is also a big influence.
"I just listen to so many different styles, and I have too many things in my head," says Dillon, who will be joined by his bandmates for a show at the Blind Pig on Saturday.
"I often get excited by something, and feel like a record is taking shape, then I get interested in something else and decide to go in a different direction. I'm always writing and recording. I'm a prolific but sometimes unfocused writer."
That accounts in part for the fact that the band has not released an album since "Clouded Staircase" in 2006. (They released the disc that year on their own, then it was reissued in 2008 when they were signed to the Bar/None label.)
All of the above-mentioned influences could be heard on that disc—the layered vocal harmonies, the shifting prog-rock tempos, the audio-verite sonic clutter and studio effects, the sometimes grandiose arrangements.
At the moment, the band is about halfway through recording an album Dillon hopes will be released in the spring. "We're closer to having a finished project with this one than anything we've started on in the last few years," he says.
Dillon says the new disc will be similar to "Staircase" in that it will "be going in a lot of different directions at once, but will also show new influences that we've been exposed to since I wrote the songs for 'Staircase" and we recorded them. Some of those songs, I wrote back in '01 or so.
"But even though each song will sound different than the others, and we're still drawing on a lot of different styles, it does sound like a cohesive recording."
PREVIEW
Starling Electric
Who: Ann Arbor band that recently returned to doing live shows after two-and-a-half years of focusing on writing and recording. With Bear Lake and The Ultrasounds.
What: Eclectic mix of layered, shimmery vocal harmonies; melodic pop; Beatlesque songcraft and prog-rock complexity.
Where: Blind Pig, 208 S. First St.
When: Saturday, doors at 9:30 p.m. 18 and over.
How much: $10. More info: 734-996-8555 / blindpigmusic.com/index.html
"Staircase" was assembled mostly by Dillon on his own, with him playing most of the instruments and doing a lot of multi-tracking, although
Jason DeCamillis
and
Christian Blackmore Anderson
added some guitar and keyboard parts, and
John Fossum
added a few drum tracks.
The line-up has changed since then: DeCamillis has departed, and Ben Collins (guitar) and Aaron Diehl (guitar and keyboards) have joined, and Blackmore typically plays bass.
The others are more involved this time, but they still prefer piecing the music together, and doing a lot of layering and multi-tracking, instead of strapping on their guitars and playing the songs live in the studio in "single-take" fashion.
"We've tried that in the past, but whenever we did, we didn't like it as much; we just weren't excited about how it sounded."
As for the desire to make music that draws on so many styles: "I just like so many different bands, and so many different kinds of music. I feel like I can get something valuable out of every style, genre and era. And I'm mostly interested in bands that do the same thing. I'm not as excited about bands that just stick to one style, because after about a minute, you always know how the rest of the song is going to go."
That accounts for his attraction to the proggers like Yes, Genesis and King Crimson, whose music was marked by shifting time signatures; extended, intricate, classical-inspired suites; and players who were amazingly proficient on their instruments.
"I was really into those bands when I began writing music, back when I was about 17," says Dillon, now 30. "I liked the feeling, with those bands, that you never knew what was going to come next. All of a sudden, they'd give you something you didn't expect. As a listener, I liked being kept on my toes.
"Frankly, I am bored by a huge amount of modern music, because it's so predictable."
Over the last couple of years, the group has been so immersed in writing and recording—and incorporating the new members into the process—that, when they played a November gig at Woodruff's, it was their first live show in two and a half years.
"We do want to start playing more shows now, to remind people who we are, and to reach new people who maybe hadn't heard the last record," says Dillon. "But our main focus is still getting this recording done in time to release it in the spring. We're really looking forward to getting it out and re-establishing ourselves.
"I don't think we're owed anything. We need to get out there and play shows and try to get into other markets. I'm a big believer and paying dues, and doing the work."
Kevin Ransom, a free-lance writer who covers music for AnnArbor.com, can be reached at KevinRansom10@aol.com.