Posted on
Wed, Oct 17, 2012 : 5:02 p.m.
Milan's Stephanie Jass talks about record-setting run on 'Jeopardy!'
By Bob Needham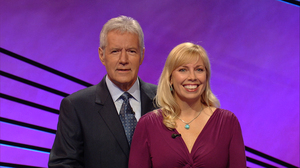 photo courtesy of Jeopardy Productions
Related story: Stephanie Jass' streak on "Jeopardy!" comes to an end
Winning the TV game show "Jeopardy!" is tough enough. But Milan resident Stephanie Jass has done it seven straight times heading into tonight's show.
And it turns out when host Alex Trebek said on Tuesday that Jass had tied for the most consecutive wins by a woman on the show, he was actually wrong: She tied the record with 6 on Monday and became the solo record holder on Tuesday.
So how has she done it?
In a phone interview Wednesday, Jass explained that she did considerable preparation for the show — but ultimately, it came down to what she already knew.
Jass — a Chicago-area native who has lived in Milan since 2007—said she and her family regularly watch the show, and her husband noted how good she was at it. Although her first effort to become a contestant didn't go anywhere, she took a second attempt at an online screening test in March at his urging — and that resulted in an audition in Toledo in May. That's when the preparation began.
"I read several different books and blogs by people who had been on the show," she said. And she made some efforts to address her weak points — "I can now place every country in Africa on a map."
She and her husband also studied her patterns and style of play. But at some point, it was enough.
"Just trying to cram for information was making me stressed," she said. It became clear that if she got on the show she would have to rely on what she knew "and if I get a board that doesn't play to my strengths, that's the breaks."
That hasn't been a problem so far. At the close of Tuesday's program, her winnings were up to $147,570, though she said she hasn't yet received the check for her total. The shows airing now were taped in early August.
In one episode Jass mentioned being interested in buying a Chevy Volt, and she has had some initial contact with GM. Beyond that, she hopes to use some of her winnings for travel — London, Paris and Machu Picchu are on the list of possibilities — as well as more practical expenses.
"People haven't asked me for money," she said with a laugh, " but they have all sorts of ideas for how I should spend it."
Aside from one man who recognized her at the store, she hasn't felt fame too much. She's gotten some looks from the students at Adrian College, where she works as an associate professor of history. The biggest change: She set up a Facebook fan page, which has acquired almost 600 "likes" in just a couple of days.
And she expressed gratitude for all the support she's received. "It was obviously a lot of personal fun for me, but it's been so wonderful to hear how exciting it's been for other people," she said.
Watch Jass try for 8 wins in a row tonight on "Jeopardy!," which airs at 7:30 p.m. on WDIV, channel 4 in Detroit. And to hear directly from the champ, our friends at the Jackson Citizen Patriot are conducting a live online chat with Jass on Thursday; find the details here.
Bob Needham is director of entertainment content for AnnArbor.com. Reach him at bobneedham@annarbor.com or 734-623-2541, and follow him on Twitter @bobneedham.