Posted on
Fri, Oct 21, 2011 : 6:52 a.m.
Still getting personal, Stephen Kellogg returning to the Blind Pig
By Kevin Ransom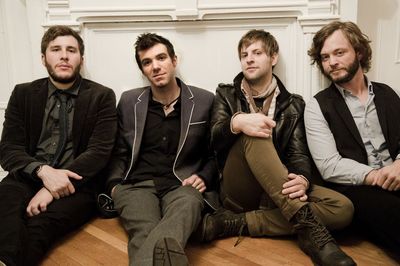 "There's not one lyric on the record that's not about me or somebody I know," says
Stephen Kellogg
about the songs on the new album, "Gift Horse," by Kellogg and his band, the Sixers.
"I've just always been drawn to writing songs about real-life experiences, and the people in my life, especially family members," says Kellogg, who brings his band to the Blind Pig on Wednesday as part of a double bill that includes the young pop-rock artist Jon McLaughlin.
"In fact, if I DON'T write that way, it's really an effort," Kellogg notes. "I admit that sometimes I get self-conscious about how many songs I write about my family and the family dynamic, but ultimately, that's who I am," he says during a recent phone interview.
Kellogg and the Sixers are a folk-rock / roots-rock band from western Massachusetts who've released nine albums albums since 2000, counting their first five self-released discs. They got signed to major-label Universal in 2004, did one album for them, but then got dropped, and have released their last two discs on the respected independent Vanguard label.
Much of the group's music has a foursquare, heartland-rock sound. "Roots and Wings," from the new album, commences with a chiming electric guitar arpeggio, counterpointed by a slashing power chord, and rides a whomping groove, while a plucky, deft banjo darts in and out of the mix, as Kellogg sings: "Give your children roots and wings, never fear the change it brings."
PREVIEW
Stephen Kellogg & the Sixers
Who: Band from Massachusetts who've released nine albums in 11 years. Also on the bill: Jon McLaughlin, Chris Koza.
What: A foursquare heartland-rock style.
Where: Blind Pig, 208 S. First St.
When: Wednesday, doors at 8 p.m. 18 and over.
How much: $18-$20. More info: 734-996-8555 / www.blindpigmusic.com/index.html.
The anthemic "Gravity" is driven by a quick-strum acoustic guitar and rippling piano, as Kellogg extols the virtues of a more grounded existence, singing: "Gravity, you're knocking me out…. Oh, Gravity, it's OK in the clouds / But I love it right here with my feet on the ground."
"Who We Are, Who We'll Become" is melodic and punchy, with ringing guitars and a piano line that sounds inspired by the E Street Band's Roy Bittan. The song is about Kellogg's grandfather, and all of the wisdom he imparted.
"He was a really big figure in my life," recalls Kellogg. "I got so many life lessons from him. He provided me with a compass to help me become the man I want to be, and what he gave me continues to creep into my music."
And "Noelle, Noelle" is a sweetly melodic acoustic ballad about Kellogg's youngest daughter, Noelle. Backed only by his own guitar picking, he's unabashedly sentimental, but still engages in some wordplay: "'This first Noelle, the angels did say, 'They're gonna love her til their dyin' day / She can hitch a ride, she can try to run away / But she will not escape their love.'"
There's a theme that runs through the album—persevering through tough times.
"You know, there's this notion when you're a musician or a recording artist that 'you only get one shot' at making it. But that's a terrible misconception that does a lot of harm to artists. The reality is, you're not finished unless you say you're finished. A lot of things pop up along the way. So that notion holds no more power over you than you give it.
"I think you get as many shots as you're willing to take. When we first got signed, we thought, 'We gotta make this happen.' But some opportunities, we blew, and some, we didn't, and we're still here, dealing with the ups and the downs."
Kellogg also says he titled the album "Gift Horse" for a reason.
"It's inspired by that other old saying about never looking a gift horse in the mouth," says Kellogg.
"To me, that sort of translated into appreciating what you have. Like, I really appreciate that I have a job right now, with everything that's going on with the economy in America. These are definitely tough times, we've been at war for 10 years, and people are out of work, so I'm just grateful that we get to play rock music for a living, and sing to people who are happy to see us. "And I was also thinking about appreciating America in general."
But Kellogg also laments the cultural and political turbulence and divisiveness that plagues the nation, and his songs are set against that backdrop.
"I have definite opinions about that stuff, and passionate ones, but I also think it's OK to be moderate about things, that you don't have to radical or an extremist. There IS a lot of obstructionism on the part of the Republicans, that's keeping things from getting done—they're really playing hardball, like it's just a game and they only care about winning. .
"Except, as a result, we're all losing—with the war, and the economy, and I worry that there's a danger of the 'fall of the empire,' so to speak. I think we need to make sure we don't stumble, and lose our place as the most powerful nation that has as much influence on world affairs as we do. It would be devastating if that happened, and China became the nation that controls the global tone—because China has an appalling track record on human rights, and the environment…"
"I get what Obama is trying to do, and he's banking on other people doing the right thing, but a lot of them aren't, so maybe it IS time for him to take the gloves off."
Kevin Ransom, a free-lance writer who covers music for AnnArbor.com, can be reached at KevinRansom10@aol.com.