Posted on
Wed, Apr 20, 2011 : 1:42 a.m.
The music presents a fitting tribute to the late Ron Asheton
By Will Stewart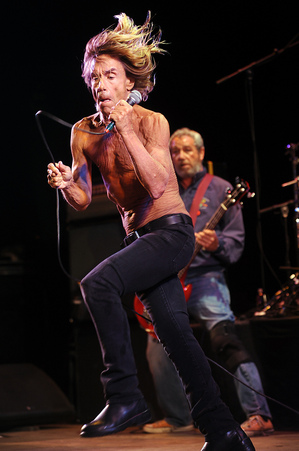 Melanie Maxwell | AnnArbor.com
Main story: Iggy Pop and the Stooges offer a punk rock celebration for a fallen bandmate In the end, after the kind words and slide shows and remembrances, the real tribute was heard in the music.
Raucous and ragged, the Stooges' homecoming on Tuesday, a memorial to founding guitarist Ron Asheton, was a fitting homage to their fallen bandmate.
A symphonic orchestra performed a medley his signature riffs over a slide show of pictures from family albums. His brother, Stooges drummer Scott Asheton, always a man of few words, spoke some kindnesses.
And Henry Rollins added a pseudo-intellectual eulogy that somehow seemed to be more about how cool Henry Rollins is than about how cool Ron Asheton was.
But as it should be, rock 'n' roll spoke the loudest. The Space Age Toasters, consisting of students from Ann Arbor Neutral Zone teen center, kicked off the evening with a four-song Stooges homage that did the band proud.
After Rollins led the current Stooges, minus Pop, through "I Got a Right," Pop arrived on stage in his trademark attire of jeans and no shirt and launched immediately into a string of tunes associated with the band's later period, in which Ron Asheton moved to bass and James Williamson took over on guitar.
"Nice to see you," Pop said. "We're still The Stooges."
Hmmm … not so fast.
Ron Asheton's playing with the reformed Stooges before he died was sublime, arguably better than the band was in its heyday. Williamson, by contrast, seemed to struggle at times locking into rhythms with Scott Asheton and long-term replacement bassist Mike Watt.
Still, to see Pop crawl, squirm and croon through "Raw Power" relics like "Search and Destroy" and "Gimme Danger" was a treat. And when the band hit its stride, as it did on more than a few occasions, the effect was powerful.
Of course, when Iggy Pop is on a stage, the focus is going to be on him. And Pop, just two days shy of his 64th birthday, remains the consummate frontman — combining a savage magnetism with a sly wit and calculating intelligence, he prowled the stage, he surfed the crowd and he whipped the sold-out audience into repeated frenzies that twice threatened to squeeze him off the stage.
"Ladies and gentlemen, the amazing Ann Arbor dancers," Pop said as the throngs attempted to exit the stage.
Pop turned the focus back onto Asheton when Ann Arbor native Deniz Tek took the stage to perform a series of songs from the Stooges' first two albums, on which Asheton played lead guitar. The legendary Radio Birdman guitarist has an uncanny knack for emulating Asheton's chords and wah-wah-drenched leads and was the perfect fit for Stooges Mach 1 tunes like "TV Eye" (aided, as were several other songs, by the symphony) "Dirt" and "Real Cool Time."
Pop remembered Asheton with a few poignant words before he and Williamson, on slide guitar, performed a song they wrote for Asheton, "Ron's Tune."
Things took a turn toward the ridiculous when the band received the key to the city. But that awkward moment was short-lived, before the Stooges crashed into a set-closing, frenzied run through "No Fun," during which the stage yet again filled up with dancers and well-wishers.
No fun? Lots of fun, actually. And a perfect end to a loud and lovely tribute to one of Ann Arbor's overlooked heroes.