Posted on
Tue, Dec 15, 2009 : 11:09 a.m.
Stooges named to Rock and Roll Hall of Fame
By Bob Needham
The Stooges have finally made it into the Rock and Roll Hall of Fame and Museum. The pioneering Ann Arbor band — which formed here in the late 1960s, flamed out after a few years and reunited this decade — had been nominated a number of times without getting in.
Other inductees announced today are ABBA, Genesis, Jimmy Cliff and the Hollies. An induction ceremony is slated for March 15 in New York.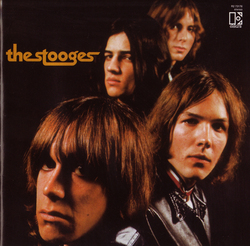 Led by frontman/singer
Iggy Pop
, the band also included
Ron Asheton
on guitar,
Scott Asheton
on drums and
Dave Alexander
on bass. The group's off-the-charts energy, raw sound and onstage antics clearly added up to something new, and some consider it to be the first punk rock band.
Iggy Pop reacted to the news of the induction this morning to Rolling Stone: "We've been rejected seven times, and we would have set a record, I think, if it happened again ... It started to feel like Charlie Brown and the football. I had about two hours of a strong emotional reaction after hearing the news. It felt like vindication. Then I kind of scratched my head and thought, 'Am I still cool? Or is that over now?' "
Reaction in the local music community was predictably positive.
"That's great," said longtime local musician and current Boomerangs frontman Dan Mulholland. "I'm impressed." And although it took a while for the Stooges to get voted in, Mulholland's not surprised that they finally made the cut: "A lot more lesser-known or wackier people got in than Iggy," Mulholland said. "I just feel bad for Ron (Asheton) — that he passed before this happened." Local rocker Scott Morgan — a longtime friend of Ron and Scott Asheton, who's set to be part of an Ann Arbor Rock and Roll Revival at the Blind Pig on Friday — offered his opinion on why it took Hall of Fame voters years to embrace the Stooges. "It seems to me that … a lot of the stuff is driven by sales," said Morgan, of Powertrane and the Rationals. "It's all good music, but the Stooges never really sold a lot. It's more about their influence in rock music, and I think that's finally come to the surface." The Stooges formed in 1967 in Ann Arbor. Due largely to their association with the also hard-driving but more famous MC5, the Stooges managed to get a record contract, releasing their first album 40 years ago. Although it made little impact at the time, over the years it became more and more influential, as detailed in this AnnArbor.com story.
The band imploded after three albums, with Pop moving on to a measure of solo stardom. While Alexander passed away and Scott Asheton moved out of state, Ron Asheton continued to live in his west-side Ann Arbor home until his death earlier this year.
In recent years the band has reunited, with Mike Watt taking Alexander's place on bass, even releasing an album of new material, "The Weirdness." Following Ron Asheton's death, guitarist James Williamson —Â who played on The Stooges' third album — is expected to join the band for some dates next year.
As recounted in this story, the band's repeated nominations without winning induction created a bit of an odd situation with the Hall of Fame.
In a 2007 interview with The Ann Arbor News, Ron Asheton reflected on being passed over by the Hall of Fame voters, who are not publicly known:
"See, we're still The Stooges, man. Some people still hate our new record. There are some journalists and record industry people who still hate us enough not to allow us in the Rock and Roll of Fame. Isn't the Rock and Roll Hall of Fame supposed to be about people who were innovators in music, who actually helped create music, not just followers or good singers or people who sold a lot?"
The Stooges are the second Ann Arbor act to gain entry to the Hall of Fame: Bob Seger, who grew up and started his career here, was inducted in 2004.
Said Scott Morgan: "Bob Seger was inducted, what, (five) years ago? And we're old friends, but he didn't sell a lot of records until late in his career, and the stuff he did early on was very inspirational, and that's what The Stooges were. And now they're in the hall of fame, which is where they should be."
Take our poll:
Watch a short documentary, including performance clips, of The Stooges (warning: lots of profanity and adult content):
Jenn McKee contributed to this story.
Bob Needham is director of entertainment content for AnnArbor.com. Reach him at bobneedham@annarbor.com or 734-623-2541, and follow him on Twitter @bobneedham.