Posted on
Wed, Aug 25, 2010 : 11:29 a.m.
Student film coalition's 'Appleville' wraps at U-M's North Campus Research Complex
By Jenn McKee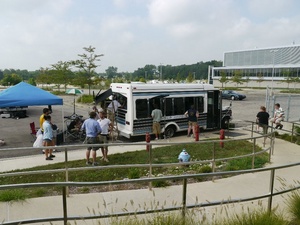 Photo by Curtis Matzke
Though the short film "Appleville" — made by a coalition of students from the University of Michigan, Wayne State University, and Michigan State University — is often described as "Speed" with senior citizens, you wouldn't have guessed that by visiting its professional-but-friendly set, located at the University of Michigan's North Campus Research Complex (formerly the Pfizer campus) last week.
Last Thursday afternoon, rehearsing and filming for "Appleville" happened inside a small bus (borrowed from a church) as it sat stationery in an NCRC parking lot, with windows propped open like wings. The film's director, U-M student Bhandu Chandu, stood hunched next to a boom mike in the bus' doorway, and lead actor Andrew Sandoval, an Oakland University student, stood on the bus' steps and voiced tense lines over Chandu's shoulder while the crew captured the actors/passengers' reactions on film.
When they finished, everyone filed out of the bus, gathered under a nearby tent, and announced that that scene marked the end of filming for two of the scene's actors. Applause and cheers broke out, followed by hugs.
Most of these students and actors didn't know each other before working on this Creative Film Alliance Summer Film Institute project, yet they very quickly jelled into a cohesive unit.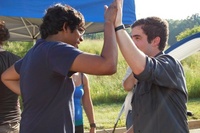 Photo by Curtis Matzke
"I knew we'd all get along, but the first day we met each other, it was like we were best friends," said Chandu, a Phoenix native. "It happened immediately."
According to U-M screenwriting professor Jim Burnstein, this happened in part when the students got together for an intensive retreat at Gull Lake in early July. "Appleville"'s script, written by U-M student (and Hopwood Award winner) Erin Whittemore, was originally feature-length, so the film's team knew it would have to be pared down to 30 pages. But when faculty members from the participating schools also voiced concerns over the difficulty of dealing with its action-movie elements — the story involves a young man who hijacks a bus of seniors in order to get money for a child support payment — they asked Whittemore to produce an outline that would be easier to film.
"Well, we went in and did the reading and told (the students) about the new plan, and you could see right away that the kids all bonded together in this mini-rebellion (and said) 'No, we want all the cool (stuff) she had in the script, where there's a lot of action, and you're using the bus, and it's real tense — we don't want to lose that,'" said Burnstein. "We said, 'OK. But you know this is going to be a lot more work,' and they … immediately took ownership."
"Appleville" has been supported by the state, the universities (including U-M's film office), and individual contributions, as well as companies who've offered services gratis (like casting agency Pound & Mooney) or made donations (law firm Miller Canfield paid for the team's retreat at Gull Lake).
But everything came together in a relatively short amount of time. Emery King, chair of the Michigan Film Office advisory board, started the ball rolling at a meeting that happened at the end of January.
"Emery said to me just before the meeting, 'I'm going to announce today a new initiative that I want us to work on, which is, let's do a project between Wayne State, Michigan, and Michigan State. Let's bring the kids together, maybe they'll make a film, something like that. Let's see what happens,'" said Burnstein. "I said to him, 'Emery, you're not from here, are you?' … He said, 'Come on, let's try it!' All right. So he announces it, he turns to me and said, 'What are you going to do?'
What Burnstein did was meet with faculty reps from the other schools to discuss a project. "Much to our surprise, … we all kind of liked each other," Burnstein said.
Soon, the faculty members were meeting every two to three weeks to hash out logistics, funding, etc. "We committed ourselves to this insane idea that we were, this summer, going to find the kids who would be best for this, recruit them, get them in, find a script, and shoot it all this summer," said Burnstein.
Once these faculty members selected a student script, as well as seven students from each school's film program, they auditioned actors, and recent U-M grad Myles Mershman landed the role of busdriver.
"I really want to move my career in that direction of doing film," said Shelby Township native Mershman. "I love the energy that everybody has."
Birmingham resident Sandoval, meanwhile, plays the bus hijacker, and because of his recent work as an extra on "Real Steel" and the new "Harold and Kumar" Christmas movie — both filmed in the Detroit area — "Appleville" may qualify him for a Screen Actors Guild card.
"I never thought I'd be close to that at 23," said Sandoval.
One longstanding member of SAG that appears in the film is Evy Orbach, the former artistic director of West Bloomfield's Jewish Ensemble Theatre, who plays one of the bus passengers.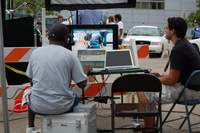 Photo by Curtis Matzke
"What I really didn't expect was how knowledgeable these kids are," said Orbach. "I haven't had one moment where I felt they weren't competent. … These three universities are producing people who belong in the industry. Every one of these kids deserves a job."
After an intensive two-week shoot, "Appleville" wrapped at NCRC on August 20, and the CFA team plans to premiere the film at the Detroit Institute of Arts and submit it to film festivals. (Click here to see WDIV's recently-aired segment on "Appleville.")
"Emery's vision was for this thing to start to knock down the walls between these schools," said Burnstein. "To let these kids work together and create an indigenous film community. Because in the long run, if we're going to have a self-sustaining industry, you want the talent to come together to create their own things."
Jenn McKee is the entertainment digital journalist for AnnArbor.com. Reach her at jennmckee@annarbor.com or 734-623-2546, and follow her on Twitter @jennmckee.