Posted on
Fri, Jul 12, 2013 : 10:13 a.m.
Summer Classics film series offers a double dose of Harrison Ford with 2 Indiana Jones movies
By Roger LeLievre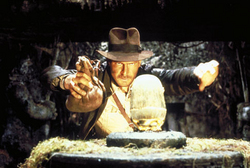 It's been so long, it's hard to remember when movie theaters routinely offered double features. Maybe it was back in the 1980s, when the next two offerings in the Michigan Theater's Summer Classics Film Series were made.
The Michigan will show "Raiders of the Lost Ark" (1981) and "Indiana Jones and the Temple of Doom" (1984) Sunday afternoon and Tuesday evening.
A joint project of George Lucas and Steven Spielberg, with a script co-written by University of Michigan graduate Lawrence Kasdan, among others, "Raiders" stars Harrison Ford as archaeologist Indiana Jones searching for the long-lost Ark of the Covenant.
In "Temple of Doom," Jones is back (with co-star Kate Capshaw) and charged with retrieving a precious gem and several kidnapped young boys.
With all the derring-do, including raging rivers, ritual sacrifice and a harrowing rollercoaster ride in an abandoned mineshaft, is Indiana Jones afraid of anything? Yep, as "Raiders" reveals, he's terrified of snakes. Join the club, Indy.
The movies will screen at the Michigan Theater, 603 E. Liberty St., Sunday, July 14 at 1:30 p.m. and Tuesday, July 16 at 7 p.m. Admission is $10; discounts for seniors, students & members. Details at www.michtheater.org or 734-668-8397.