Posted on
Mon, Dec 10, 2012 : 4:20 p.m.
Sundance USA announces movie to be screened at Ann Arbor's Michigan Theater
By Bob Needham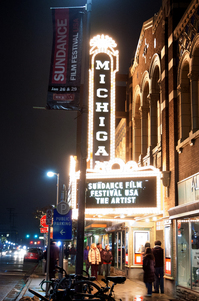 The
Sundance Film Festival
today announced the movie that will screen at the Michigan Theater on Jan. 31 as part of the
Sundance USA
program.
Ann Arbor's selection will be "The East," directed by Zal Batmanglij and written by Batmanglij and Brit Marling. The cast includes Ellen Page, Alexander Skarsgard, and Patricia Clarkson, as well as Marling.
The announcement from Sundance describes the movie: "An operative for an elite private intelligence firm goes into deep cover to infiltrate a mysterious anarchist collective attacking major corporations. Bent on apprehending these fugitives, she finds her loyalty tested as her feelings grow for the group's charismatic leader."
Batmanglij's previous feature, "Sound of My Voice," had a small theatrical release earlier this year.
Sundance USA brings the prestigious annual film festival to a handful of movie theaters around the country. For one night while the festival is taking place in Utah, Sundance entries screen in theaters around the U.S., with the filmmakers in attendance to introduce their movies and answer questions from the audience.
Tickets to Ann Arbor's Sundance USA screening go on sale to the general public on Wednesday, Dec. 12 via Ticketmaster. Tickets cost $15 plus a $2.95 service charge.
This will be the fourth straight year the Michigan Theater has hosted Sundance USA. It puts Ann Arbor in rare company: The other screenings take place in Boston, Brooklyn, Chicago, Houston, Los Angeles, Nashville, Orlando, San Francisco and Tucson.
Robert Redford, president and founder of the Sundance Institute, said in a prepared statement, "Sundance Film Festival USA celebrates the theaters and audiences that are an integral part of supporting and encouraging the work of independent filmmakers. By extending the Festival to these 10 cities, we will create a larger shared experience and dialogue around the issues of our time, as explored in these films."
For more information, see the Michigan Theater website. Check out past Sundance USA coverage here.