Posted on
Fri, Feb 1, 2013 : 5:36 a.m.
Sundance USA brings 'The East' to the Midwest via the Michigan Theater
By Jenn McKee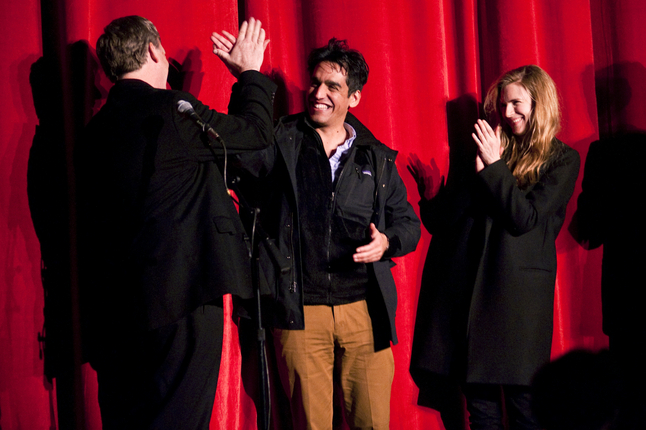 Joseph Tobianski | AnnArbor.com
What did you think of "The East"? Leave a comment and/or vote in the poll at the end of this post:
Near the end of the introductory segment of Thursday night's Sundance USA program, Michigan Theater executive director and CEO Russ Collins said, "The reason that you're here is not for something old, it's for something brand new."
Even so, the night began with a short, retrospective video - in which the Sundance Kid himself, Robert Redford, delivered the final message - that celebrated Collins' 30 years at the Michigan's helm, as well as a couple of brief speeches from Michigan Theater board member Alec Allen, and emeritus board member Henry Aldridge (who spoke about the 40th anniversary of the venue's pipe organ, which had been restored by a group of dedicated volunteers).
"On Friday, December 21st of 1972, folks were filing out from 'The Poseiden Adventure,' and all of the sudden, the theater was filled with the most beautiful organ music," said Aldridge. "And people turned around, and they were stunned to see this beautiful console rising up from the orchestra pit for the first time in more than 20 years. We have continued that tradition uninterrupted for 40 years. Two of the people who started playing 40 years ago are still playing."
Allen, meanwhile, provided statistics to demonstrate how the Michigan has grown and thrived under Collins' leadership.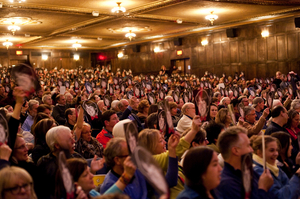 Joseph Tobianski | AnnArbor.com
"(The Michigan Theater) is a wonderful community project, and the truth is is that, you all, the board, the donors, the staff … make this project work," said Collins. "We have a wonderful community. We're very, very lucky to live in a community that really cares about community. It cares about quality of life."
Approximately 1,300 members of that community gathered at the Michigan Thursday to see "The East" and hear from co-writer/director Zal Batmanglij and co-writer/star Brit Marling.
The eco-thriller - which, in addition to Marling, stars Ellen Page ("Juno"), Patricia Clarkson and Alexander Skarsgard ("True Blood") - focuses on an ambitious young intelligence operative (Marling, as Sarah) who infiltrates an eco-terrorist organization called The East, which aims to punish corporate leaders who have harmed people and/or the environment by giving them a taste of their own medicine (literally, in one case). But as Sarah spends more time with the group, and grows closer to its charismatic leader (Skarsgard), she questions her own priorities and convictions.
To launch the discussion that followed the screening, Batmanglij and Marling spoke about how the movie was inspired by their observance of Buy Nothing Day, which became a Buy Nothing Summer, during which they hopped trains all over the U.S. and learned the art of "Dumpster diving."
"We were inspired by our summer where we tried to buy nothing - it didn't fully work out that way, we spent a little bit of money - but we were also inspired by a lot of articles we were reading in The Times about corporate malfeasance," said Batmanglij. "And the film opens with an oil spill. … We wrote that in 2009. So it was really strange when the BP oil spill happened. We were like, 'Well, we're on to something here.'"
"When we went on that (Buy Nothing Summer) journey, I don't think we thought we were going to write about it," said Marling. "It was later, as we were trying to process our feelings and everything we went through. It was so intense, and I felt such a sense of community in this (anarchist) group that we weren't really feeling in our ordinary lives. So I think we wrote about it to make sense of the experience. And I think we felt really conflicted. … Do you go back to the land and try to find nature and your roots there, or is there room to, within the system, affect positive change? And I think that maybe we're warring with that as writers and as people."
The filmmakers discussed shooting the film in Shreveport, Louisiana, in a 19th century house that had most recently been in use as a gay nightclub. But the movie also featured some outdoor bathing scenes - filmed in November - that noticeably set Marling's teeth to chattering.
"The first shot on the first day was Ellen Page naked in a hole in the ground," said Marling, who noted that Page somehow stopped herself from shivering the instant the cameras started rolling. " … She was so brave when we shot that. … For hours, 12 people standing around you, looking down at you naked in a hole, and she just did it. So the next day, when all of us were supposed to get naked and bathe each other in the water, and we had just met two days ago - we really couldn't say anything about it."
One audience member asked about the appeal of cults; here's Marling's response:
When asked about whether they kept in touch with the friends they made during their Buy Nothing Summer, Batmanglij told a story about taking a freegan friend - who makes sailboats out of garbage in San Francisco - to a party with Ellen Page.
The Q&A ended with Marling reflecting on how the two friends' Buy Nothing Summer altered them permanently.
"Zal and I had this experience together, … and when you try to talk about it with other people, it just sounds like cocktail party banter," said Marling. " … But that experience completely changed us. It was a total transformation. I was one person on one side of the experience, and a completely different person on the other side.
" … We stopped going to the movies, which was weird. That was one thing that we both loved, and had in common. But when we came back, we were so used to entertainment within these groups - we'd sing each other songs, and make things, and play city-wide capture the flag, or spin the bottle - that the idea of coming into a theater and surrendering to someone else's point of view seemed crazy."
Former Ann Arbor Film Festival director Donald Harrison attended Thursday's screening and said, "I'm glad (Sundance) sent a provocative, challenging film to Ann Arbor. That's something this community is known for. … ('The East') asked some good questions, and it dramatized some important topics. I'm curious to see if it will do well nationwide."
Another audience member, Barbara Wise of Ann Arbor, said, "The great thing about this is that (the filmmakers) fielded questions. I thought that was wonderful. … And we were just discussing what it must be like to write that script, having tried to experience life that way."
Jenn McKee is the entertainment digital journalist for AnnArbor.com. Reach her at jennmckee@annarbor.com or 734-623-2546, and follow her on Twitter @jennmckee.