Posted on
Wed, Oct 19, 2011 : 8:05 a.m.
Susan Orlean talks 'Rin Tin Tin' at the Michigan Theater
By Jenn McKee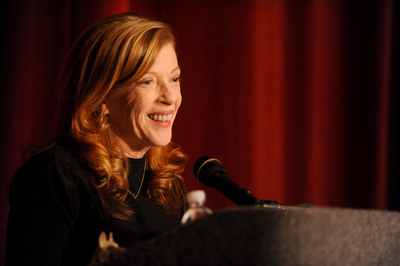 Angela J. Cesere | AnnArbor.com
Every dog must have his day, but one very special dog has had nearly a century, according to New Yorker staff writer
Susan Orlean
, who appeared at the
Michigan Theater
Tuesday evening to promote her new book, "Rin Tin Tin: The Life and the Legend." (Orlean also
answered questions from AnnArbor.com
before the show.)
With approximately 500 people in attendance, the 2-hour event began with an introduction by Michigan Theater executive director Russ Collins, who noted that Orlean, while attending the University of Michigan ('76), lived in the same dorm as Zingerman's co-founder Ari Weinzweig, and was friends with former Ann Arbor Film Festival director Vicki Honeyman.
In the true spirit of a former student, Orlean began her talk by saying, "I'm so glad to be here when I don't have homework."
She also anticipated a question that she's been asked repeatedly, which is: Why did you write a book about Rin Tin Tin and not Lassie?
"I usually get very offended when people ask me that," said Orlean. " … I say, for one thing, Lassie was supposed to be a girl, but was a boy. Secondly, Lassie wasn't a real dog. … Lassie was a character in a book who became a character in a TV show. What fascinated me about Rin Tin Tin was that he did the extraordinary thing of moving in and out of real life and fiction for what is now close to 100 years. … Rin Tin Tin was a character who began in silent films, he was then in vaudeville, in radio, in talking films, in books, in television, and now, again, in a book."
Orlean went on to explain that the seed for the book was planted while working on a story for the New Yorker about the American Humane Society's film and television unit, which monitors the welfare of animals on sets. Inevitably, while doing research, Orlean came across information about Rin Tin Tin. "And it was shocking to me how strong the memory was," Orlean said. "It had been decades and decades since I'd thought about him, had any exposure to him. And certainly a lot of childhood memories are very potent, but this was something that made me literally sit up with surprise."
After Googling Rin Tin Tin, Orlean learned about the dog's early film career, which she'd previously known nothing about. When Orlean's young son asked why this surprised her so, she said, "'Well, how would it feel to you if you discovered that Scooby Doo was a real dog that made movies at the beginning of the 1900s?' And that didn't mean anything to him. But I tried."
Orlean explained that Rin Tin Tin's story was the kind she couldn't resist: one that's utterly familiar, but "you peel back a layer, and there's a whole world there."
"As part of my reporting, I wanted to just kind of (address) the reality that this had been someone's pet, really, who had become an actor, and became a sensation around the world," Orlean said. "He was Warner Brothers' biggest earning star in the 1920s. He made Warner Brothers. The studio probably wouldn't exist today if they hadn't had Rin Tin Tin. They referred to him as 'the mortgage lifter.' And every time they were running out of money, they would release a Rin Tin Tin film, and they were so phenomenally successful that it would pull them out of bankruptcy. He was paid eight times as much as his human co-stars, so he wasn't well-liked."
After telling Rin Tin Tin's origin story - he was rescued, as a puppy, on a World War I battlefield in France by American soldier Lee Duncan, who became his owner and trainer - Orlean read two excerpts from her book and introduced the 1925 silent film, "Clash of the Wolves," which, at one point, had been considered permanently lost.
"Rin Tin Tin made 27 silent films, and at one point, only 4 were known to exist," said Orlean. "Then, sometime in the late 1970s, somebody was cleaning a cabinet in a movie theater in South Africa, and they found a copy of 'Clash of the Wolves' and 'Jaws of Steel.' Now, what was amazing to me was that, the mere thought that these films had been sent all over the world in the 1920s—you think of the 1920s as a time when travel was rare, and people didn't know what the rest of the world looked like, but in fact, these silent films were sent everywhere, and Rin Tin Tin was a huge hit all over the world. He was a global star."
"Clash," which featured live musical accompaniment by organist Steven Ball, told the love story of a lonely, handsome young prospector and a rancher's daughter. After the prospector earns the loyalty of wolf pack leader Rin Tin Tin; a swindler tries to steal both the prospector's fruitful claim and his girl.
Following the screening, Orlean took a number of questions from the audience, including one about Rin Tin Tin's radio shows: "In the end, the dog appears, he barks, and solves the problem," said Orlean. "(Rin Tin Tin) occasionally did his own barking. … But usually, they had an actor whose name, and I kid you not, was Bob Barker."
Two sisters (and Belleville natives) in Tuesday night's crowd - Diana Razell of Madison, Wisconsin, and Mary Carey of Jackson - were drawn to the event out of a sense of nostalgia.
"I grew up in the '50s and watched 'Rin Tin Tin' faithfully," said Razell. "We both loved it."
"And then I read a review of the book in the Jackson paper and called my sister and said, 'You'll never guess,'" Carey said. "She's here from Wisconsin for this week alone. So we thought it was Providence."
Jenn McKee is the entertainment digital journalist for AnnArbor.com. Reach her at jennmckee@annarbor.com or 734-623-2546, and follow her on Twitter @jennmckee.