Posted on
Tue, Jul 2, 2013 : 12:55 p.m.
Susan Werner brings her new 'Hayseed' songs to The Ark
By Roger LeLievre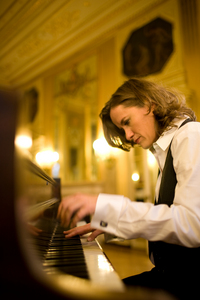 photo by Asia Kepka
Susan Werner - no stranger to Ann Arbor audiences - returns to
The Ark
on Saturday with songs from her new CD, "Hayseed."
Paying tribute to American agriculture and to her Iowa farm roots, Werner lends her voice to subjects such as farmer's markets, agrochemicals, climate change, drought, longing for a sense of place, and the movement towards sustainable agriculture. Song titles include "City Kids," "Back to the Land," "Egg Money" and While You Wait for the Rain."
Talented on piano and guitar, Werner has released 10 albums that have ranged from hardcore folk to Broadway music, humorous songs, a skeptical yet sympathetic take on gospel, and even classical arrangements of classic rock.
Susan Werner performs at The Ark, 316 S. Main St., at 8 p.m. Saturday, July 6. Tickets are $20. Details at www.theark.org or 734-761-1451.