Posted on
Tue, Feb 19, 2013 : 5:52 a.m.
Revisiting back catalog, Suzanne Vega returning to The Ark
By Kevin Ransom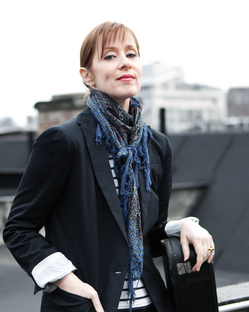 At first blush,
Suzanne Vega
's fans probably didn't think her deep catalog of songs needed to be reworked.
Indeed, for more than 25 years, Vega has been one of the most beloved figures on the pop-folk scene. Her intimate, sensitive, probing and often fearless songs have struck an emotional chord with millions of listeners, and as a result her fan base is one of the most loyal in the pop-folk fraternity.
But a couple of years ago, Vega—who comes to The Ark on Saturday—looked back at her substantial songbook and decided she wanted to recast it, for a couple of reasons.
So, between 2009 and 2012, she went back into the studio and re-recorded four albums worth of her songs, and has released them in four volumes, dubbing them her "Close Up" series. She also regrouped the songs so that each volume had a theme—"Love Songs," "People and Places," "States of Being" and "Songs of Family."
That final album in the series, "Songs of Family," was released in September. Included in the "Close Up" series were a handful of songs she had never recorded, some dating back to her teenage years.
Given the nature of the "Songs of Family" theme, that collection is the most personal of the four: The songs are about her mother, grandmother, brothers, daughter, former loves, ex-husbands, etc. So, it was fitting that the musical treatment is also the most intimate of the "Close Up" collection. She has said "it's the folkiest" of the four, and that's certainly true.
PREVIEW
Suzanne Vega
Who: Critically lauded, much-loved folk-pop singer-songwriter who's been a favorite on the folk-pop circuit since the late 1980s.
What: Intimate, sensitive, probing and often fearless songs that have struck an emotional chord with millions of listeners.
Where: The Ark, 316 S. Main St.
When: 8 p.m. Saturday, Feb. 23.
How much: $40. Tickets available from The Ark box office (with no service charge); Michigan Union Ticket Office, 530 S. State St.; Herb David Guitar Studio, 302 E. Liberty St.; or online from MUTO.
The more spare acoustic treatments definitely suit the more personal nature of these songs, so the new versions sound more intimate than the original recordings. "Songs of Family" includes such Vega stalwarts as "Rosemary Honeymoon," "Suite World Before Columbus," "Tired of Sleeping Pilgrimage," "Blood Sings," "As You Are Now," "Widow's Walk" and other Vega favorites.
"Songs of Family" also includes three of those never-before-recorded tracks: "The Silver Lady" and "Brother Mine" were written when she was just 14 years old.
"The Silver Lady" is a fantasy story, and "the second song I ever wrote," said Vega in the liner notes for the "Songs of Family" CD. "I sang it for my mother, who then grew thoughtful. Where did you hear that story, she wanted to know. I made it up, I told her. There really was a Silver Lady, she told me. Your grandmother lived with her father who eventually drowned in a river."
And "''Brother Mine' was the first song I ever wrote, for my brother, Matthew," said Vega.
Meanwhile, the third previously unrecorded song on "Family" is "Daddy is White," the title of which refers to Vega's biological father, who she never met until she was an adult, after searching for him for years. The song is "probably the most autobiographical song I ever wrote," added Vega. "The father who raised me was a Puerto Rican man, Ed Vega, who in many ways raised me as his own."
The song is essentially about how her perceptions of race, culture and music were shaped in large part by her stepfather being from another culture. She spent part of her early life growing up in Spanish Harlem, and was always exposed to a heady brew of multi-cultural music, including bossa nova, jazz, Motown and folk.
But, back to her inspiration for rerecording all of these songs:
"I always liked the idea of regrouping the songs by theme, which is something I do when I perform live," Vega told American Songwriter magazine. "I think the audience has enjoyed the different themes. They have seen similarities that they wouldn't have before."
Plus, "when I found myself without a record deal in 2008, I decided to record my songs simply, without the production of the different decades," she said.
And, "this gives me a way of owning a physical copy of my life's work, since I don't own the original recordings."
"The average person on the street doesn't really understand that artists don't own the actual (original) masters," Vega elaborated in an interview with Billboard magazine. "So there's a little confusion. But if someone liked the original version of 'Luka,' they can buy it for 99 cents on iTunes and that's okay. But that being said, a lot of people love the re-recordings because of the simplicity of the songs and the production and how intimate it is. They really love it."
She added that the four "Close-Up" discs have been selling briskly at her concerts, so, she's now "made back the money I've put into it, so whatever I see from here on out is profit."
Vega added that she wants to release a "Close Up" box set this year, which would add a fifth disc of "odds and ends and special versions of some of the songs," including "Marlene On the Wall." In addition, she's working on new songs for what would be her first studio album of new material since "Beauty & Crime" in 2007.
Kevin Ransom, a freelance writer who covers music for AnnArbor.com, can be reached at KevinRansom10@aol.com.