Posted on
Wed, Aug 8, 2012 : 10:03 a.m.
Taco time at Tmaz Taqueria
By Kim Bayer
In a nondescript strip mall at the ethnic crossroads that now defines Packard and Platt, Tmaz Tacqueria has been open since the beginning of the year, according to owner Cesar Hervert. With a focus on authentic Mexican tacos, Tmaz Taqueria joins Eastern European, Indian, Asian and Middle Eastern establishments in serving the cuisines of the world at affordable prices to Ann Arbor and Ypsilanti residents.
Without much ambience to speak of, Tmaz is the ultimate Chowhound-style destination where a little hole-in-the-wall place is all about tasty food and affordable prices.
Temascalcingo de Jose Maria Velasco is the full name of the town and municipality in central Mexico where Hervert's wife, Ana, is from and from which the affectionate nickname Tmaz is derived. If you've been to Mexico (or even someplace on the border) and had real Mexican food, you know that what we generally see here is a tiny fraction and a pathetic facsimile of what the fortunate people in those colorful places get to eat.
So I'm excited that Tmaz is focusing on region-specific tacos and serving made-from-scratch aguas frescas ("fruit water"), tortas (sandwiches), desayuno (breakfast) and a few Mexican desserts as well.
Place your order at the cash register for a flight of tacos, some sides and real Mexican beverages. (I also spied aluminum to-go trays where they can pack in as many as 15 tacos to take out if you like.) While we waited for our food, I was encouraged about the prospects for our meal observing that the only other customers in the restaurant were speaking Spanish, and the people behind the counter were as well.
RESTAURANT REVIEW
Tmaz Taqueria
3182 Packard Road, Ann Arbor
734-477-6089
http://www.tmaztaqueria.com
Hours: Monday-Saturday 10 a.m. - midnight; Sunday 10 a.m. - 8 p.m.
Plastic: Visa, Mastercard
Liquor: None
Prices: Inexpensive. Tacos are $2 or less each. Sandwiches $6.50-$7.50.
Noise level: Quiet (but they were not busy while we were there).
Wheelchair access: Yes
From an unscientific poll of my chow hound-ish friends, Tmaz is the place to go for tacos around here. In a long narrow space lined with harlequin-esque restaurant booths on one side, they serve their 16 different kinds of tacos (including five vegetarian) a la carte for $2 or less apiece.
Describing some of the regional specialties, owner Hervert says the "Cochinita Pibil from the Yucatan is shredded pork which is cooked in a pot for over four hours in a special sauce until meat becomes really tender. Seafood tacos, like fish and shrimp, come from Acapulco and Tamualipas. We're working on Baja tacos next, with fried fish, but we need a bigger kitchen and a fryer."
Before I get to the tacos, I want to mention a couple of the sides we ordered. Vegetarians beware: Although they have a veggie option, we ordered a side of beans and were delighted with a bowl of tender whole pintos, well-salted, in a savory broth swimming with both hotdog slices and bacon. The Spanish rice with tiny carrots and peas was notable for its discernible garlic bite.
They don't mention chips and salsa on the menu, but when I saw the big squeeze bottles filled with their own house-made Mexican salsas, I needed to have some kind of conveyance to do quality assurance. The brawny chips they served were fresh…and the salsas are worth seeking out.
The green tomatillo salsa was a favorite at our table — fairly mild and made with onions, jalapeno, and cilantro, it had a nice balance of acid and sweet with just a little heat. The Tmaz "ranchero" salsa, made with both chile japones and chile de arbol was complex and spicy, with dark, almost bitter, chocolate flavors and only a little bit of smoke. It was addictive.
For bebidas (drinks), you can pull Jarritos sodas from the cooler, but I suggest trying the aguas frescas or "fruit waters" made fresh on-site daily in flavors like watermelon, blueberry, strawberry, orange and even guanabana. In addition to the fruity drinks, they also make horchata (from rice, cinnamon, and coconut), jamaica (from Mexican hibiscus flowers) and tamarind drinks.
We really enjoyed the strawberry agua fresca, and I thought the jamaica was delicious too. Both had great red-berry flavor and were not too sweet. Aguas frescas are the perfect refreshing accompaniment to spicy grilled-meat-filled tacos and as far as I know, Tmaz is the only place around making a great selection of these made-for-summer drinks. A big glass was only $2.
Getting back to the tacos… I thought a guy with 16 different tacos on his menu would know a thing or two about what makes them good. When I asked Cesar Hervert about the secret to exceptional tacos, he said, "Basically it's about the ingredients — they have to be fresh. That's why I drive to Detroit's Eastern Market twice a week to get meat and produce. And the tortillas have to be real corn. Most places use masa flour, but I'm using a tortilla based on real corn for the flavor."
The doubled-up soft corn tacos at Tmaz Taqueria are filled with mostly meat, which Hervert insists has to be fresh. At Tmaz they serve familiar options like asada (grilled steak), barbacoa (shredded beef), pollo con chipotle (chicken with chipotle), al pastor (marinated pork) and chorizo... but also lengua (tongue), chicharron con Tmaz ranchero (pork rinds with Tmaz salsa) and camaron a la diabla (spicy shrimp). There are a healthy number of vegetarian options as well: papas con rajas poblano y queso (potato with poblano pepper and cheese), calabaza y nopolitos a la mexicana (Mexican zucchini and cactus) and frijolitos negros con queso (vegetarian black beans with cheese).
Accented with finely chopped onion and cilantro, and served with lime, all the tacos we tried were delicious. I especially enjoyed the al pastor (marinated pork) and papas con rajas poblanos (mashed potato with poblano pepper). I loved the papas con rajas because it tasted like and had little chunks of real potatoes, unlike some other places in town, which resort to using a box mix for their papas con rajas.
Because they were not busy when we were there, I pestered the lovely woman behind the cash register with all kinds of questions about what was in the aguas frescas, about how they make the salsas, about their desserts. She was just as kind and helpful as she could be, even inviting me back to look at the desserts in the cooler to choose which ones we might want, since they don't have them on their menu yet.
Going to Tmaz for tacos may be a no-frills experience, but it's also a portrait of the American dream. With some heart and hard work it's still possible to create an authentic food experience for not a lot of money. That seems worthwhile to me.
Tmaz is definitely a work in progress, but they have ambitious plans to expand with more bakery and breakfast items in addition to the tacos. Some chilaquiles please? And pastel de tres leches?
Hervert told me that he wants to emphasize that they're a family-owned business that's part of the community, with teenage sons at Pioneer and Community High. He said they're not a big company and don't expect to get rich with this, so quality and good service are all that matters.
What I kept thinking was — there are still another 15 kinds of tacos Tmaz will have to put on the menu to be able to have one to represent every state in Mexico. I can't wait to see what they are.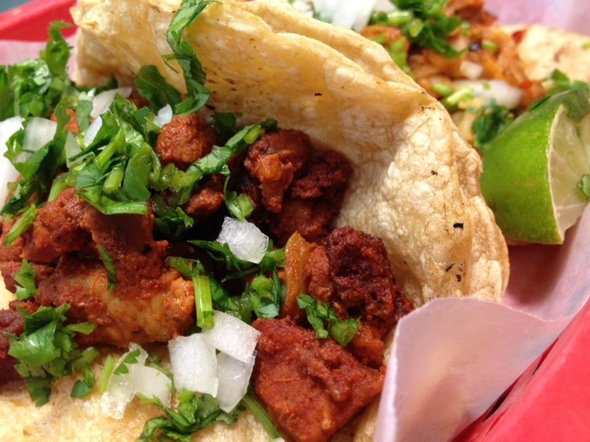 Kim Bayer | AnnArbor.com Contributor
Kim Bayer is a freelance writer and culinary researcher. Email her at kimbayer at gmail dot com.