Posted on
Fri, Oct 8, 2010 : 5:53 a.m.
Takács Quartet beginning celebration of Schubert
By Susan Isaacs Nisbett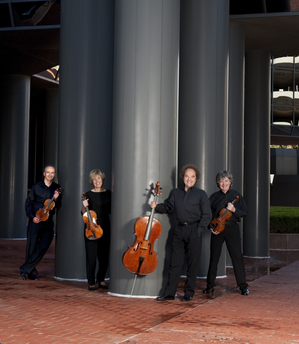 photo by Ellen Appel
Anniversaries of composer's births and deaths come and go, celebrated by concerts honoring the musical treasures they've left us. My favorite anniversary was the 1997 bicentennial of Schubert's birth. Presenters and ensembles around the world stood ready to indulge our desire to drink in those gorgeous melodies, that deeply touching music.
The Takács Quartet isn't standing on ceremony and waiting for 2028, when we can commemorate the 200th anniversary of Schubert's death, though. In a series of three concerts this season, both here and in New York, the quartet and friends like pianists Jeffrey Kahane and Vladimir Feltsman (standing in for Kahane in the series' first concert); cellist Paul Katz; and bassist John Feeney celebrate Schubert's chamber-scale scores, from the string quartets and quintets to his solo piano music.
The first of the concerts here takes place Thursday at Rackham Auditorium, under University Musical Society auspices. The remaining concerts are set for February and April. UMS announced the Feltsman substitution for Concert I - Kahane is recovering from mononucleosis, and is still on the docket for the "Trout Quintet" in April — this week. (Note: Feltsman will also substitute for Murray Perahia, set for a UMS solo recital on Nov. 10; Perahia has canceled his fall tour due to a hand injury.)
The reason to undertake a Schubert project is simple, and Takács violist Geraldine Walther nails it — for many of us — when she says, "Nothing makes me feel the same way that Schubert does. He reaches a corner of my soul that no other composer does."
Speaking by phone from the quartet's home base in Colorado before the group set off on tour, Walther recalled a friend's reaction after a concert that had included Schubert's "Death and the Maiden" quartet. The friend talked of how his music seems "so in the now" and how it carries you along. And then her friend said, "Schubert is just so … musical!"
"We just had to laugh," said Walther. "It's so true. He encompasses so many emotions and so many colors, and it changes so fast. He's such a chameleon. He goes from anguish to joy so quickly that it's such a great experience to play."
PREVIEW
Who: Acclaimed chamber ensemble. With pianist with pianist Vladimir Feltsman.
What: First of three concerts celebrating Schubert.
Where: Rackham Auditorium, 915 East Washington Street.
When: Thursday, 8 p.m.
How much: $24-$48, UMS Ticket Office in the Michigan League, 734-764-2538, and online at the UMS website.
The "Death and the Maiden" quartet (No. 810 in Deutsch's catalog of Schubert's works) that provoked Walther's friend's comment is among the pieces on the first Takács concert here. It holds a dear place for music lovers, with its slow movement theme and variations based on the Schubert song of the same title. It is intense music, full of Schubertian dramatic contrasts of darkness and light; and all the movements, in one way or another, are a contemplation of life's end.
Contemporary composer Paul Kellogg contemplates Schubert's contemplation in his new work for the Takács, "Soft Sleep Shall Contain You: A Meditation on Schubert's 'Death and the Maiden.' " The Takács premiered the work just a few weeks ago in Denver.
"It's a really sweet little piece, said Walther, who then corrected herself immediately. "I shouldn't say sweet. It's really rather intense. We seem to be in an intense phase in our quartet right now, with a lot of intense music."
Include in that category a piece on the program that gives the quartet a break: Schubert's enormous and wondrous final piano sonata, the B-flat Sonata, D. 960, composed just a few months before the composer's demise at 31. Like "Death and the Maiden," it is filled with rich lyricism and light as well as darkness. But spirituality is central. It, too, contemplates death, particularly in the slow movement, where the journey from sadness and doubt toward radiant, reassuring acceptance is extraordinary and profound.
The earliest work on the program, the Quartettsatz in c minor (D. 703) of 1820, is a fragment — the first movement of a quartet that Schubert never completed. "It's a little less intense than some of the other works on the program," said Walther. And while it is incomplete, it looks forward to Schubert's late quartets, like "Death and the Maiden," amazing works in a career that burned to the end of the candle all too quickly.
Susan Isaacs Nisbett is a free-lance writer who covers classical music and dance for AnnArbor.com.