Posted on
Mon, Jan 14, 2013 : 1:26 p.m.
Take in 'Cinema Night Special: An Evening Of Experimental Films And Music' at the Ann Arbor District Library
By Ann Dwyer
If you like to experiment--with film, that is--then the Ann Arbor District Library's Friday night event, Cinema Night Special: An Evening Of Experimental Films And Music is for you. At the main branch of the library, this special event brings features a 70-minute feature, a shorter experimental film and live music in-between with the No Excuses Band.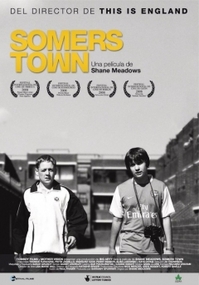 The feature film will be the 2008 critically acclaimed "Somers Town." The movie is a warmhearted portrait of two young boys living in London, trying not to end up like their fathers. At 16, Tomo, no longer under parental care, heads to London to look for a better life. Marek, a quiet, sensitive boy, moves into the apartment he shares with his alcoholic father--unbeknownst to him. Unfortunately, the night the boys decide to share a bottle, Marek's father discovers what's going on. How strong will their friendship be after they are both kicked out?
The experimental short is the 14-minute 2012 German film "Pro Kopf (The Maid)." "This suspense-filled short takes place as an executive working away from home makes a phone call home at the wrong time - and discovers an indiscretion that may lead to murder," according to the library's press release.
7-9 p.m. Free. Popcorn will be served. For more information, call the library at 327-4555 or visit aadl.org. The AADL is located at 343 S. Fifth Ave., Ann Arbor.