Posted on
Sun, Oct 7, 2012 : 11:22 a.m.
Take in tributes to John Lennon and Betty Ford this week, and be sure to plunk those keys before Pianos 'Round Town pack up
By Ann Dwyer
LECTURE
Journalist and author Nick Clooney will be the speaker at the U-M Margaret Waterman Alumnae Group Town Hall Celebrity Lecture Series at the Michigan League on Tuesday. 11:30 a.m. If the name sounds familiar, yes, he is George's dad. For information or to get tickets, contact Carolyn Tyson at 734-426-1577. 911 N. University Ave., Ann Arbor.
MUSIC
A variety of local musicians will celebrate at "John Lennon's Birthday Concert" at The Ark. 7:30 p.m. Tuesday. Acts include Mr. B, FUBAR, San & Emily Slomovits, Wire in the Wood, Dick Siegel, Chris Buhalis, Dave Boutette and many more. This is a benefit for the Peace Scholarship Fund of the local chapter of Veterans For Peace. $15. Tickets can purchased at Herb David Guitar Studio and the Michigan Union Ticket Office (mutotix.com) and at the door. 316 S. Main St., Ann Arbor.
FILM
Join WCBN-FM at the Arbor Brewing Company to watch the Tim Burton favorite "Beetlejuice" on Wednesday. 9 p.m. A horror comedy about a young couple who become ghosts haunting their former home who hire an obnoxious bio-exorcist to scare off the house's new inhabitants. Stars Michael Keaton, Geena Davis, Alec Baldwin and Winona Ryder. Free. 114 E. Washington St., Ann Arbor. 734-763-3500.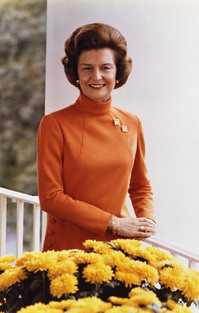 official White House photo (public domain)
TRIBUTE
U-M will offer a "Tribute to Mrs. Betty Ford" at Rackham Auditorium on Thursday. 3 p.m. The keynote address will be given by Susan G. Komen for the Cure founder Nancy Brinker, a former U.S. ambassador to Hungary. There will also be a performance by a Martha Graham Dance Company soloist, and remarks by U-M president Mary Sue Coleman and others. Free. 915 East Washington St., Ann Arbor.
BEER
Get tickets to "Oktoberfests: An Arbor Brewing Company Beer Tasting" on Thursday. 7-9 p.m. You'll get a chance to sample and learn about more than two dozen Oktoberfest lagers, along with an assortment of fall specialty ales and lagers. There will also be a drawing for beer-related prizes. Tickets are $25 in advance, $30 (if available) at the door. The price of admission includes unlimited beer sampling and a German appetizer buffet. At 114 E. Washington St., Ann Arbor. 734-213-1393.
MUSIC
You'd better hurry to Depot Town! Pianos 'Round Town will pack up on Monday. Business hours. Pull up the bench on any of the colorful pianos and tickle those ivories. Don't be shy! Pianos will be at Nelson Amos Studio (23 E. Cross Street); Cafe Racer (10 E. Cross Street); Ypsilanti Food Co-op (312 N. River Street); Mix (130 W. Michigan Ave.); Sidetrack (56 E. Cross Street); Depot Town Dispensary (35 E. Cross); Red Rock Downtown Barbecue (207 W. Michigan Ave.) Tower Inn Cafe (701 W. Cross). Free.