Posted on
Sat, Oct 13, 2012 : 5:59 a.m.
New song 'Take It To The Big House' celebrates Michigan Stadium
By Bob Needham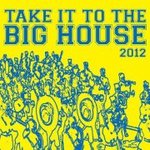 A new local band has kicked off its career with an ode to Michigan Stadium.
The Arboriginals released their first single, "Take It To the Big House," earlier this fall and recently produced a video to go along with it, just in time for today's homecoming game against Illinois.
The band is led by Oni Werth, a longtime key player in the Ann Arbor music scene. A product of the Community High School jazz program, Werth has been working professionally since age 14, and has played in notable local bands like the Urbations, the Watusies and Map of the World.
Aside from Werth, the only other permanent member of the Arboriginals is drummer Jim Carey. For "Take It To the Big House," they worked with a group including Hazelette Crosby-Robinson, lead vocals; Brian Delaney, guitar; Andy Adamson, keyboards; Chris Smith, trombone and Sousaphone; Peter Klaver, tenor sax; David Swain, baritone sax; and Traci Buckner, Judith Thurman and Dan "da Soul Man" Carter, backing vocals.
"The song is a true Townie effort with all performers being graduates of Ann Arbor Public Schools, " Werth noted in an email. "The trumpet player, Dave 'Doc' Cavender, is the son of the legendary George Cavender of U of M Bands fame."
The video for the song can be seen below, and audio can be purchased at iTunes, CDBaby, Amazon.com's MP3 store, and elsewhere.
For more information on the Arboriginals, see the band's website or its Facebook page.
Bob Needham is director of entertainment content for AnnArbor.com. Reach him at bobneedham@annarbor.com or 734-623-2541, and follow him on Twitter @bobneedham.