Posted on
Tue, Nov 8, 2011 : 9:18 a.m.
Taking a break from Ella Riot, two of its members fly solo with duo s/he
By Roger LeLievre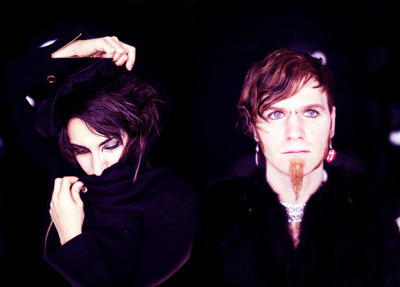 The Ann Arbor band known most recently as
Ella Riot
, and before that,
My Dear Disco
, may be on hiatus, but that doesn't mean the music's over. Two of its members—instrumentalist
Tyler Duncan
and vocalist
Michelle Chamuel
—have teamed up to form the duo
s/he
, and they recently released their debut album.
Ella Riot performed its last show around Halloween. Duncan and Chamuel both agreed the group could get back together someday if it feels right to do so.
"No bridges have been burned. We still have the giant ship we built up. We still have our following, we have our music, we have our friendship. … We just need to breathe, to see what happens. It's definitely a hiatus," Chamuel said.
"We dedicated our life to that band," Duncan added. "I think we were all just craving what life would be like without doing nothing but a band. We haven't had that 'I'm out of college; what do we do?' moment. We're being loose, you know. There's no point in saying it's officially this or that. Then we're tied to that reality."
With its focus on electronica-flavored sound, My Dear Disco played self-described "dance-think" music—tunes that sounded just as good on the dance floor as they did through headphones. The group formed in 2007 out of the roots of another local band, Toolbox; its members graduated from the University of Michigan School of Music, Theatre and Dance in April 2008 and released their debut CD in October 2008. They became Ella Riot this past March, before announcing the hiatus on their Web site in early October.
Soon after Ella Riot's final show, Duncan headed off for a month in Ireland to play the bagpipes with a group called Footura. Guitarist Robert "DJ Body Rock" Lester decamped to Brooklyn. Chamuel and drummer Mike Shea stayed put in Ann Arbor.
Duncan, who grew up here, and Chamuel, who is originally from Boston, said they have no plans for any live shows in support of the 10-song s/he (pronounced "s slash he") project, and that's part of the freedom that's come with unplugging from Ella Riot.
"(The band) felt like a really giant boat and we're like a little canoe right now," Chamuel said. "The giant boat is amazing—it's kind of like a luxury liner—but having the ability to work on your own, with whomever, write music whenever and not have to run things by an entire operation is really something we're embracing. We'll just do what comes naturally. There's not really a lot of planning in it."
Duncan is also embracing the new sense of freedom when it comes to music.
"We're just trying to get music out there. We went super hard with the performance-touring-band thing. I can say I'm excited for a different approach, approaching something from a different mentality right from the beginning. It's sweet. We don't have to perform, we may never perform, maybe we will perform—it's this no-obligation existence."
A listen to the s/he album, which is only available by download, reveals a sound somewhat similar to Ella Riot's dance-floor-friendly electronica, though Duncan is quick to point out a number of influences in the music.
"There definitely are some really big-sounding moments on the record that just seemed like most appropriate way to get an emotional point across," he said. "But we weren't thinking about (electronic music DJ/producer) Deadmau5 or anything. Obviously we've listened to him, we're a product of a generation that is a similar generation, so there's some common influence. … Right now we would have to force ourselves to write in one genre. The record has a lot of things in it because we both are familiar with some of the same but also distant genres."
Right now the goal, Chamuel and Duncan agreed, is to be as honest as possible in expressing themselves.
"It wasn't about making bigger chords, or smaller chords, it was what communicates the feeling … where did the song come from? And just go with that 100 percent. Don't think about radio, don't think about form or expansiveness, or how to play it live. Just think about what the song is about and how do we want it make us feel. That was it," said Duncan.
While important to the overall songwriting, Chamuel said that honesty is especially key in live performance.
"If you watch someone on stage and they're singing or playing or performing and they are fixing their hair while they're doing it, that's the antithesis of what we're going for," she explained. "If you see someone and their hair looks crazy and it doesn't matter (because) they are delivering (the performance) right from them to you, that's the goal, to be totally honest and in the moment."