Posted on
Wed, Sep 14, 2011 : 5:39 a.m.
Talented tweens Ariel, Zoey and Eli offer benefit show for Mott, prepare for season 2 of TV show
By Roger LeLievre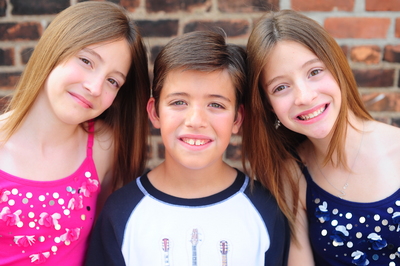 photo courtesy of Press Here Publicity
Ann Arbor natives
Ariel, Zoey and Eli Engelbert
are definitely a hit in the tween TV world and beyond.
Not only do the talented siblings star in their own TV variety show, "Ariel & Zoey & Eli, Too," they also write and perform songs for their band Sugar Station and have caught the eye of acclaimed Broadway music director /composer Gary Adler ("Avenue Q") and Emmy Award-winning composer/Ann Arborite David Barrett, who wrote their show's theme song.
On Sunday afternoon, the trio will host a fundraiser for the University of Michigan C.S. Mott Children's Hospital at the Michigan Theater. The evening will double as a premiere event where they will debut segments from Season Two of their TV show. A performance from the trio will cap the night.
With the goal of empowering, educating and entertaining children primarily through music, "Ariel & Zoey & Eli, Too" debuted in September 2010 and is now available in more than 90 million U.S. homes. The new season starts Sept. 26; as of this writing, the show is not available in the Detroit market, though the kids' father says a deal is close.
Although famous among their peers, the threesome still live in Ann Arbor, where they are home-schooled. The show is taped at a studio in Livonia, and at Ann Arbor's Big Sky recording studio. They have also performed at The Ark, appeared several times at Top of the Park, and Ariel and Zoey have performed twice with the Ann Arbor Symphony Orchestra.
"Outside of performing and filming, our lives are pretty normal," Zoey Engelbert told AnnArbor.com by phone recently.
"Ariel and I are Mott babies. We were preemies—we spent the first days of our lives at Mott," explained Zoey Engelbert when asked about the Mott benefit.
She and her twin sister are 12 years old; Eli is 10.
Raising funds and performing for worthy causes is nothing new for the group. In addition to the Ann Arbor benefit, they spend much of their time supporting U.S. troops and military families through performances and visits, including a 2009 tour of military bases across the country called "Operation: Sweet Company." They have performed for the children of wounded troops at Walter Reed Army Medical Center and in April they were invited to headline the "Celebration of Our Military Kids' Star Power" event at the U.S. Navy Memorial in Washington, D.C.
"We know that we will help a lot of people," Engelbert said of the charity work.
Ever since Ariel and Zoey caught the attention of Detroit radio personality Dick Purtan with their cover of "The Rainbow Connection" the kids and their show have been on a roll, and Zoey is clearly thrilled at this season's lineup.
"We're going to have ('I Carly' star) Miranda Cosgrove on the show, which is really cool, Verve Pipe and Jill Jack. Verve Pipe has a children's album and Ariel and I backed them up on a song called 'Cereal' … Jill Jack has a song about Detroit called 'I'm A Believer'—we backed her up on that and Eli played the drums. Eli interviewed (former University of Michigan head football coach) Lloyd Carr, and we took over Blaine and Allyson's (Detroit) radio show."
A segment on bullying, featuring Gary Adler's "Ballad of Bullying," and another, about empowering young women, which features David Barrett's new song "Worthy," are also exciting, she said.
She called a segment with the U-M Musical Theater Department "the most beautiful we have ever done … they are so talented." Zoey was so impressed, she said she hopes to be a part of the program some day in the future. Meanwhile, she plans on continuing to perform and otherwise broaden her skills.
"We're gong to continue doing music, but I probably want to combine some comedy with that," she said.
"Ariel & Zoey & Eli, Too: A Premiere with a Purpose" takes place at 4 p.m. Today at the Michigan Theater, 603 E. Liberty St. Tickets ($5) and information: www.arielandzoey.com or www.michtheater.org
Some highlights from the second season of the TV show: