Posted on
Wed, Apr 10, 2013 : 5:43 a.m.
Talib Kweli bringing his socially conscious hip-hop to the Blind Pig
By Will Stewart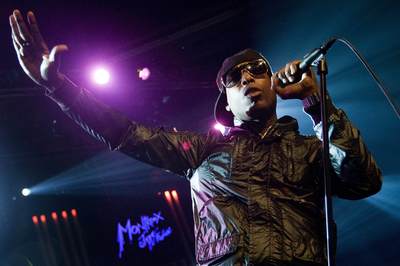 AP file photo
Throughout his career,
Talib Kweli
has chafed against any kind of label.
Whether being pigeonholed as a socially conscious rapper or as somehow more book-smart than many of his contemporaries, Kweli has simply refused to be placed into any kind of a box.
But with the release of his newest record, "Prisoner of Conscious," Kweli, who makes a return trip to the Blind Pig on April 14, is making plain his stand against categorization.
"People try to place you in a box and keep you prisoner," the rapper recently told Xirius XM Radio host, Sway. "I want my musical decisions to be placed at the forefront."
Since breaking onto the hip-hop scene in 1989 with his Black Star partner, Mos Def, that's exactly what he's done.
PREVIEW
Talib Kweli
Who: Rap star from New York.
What: "Socially conscious" hip-hop.
Where: Blind Pig, 208 S. First St.
When: 9 p.m. (doors) Sunday, April 14.
How much: $28 in advance; $30 day of.
And it makes perfect sense, seeing that his name is Arabic for "Seeker of Truth."
Growing up in the Bronx, the child of academic parents, Tweli's childhood was filled with opportunities for self advancement, including attending an elite boarding school in Connecticut.
"I come from a family that's very focused on education," he said. "There were lots of trips to the library and to the museum."
That cultural exposure, coupled with a voracious reading habit, informs Kweli's songs, which are more likely to touch on issues spirituality and social consciousness as they are some of the more thuggish topcs covered by many of his contemporaries.
For Kweli, staking out his own, unique claim in the hip hop galaxy isn't just a point of pride; it's been his calling card from the time he started reciting the poetry he was writing while working in a New York City bookstore as his own raps.
Not that it's always easy being the messenger of social awareness. As his fame has grown—none other than Jay Z has cited him as the best freestyler on the scene—so has the backlash from some fans who resent his topical material.
The result has been some high-profile Twitter wars. But you don't want to get into a war of words with Kweli.
"I think you get to a point where you have 100,000 followers and you get the point where people follow you because you're famous," he said. "I'll say something that might be opinionated, and they'll come at me crazy.
"But I like to be leading these kinds of debates."
Note: Video contains profanity.