Posted on
Sun, Jul 4, 2010 : 5:41 a.m.
A homecoming for Tally Hall
By Martin Bandyke
Formed in Ann Arbor over seven years ago by five University of Michigan students, Tally Hall is known best for its whip-smart music and thoroughly enjoyable stage presentation.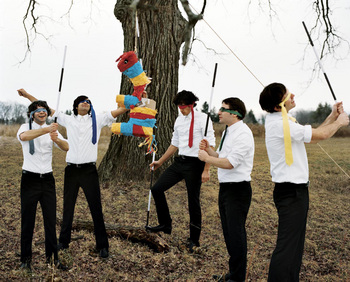 Photo courtesy Atlantic Records
Their catchy songs and appealing look had them seemingly on the road to rapid stardom, especially after signing to the world-renowned Atlantic Records label. But due to a combination of many factors, including the dramatic downsizing of the record industry, the exponential increase in illegal music downloading, and the tremendous decrease in album sales, Tally Hall has not yet become a household name like the Dave Matthews Band or Jack Johnson. And due to circumstances far out of the group's control, Tally Hall's second album won't be coming out for some time, which means it'll be a five-year-plus wait between its debut release — "Marvin's Marvelous Mechanical Museum" — and sophomore effort, to be titled "Good & Evil." But the good news is that Tally Hall will soon play its biggest concert in Ann Arbor since the band packed Ingalls Mall at Top of the Park in the summer of 2006. Their upcoming free performance will take place on the Ann Arbor's 107one/Sesi Mazda stage at the South University Art Fair on Friday, July 23 at 8 p.m.
I recently caught up with Tally Hall's guitarist Rob Cantor and keyboardist Andrew Horowitz, who spoke to me by phone from Brooklyn, New York — the group's home since moving from Ann Arbor in the fall of '08.
Q: So what's with the reason behind this incredibly long gap between albums? A (Rob Cantor): Basically Atlantic is a typical major label, a big corporation which traditionally moves pretty slowly. We're working on a couple of related, but not Tally Hall, music-oriented projects. The Tally Hall release is not until 2011 at this point. But the label remains excited about the CD. That being said, we're not a top priority for them. It's encouraging that people are still interested in the new CD despite the delays. The re-release of "Marvin's" on Atlantic was in 2008, with the CD originally out in late 2005, so yeah, it's been a long time. It's been tough, but we've got these other things going on. We remain excited about Tally Hall.
A (Andrew Horowitz): They don't want to release anything that doesn't have a chance to succeed. They're getting everything perfectly lined up before moving forward.
Q: Are you excited about being back before a big crowd in your hometown of Ann Arbor? A (Rob): Oh yeah! We'll be playing old stuff, new stuff and a new cover or two. I miss Ann Arbor, I love Ann Arbor, I think about it all the time. The city is the perfect mix between city and rurality.
A (Andrew): I love Brooklyn because you have access to so much going on here, but there's something about Ann Arbor that's charming and peaceful and has a good spirit.
Q: Having had a listen to "Good & Evil," I think it's a stunning leap forward for you, far more sophisticated and serious in tone than "Marvin's." How would you describe it? A (Andrew): It's definitely a more mature album. We wrote the first album while we were college students and the goal of our band was only to play at fraternities and shows on campus. This new one we made knowing it would be heard by more people and with five years behind us. It's mature, darker, but still Tally Hall.
A (Rob): The songwriting grew and there's more of an intuitive sense to the new CD. It's safe to say we all feel like we've improved as songwriters and recording artists. We've come a long way, been through other challenges and other projects and honing our skills.
Q: Who did you work with on "Good & Evil?" A (Rob): We produced "Marvin's" on our own, while this CD we did with a producer named Tony Hoffer. That was a tremendous learning experience, an opportunity to take Tally Hall to the next level. Things came out in a pretty serendipitous way; we initially made a list of dream producers, just totally idealistic. He was way up on the list, and one of the guys in our management company sent demos to his manager, which got through to him. He emailed us saying that he liked them and wanted to hear more. When I go back and listen to "The Life Pursuit" by Belle and Sebastian, produced by Tony, the songwriting's great and it sounds amazing. He's also worked with The Kooks, The Thrills, and he mixed the last Depeche Mode album, and has also worked with Beck. He's got quite a cool sense of sound and with his catalog of production work we were all drawn towards working with him.
Q: This seemingly endless wait between albums must be incredibly frustrating. Between that issue and the fact that "Marvin's" did not get nearly the attention on a national level it so richly deserved, you have every reason to be upset, bummed out and depressed. What has kept you going through these tough times? A (Rob): We all believe it's going to work out; we've been fortunate through all the stormy weather to make enough money to stay afloat financially. Beyond that it's self-belief.
A (Andrew): We're still making a living creating music, and as long as we're getting by and paying the rent we're good to go.
A (Rob): The upside, if there is one, is that we're all still young and still enjoy doing it. Endurance and perseverance gets us through.
Martin Bandyke is the 6-10am morning drive host on Ann Arbor's 107one. Follow him on Twitter @martinbandyke and at his web site.
Tally Hall performing "Ruler of Everything" for LaundroMatinee: