Posted on
Sun, Jul 8, 2012 : 8:45 a.m.
Derek Trucks talks the blues ahead of Hill Auditorium date for Tedeschi Trucks Band
By Kevin Ransom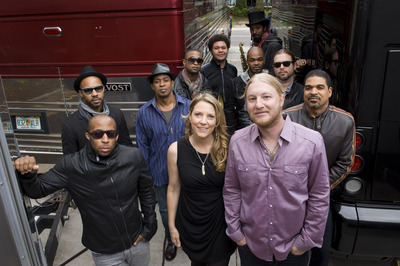 Derek Trucks
and
Susan Tedeschi
are definitely on the same wavelength. In addition to sharing a love of the blues, R&B, roots-rock and jazz, they're husband and wife, for 11 years now. And for most of that time, fans and critics often urged them to combine their considerable talents and form a band together.
Indeed, Trucks has been one of rock's most expressive and exciting guitarists of the last decade—both with the Allman Brothers Band and in his own ensemble, The Derek Trucks Band. And Tedeschi has a soulful, grainy voice that frequently recalls Bonnie Raitt's similarly evocative pipes—although she also sometimes sounds like she's channeling Janis Joplin—in addition to boasting some serous guitar chops of her own.
The wishes of those fans / critics finally came true in 2010, when the couple formed the Tedeschi Trucks Band—and immediately hit the musical jackpot. Their 2011 debut, "Revelator," earned them across-the-board critical hosannas, and a Grammy Award for Best Blues Album.
And after touring for almost two years, the band's sound has coalesced into something that, while it contains familiar elements, is also uniquely their own. For starters, their band is a big one: It has 11 members, including two drummers, a three-man horn section and a second vocalist.
After spending more than 10 years in the Allman Brothers, the double-drummer package seemed to be a no-brainer for Trucks: The Allmans' two drummers—Butch Trucks (Derek's uncle) and Jaimoe—have always created intricate polyrhythms that gave the band one of the most exhilarating rhythm sections in rock 'n' roll.
PREVIEW
Tedeschi Trucks Band
Who: An 11-piece band, led by a married couple—singer-guitarist Susan Tedeschi and guitarist Derek Trucks.
What: Drawing on a deep talent pool, the group delivers a heady synergy of rock, blues, funk, soul, jazz and world music.
Where: Hill Auditorium, 825 N. University Ave.
When: Friday, July 13, 7:30 p.m.
How much: Ticket prices are: $29.50, $45 and $65. Student tickets available for $19 (in person w/ ID only). A "family 4 pack" is available for $100. Tickets are available at the Hill Auditorium box office, Michigan Union ticket office or online via www.mutotix.com.
"Yeah, there's just something about two drummers that's really powerful," says Trucks, who comes to Hill Auditorium with his bandmates on Friday. "When it's done right, like in the Allmans, it's really magical, so after that experience, I just had to give it a shot.
When Trucks and Tedeschi decided to form the group, they initially figured it would probably be a five-piece. "But the more we thought about it, we concluded that if we were ever going to put together our dream band, one that could play a lot of different styles, we should just do it now, instead of waiting," says Trucks by phone from a tour stop in Calgary.
"We were also thinking about our favorite bands, like the Band, and Delaney & Bonnie, and Joe Cocker's "Mad Dogs & Englishmen" band. We liked the idea of a musical collective—a band that had a lot of talented people who could all contribute."
As great as "Revelator" was, the band really shows off its deep talent pool—and mercurial improvisational chops—on the group's new live album, "Everybody's Talkin'." Between the two drummers, the three horns and two singers, the band can indeed take flight into many different directions. And they do—they create a heady mix of blues, soul, jazz, rock, funk and world music.
In addition to extended versions of a few songs from "Revelator," the live album includes interpretations of several well-known songs by other artists: Stevie Wonder's "Uptight," John Sebastian's "Darling Be Home Soon," Fred Neil's "Everybody's Talkin'" (which was a huge hit for Harry Nilsson in 1966), the oft-covered blues nugget "Rollin' and Tumblin'," and "Wade in the Water," the gospel classic.
On seven of these live cuts, the group takes the songs, including the covers, and uses them as springboards into discursive, cosmos-scaling improvisations that clock in at between 10 and 16 minutes long.
On these free-wheeling improvs, Trucks' guitar work is spectacular. At some points, he just tears it up. At other times, his fills and solos are flowing and eloquent. Indeed, this record gets my vote for best rock-guitar album of the year thus far.
And frequently, Trucks' guitar work truly does conjure the spirit, tone and phrasing of Duane Allman's brilliant playing, which is sure to bring a smile to the face of any Allmans fan.
"Yeah, Duane was my first and biggest influence," says Trucks. Being the nephew of Butch, one of the Allmans' drummers since the beginning, in 1969, means he was surrounded by the group's music. "The albums my dad played the most when I was a kid were 'Live at the Fillmore East,' 'Eat a Peach' and 'Layla,'" recalls Trucks fondly.
Those first two are the Allmans' most legendary albums, and the third (full title: "Layla and Other Assorted Love Songs") was the equally iconic album by Derek & the Dominos that showcased the dazzling guitar interplay between Eric Clapton and Duane, who was an "unofficial Domino" on that disc.
"Many, many nights, I fell asleep to those albums, so the sound of Duane's guitar was really ingrained in me. So when I joined the Allmans (in 1999, after the departure of Jack Pearson), and I was up there onstage, with those two drummers, and hearing Gregg (Allman) singing….Well, I just instinctively went to that source - the sound of Duane's slide guitar is what I heard in my head. So that has sort of become my default setting," he adds with a laugh.
It's a default setting most guitarists would kill for.
On a few of the extended improvisations, though, the horns take over, leading the band into jazz-rock terrain, evoking some of the fusioneque sounds of the 1970s. Elsewhere, the horns employ tight, punchy arrangements to create a simmering, slow-burn Memphis-soul sound.
Meanwhile, Tedeschi employs her gritty, smoky voice to imbue some songs with a riveting emotional intensity—but other times, she downshifts, so that her phrasing and delivery are more supple and seductive.
One of the album's greatest pleasures is the interpretation of "Rollin' and Tumblin'." It's been covered so many times that one would think there's nowhere new to take it. But they give it a new melody, turn it into a jumping, Latin-inflected shuffle, featuring a growling, low-note solo from Trucks, and a blowzy sax. And Tedeschi's vocal performance is simultaneously playful, sassy and enticing.
Throughout the album, the interplay between Trucks' guitar and Tedeschi's voice is intuitive, almost telepathic—which really shouldn't surprise, given their emotional connection.
"When I play, I like reacting to, and adapting to, Susan's voice, and feeding off of it, and framing it, especially when I'm playing slide guitar, when it's almost like two human voices interacting," says Trucks. "And, I'll tell you, she's one of the greatest singers any musician could ever want to play with."
Kevin Ransom is a freelance writer who covers music for AnnArbor.com. He can be reached at KevinRansom10@aol.com.