Posted on
Mon, Nov 5, 2012 : 7:30 a.m.
'Tellabration' storytellers keep an age-old tradition alive and well
By Jennifer Eberbach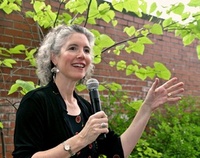 As old as time, storytelling plays many roles in human society. Since long before TV and internet, even before we started writing things down, telling stories to each other is how we share knowledge, entertain our friends, and pass ideas down through the generations.
"I think telling and listening to stories is one of the things that makes us human. It connects us with something very ancient," says Ann Arbor Storytellers' Guild member Laura Lee Hayes.
For 21 years, The Ann Arbor Storytellers' Guild has been celebrating the art of storytelling with "Tellabration." Tellers from the Guild will share all sorts of true and fictional stories at two concerts this November, one geared to adults and the other for the whole family.
"Tellabration #21" will start on Nov. 9 with a "Evening of Storytelling for Grown-ups," beginning at 7:30 p.m. at Trinity Lutheran Church (1400 W. Stadium Blvd.). Young people are welcome, however the stories will mostly appeal to adults and children over the age of 14. Proceeds from the show, $10 per person, will help bring storytellers into local schools.
On Nov. 11, for free, imaginative children's stories that the whole family can enjoy will be told at the Pittsfield Branch of the Ann Arbor District Library (2359 Oak Valley Drive), beginning at 2 p.m.
"We have people in the Guild who love to get up on stage in the limelight and share stories. They work really hard to craft these stories to be really special and listenable," says Hayes, the Guild member in charge of "Tellabration" this year. Tellers with backgrounds in teaching, libraries, acting, and even a couple of storytellers who tour nationally are among this year's "Tellabration" participants.
The storytelling concert on Nov. 9 will feature host and guest teller Laura Pershin Raynor, whose stories often center on her family, including a pet parakeet. A librarian and storyteller at the Ann Arbor District Library, she performs across the country and has released 2 CDs of her stories.
Raynor is joined by Guild members Star Burton-West, Lyn Davidge, Jill Halpern, Yvonne Healy, Linda Luke, Glen Modell; and Hayes says that she plans to tell a story about her year working for a circus. Beverly Black will play harp music.
"When I look at the list of storytellers at the adult concert, I see how there are so many different kinds of stories this year—personal stories, traditional folktales, even a Spoonerism," Hayes explains. Some of them are telling "Coming of Age" stories that fit this year's suggested theme.
The free family concert on Nov. 11 will feature Guild members Jeff Doyle, Darryl Mickens, Judy Schmidt, and Kathleen Wright. Their stories, mainly geared toward the children, should also appeal to the whole family.
Hayes thinks parents and grandparents who listen to the children's stories may learn a thing or two about how to tell stories to their own children. "We all have a lore of stories that grows more and more as we become older," she says.
Although "storytelling outside of the home got lost for a while," Hayes has seen "a real revival" in public storytelling.
"There are all sorts of storytelling happening out there at clubs and venues, and festivals like the National Storytelling Festival in Jonesborough, Tenn. really supports storytellers, even things like speakers using storytelling to keep a business luncheon a relaxed and engaging time," Hayes says. Between libraries, school, entertainment venues, business meetings, and the kitchen table, storytelling still happens all over the place.
Another way storytelling has spread is through "Tellabration" events, which were originally conceived of by the National Storytellers' Network. Events similar to the one held in Ann Arbor are thrown all over the country, around Thanksgiving time, by groups such as the Ann Arbor Storytellers' Guild.
Locally, the Ann Arbor Storytellers' Guild keeps the oral traditional alive by throwing public concerts and house concerts. They hold workshops, help bring national storytellers into schools, and gather members at meetings where they share stories and give feedback to each other feedback.
In contemporary times, we get a lot of stories from TV, movies, or video games. Hayes is a bit concerned that these forms of storytelling do not engage the audience in the best way possible. Staring at the tube is a very passive way "listening" to stories, so to speak.
On the other hand, "going to see a storyteller in person is more interactive as an audience member. There is nothing better than relating to someone face-to-face," she says.