restaurant review
Indian offerings at Temptations live up to its name
Posted on Thu, Nov 26, 2009 : 5:51 a.m.
When a restaurant in a Washtenaw Avenue strip mall gives driving directions from Chicago, it's thinking big.
But it's not pie in the sky for Temptations, the North Indian restaurant that reopened last month in Fountain Plaza, just east of Golfside Road in Ypsilanti, to envision a grand following. I loved this restaurant in its first incarnation, and after two visits to the new Temptations, I think it's entirely possible that in its second coming (it retains one previous owner, Joydeb Bose, but otherwise has new culinary and managerial personnel) it will succeed — locally, if not necessarily across state lines. A team of celebrity chefs and University of Michigan MBAs run the show, and at its best, the food is extraordinary.
Angela J. Cesere | AnnArbor.com
Though the restaurant is now configured slightly differently than the original (there is a lounge that serves light snacks and buffet and offers WiFi), the space itself still holds little appeal. A cavernous, big-box room with concrete floor conspires to make conversation difficult when the place is crowded (get a booth if you can); when it's not, you have time to observe the mismatch of ornate chandeliers and '50s-style hanging lights dangling from the high, black-painted ceiling with its exposed ductwork. Call it funky, and you might actually enjoy it.
But it's the food you'll come here for, if everything works out right. Things did not work out so right on our first visit. The restaurant had been serving buffet for the first few weeks of its young life, and my party of five showed up at 7 p.m. on the first Saturday evening — a busy football Saturday evening — of full dinner service from the huge menu. The kitchen was simply overwhelmed.
But our server was apologetic, and what eventually showed up — perfectly pitched to our "medium hot" request — ranged from good to excellent. Best were a superb dish of baby eggplants bathed in a rich, delicately flavored cashew sauce; a fascinating grilled paneer appetizer (Sikandari Paneer Shashlik) unlike anything I'd had before; and another gobbled-up appetizer, "Chicken 65," tiny nuggets of sauteed white meat tenderized by a yogurt and spice marinade and flavored with curry leaf, served with an onion and lemon garnish.
The halwa I ordered for dessert — carrots cooked in milk with cardamom and raisins to make a rich sweet pudding — was warm and so tasty that everyone grabbed a spoon to help demolish the orangey mound.
A few nights later, arriving with a foursome for a weeknight dinner, we had even greater success. The place was quiet, and we had asked for a booth. The kitchen had recovered its equilibrium. Complimentary appetizers arrived — little slivers of warm-spiced chicken on lettuce and larger vegetable patties than before. We ordered, and 20 minutes or so later, the dishes started arriving.
We hadn't bothered with ordering more appetizers (from the category the restaurant calls "Snacky Choices," a locution I know I'll be using in the future); we just cut to the chase. And we were thrilled with what arrived.
There was the eggplant pasanda, a welcome repeat from Visit No. 1; tender, moist tandoori chicken, with grilled vegetables, including chiles, replacing the usual raw onion; fabulous lamb (Lamb Methi) in a creamy onion and fenugreek leaf-flavored sauce; earthy spiced cooked lentils (Dhaba Dal Tadka); and Shrimp Kovalam, in a coconut sauce spiked with curry leaves and crunchy slivers of ginger.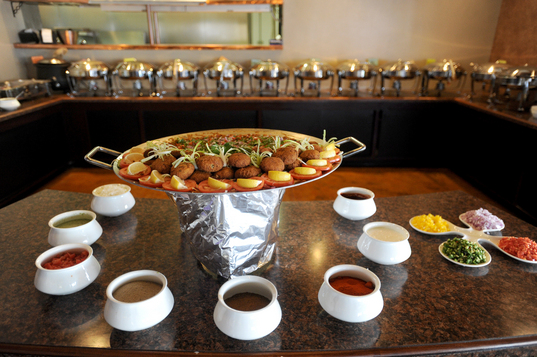 Angela J. Cesere
Each was distinct — no one-sauce-fits-all restaurant, this one — and we mopped our plates with excellent warm breads (the garlic-cheese naan was particularly good, though we also enjoyed the crisp papadum wafers, grilled rather than fried). It was a meal worthy of a journey — from Ann Arbor, for now, and maybe someday, from Chicago.
Temptations Authentic Indian Cuisine 2876 Washtenaw Avenue, Ypsilanti 734-434-4709 Temptations web site Hours: Daily, 11 a.m.-10 p.m. Limited lunch menu, plus buffet and snacks in lounge all day; enormous dinner menu. Plastic: Yes. Liquor: Not yet. Prices: Moderate; most appetizers are $3-$7; main dishes in the $10-$15 range. Value: Excellent. Noise: Very difficult to hear when the restaurant is crowded. Smoking: No Wheelchair access: Yes.