Posted on
Thu, Aug 26, 2010 : 5:46 a.m.
Terry B's establishes itself as an outstanding destination in Dexter
By Julie Halpert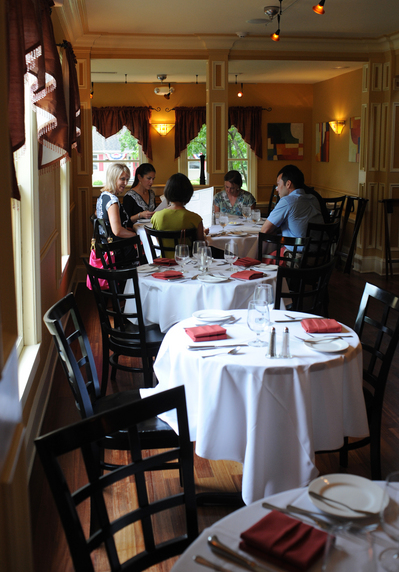 Melanie Maxwell | AnnArbor.com
When Terry B's Restaurant & Bar first opened four years ago, it immediately jumped to the top of my list of favorite restaurants in the area for its sophisticated ambience, variety of menu choices, impeccable service and most importantly, innovative, delicious food, beautifully prepared. Now, three years later, I was curious whether it still has what it takes. After a recent visit there, I can say that the answer is an unequivocal "yes."
Terry B's is an upscale, contemporary-looking former farmhouse located a block from Dexter's charming downtown, making it feel like a mini-getaway for those of us from Ann Arbor. There are large, open rooms painted in shades of burnt orange and mustard yellow. There's also a quaint outdoor patio that's open during the warmer months. You immediately hear swarms of voices as you enter, and that's the only significant drawback here: the noise factor. It's so loud it's often tough to hear your dining parties when this place is crowded.
I'm always impressed that, despite the fancier cuisine and higher-end prices, this restaurant seems to attract such a large range of clientele, from older folks to families with very young children. A children's menu offering several kid staples for $5 each is undoubtedly part of the attraction. There's not an air of pretension here and everyone, regardless of age or palate preferences, seems welcome.
RESTAURANT REVIEW
Terry B's Restaurant & Bar
7954 Ann Arbor Street
Dexter
734-426-3727
Terry B's in AnnArbor.com restaurant guide
Hours: Tuesday through Saturday, 4 p.m.-10 p.m. Closed Sunday and Monday.
Plastic: Visa, Mastercard, American Express, Discover
Liquor: Yes.
Prices: Expensive. Entrees start at $21 and don't include soup or salad, which can be ordered for an extra $3.
Value: Very good.
Noise Level: Loud.
Wheelchair access: Yes.
Terry B's seems to have no particular regional cooking theme. Some dishes feature Asian spices and sauces, while others are traditional American. But what was consistent on our recent visit was the incredible melding of flavorings that made all our meals superior.
Terry B's manages to masterfully prepare a large variety of dishes. The chef takes standard items like seafood, meat, pasta and chicken and combines them with unusual ingredients and seasonings for a perfect result.
Having said this, we encountered one deficiency: the fried olive "martini." The presentation was clever. Olives stuffed with boursin and blue cheese were set on toothpicks, dunked in a vodka tomato chutney and served in a martini glass. But the combination of these flavorings didn't work well, resulting in a bitter taste.
The other two small plates we ordered were great. The calamari had a delightful, sweet crust, thanks to the inventive addition of pecans and Bourbon ginger syrup. Green apple and melon slaw provided a refreshing, citrusy accompaniment. Thai dumplings also had an element of sweetness from a coconut broth.
Even the basic house salad was a standout, ample and hearty, with a plethora of fresh ingredients. Instead of being tossed, the several components were placed adjacent to each other, so you could pick and choose your favorite elements. There was no hunting for the big chunks of bacon pieces.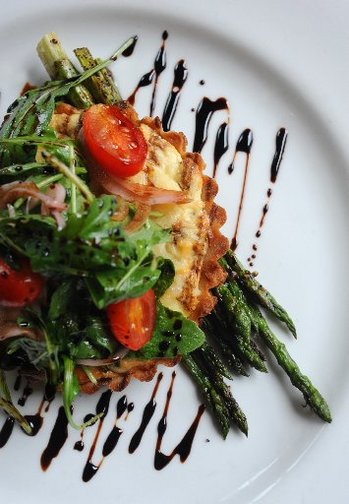 Melanie Maxwell | AnnArbor.com
Entrees are brought out with great fanfare, a visual delight, served on sparkling white China, with sauces drizzled artistically on the plates. Some, like the angus reserve filet mignon and the sesame and wasabi crusted ahi tuna, were stacked in a perfect square formation, pyramid style.
The food tasted as good as it looked. The tuna was tender, accented with an appropriate sweet soy sauce and further enhanced by the soothing flavors in coconut and cashew jasmine rice. The filet was a top-notch piece of meat, made even better by the rich, creamy, lightly friend Vermont cheddar and potato croquette, which I would have happily ordered as an entrée on its own.
The seafood cavatelli pasta tossed giant pieces of scallops, shrimp and mussels in an appealing basil, olive oil and white wine sauce that was flavorful, but not too rich. My goat cheese and caramelized onion tartlet proved to be a hearty vegetarian option with a crust that had a pie-like sweetness. The cheese was a bit too strong, overpowering the artichokes and asparagus, which were difficult to decipher.
For desserts, which change daily, we dug into yet more mouth-watering offerings prepared in-house. I especially enjoyed the peanut butter s'more, which had a peanut butter graham-cracker crust laid under a chocolate almond brownie, with peanut butter fudge gelato and house-made marshmallow on top. But the highlight was the most creative concoction: muffin pudding: a berry muffin made into bread pudding, with a warm vanilla cream sauce and a scoop of blueberry chocolate chip gelato — simply heavenly.
Service was generally great, though our server was admittedly anti-vegetarian, so it was tough to get his take on some of the entrees.
My impressions of Terry B's remain unchanged from when I first visited. This restaurant is not to be missed if you're eager to experience a first-class dining experience.
Julie Halpert reviews restaurants for AnnArbor.com.