Posted on
Mon, Mar 25, 2013 : 10:10 a.m.
Thao Nguyen of the Get Down Stay Down talks about inspiration, new album ahead of Ark date
By Martin Bandyke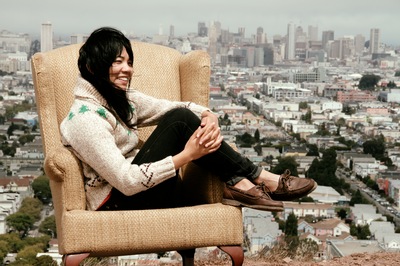 photo by Lauren Tabak
Thao Nguyen
has made a good impression in the field of indie-rock, drawing strong notices for her work as the leader of Thao & the Get Down Stay Down, who make their Ann Arbor debut
Thursday at The Ark
. But the Virginia native, currently living in San Francisco, also has a good heart and a concern for the less fortunate. Her extensive volunteer work has included visits to a California woman's prison, assisting at food shelters and providing post-Katrina relief help in New Orleans.
Nguyen has spent close to a decade playing and recording music, collaborating along the way with fellow singer-songwriters Andrew Bird and Laura Veirs, plus the noted producer Tucker Martine (My Morning Jacket, the Decemberists, Sufjan Stevens). On her way from a gig in Denver to engagements in Austin at last week's SXSW Festival, Thao Nguyen (pronounced Tow - as in towel - Win) spoke to me in detail about her new release, "We The Common:; the subject of the album's title track; and why she loves the songs of Smokey Robinson so much.
Q: What led you into playing music? Was there a lot of music around your house?
Thao Nguyen: Not particularly, no. I taught myself guitar when I was a kid. When I was younger there was music being listened to, of course, but no one played a musical instrument in my house. I just played guitar to keep busy. I always wanted to be some sort of performer, some sort of entertainer, from a very young age. When I first started listening to Motown I became more enamored of the idea. And then watching blues, folk and country players, I slowly began to realize it was a possibility for me. I was 12 or 13 when I wrote my first song.
Q: John Congleton, who's worked with everyone from Modest Mouse to Marilyn Manson, produced your new album, "We The Common." Why did you choose him for this project?
T.M.: John Congleton is an amazing producer and I've always been a fan of his work. The sounds he can wrangle are incredible, and we've been talking for years about the possibility of doing a record together. It was a matter of sorting out the schedule. I'm a big fan of (singer-songwriter) Bill Callahan, and that's what drew me to Congleton's work (Congleton produced Callahan's latest album Apocalypse). We have mutual friends and I'd heard great things about him. We were very well aligned in what we wanted to accomplish with this record.
Q: Was there a certain aesthetic or philosophy or guiding principle you stuck to when you went into the studio to record "We The Common?"
T.N.: I wanted this record to better convey our live energy and I wanted more of an element of rawness and a sense of vitality. Songwriting-wise it's more of an outward-looking album and it ended up all the songs had to with harnessing a collective energy. John and I are also big fans of '90s hip-hop, so we listened to a lot of that, and wanted a similar type of rhythmic focus on the record.
Q: The title track on "We The Common" is dedicated to Valerie Bolden, a woman you met during your prison advocacy work. What inspired you to write a song about her?
T.N.: It's inspired by our first conversation during my first visit to the California State Prison for Women. When we would go on advocacy visits, we would spend the whole day there; you'd get about 45 minutes per person. I couldn't stop thinking about our conversation. We just hit it off; it was a very lighthearted, connected conversation punctuated with very poignant moments. It was very sobering and really impactful to me to talk to someone who knows their future for the most part and will most likely be there indefinitely. She told me she didn't want to die in prison. There was an amazing humanity in the conversation, something I'd never experienced before, and it made me want to write a song about it. For a lot of the folks there it's a matter of resources, and if they had better resources they would never be in that position. They're people, not monsters, and it could easily be us.
Q: "We The Common" features the acclaimed indie singer-songwriter Joanna Newsom contributing vocals on the song "Kindness Be Conceived." How did that come about?
T.N.: We met at a songwriters retreat called Hedgebrook, a nonprofit organization that provides space for women writers. It takes place on a farm on this island north of Seattle where every writer gets their own cabin. You write all day and at night you meet up for dinner. I had just finished the song and demoed it on my iPad and asked her to sing on it. She sounds amazing.
Q: Tell me about as ongwriter that you consider to be at the top of his or her craft.
T.M.: Yeah, there are a few songwriters I have the utmost respect for. The one I hold as a true beacon is Smokey Robinson. Things like "You Really Got a Hold on Me" influenced my songwriting a great deal. I definitely claim Motown songwriters as one of my major influences because of their ability to juxtapose joy and melancholy in the same song. I've always been attracted to that. Lucinda Williams, Bill Callahan and Elvis Perkins are heroes to me as well.
Thao & the Get Down Stay Down play at 8 p.m. Thursday, March 28 at The Ark, 316 S. Main St. Sallie Ford & the Sound Outside open. Tickets ($15) are available at The Ark box office or online.