Posted on
Tue, Dec 6, 2011 : 11:11 a.m.
The best and worst laundromats in Ann Arbor
By Richard Retyi
It's not unfortunates who do laundry at a
laundromat
, but it's unfortunate that people have to use them. Don't get me wrong — in principle I have nothing against sharing economy-sized super washers with the rest of Washtenaw county — but I prefer sharing the boring top-loader on the second floor of my apartment building with the 10 other people I occasional nod to in the hallway.

Since college, I've only been without access to laundry facilities twice. Once was in an area north of downtown Chicago called Ravenswood and the other was in Jacksonville, Fla. The laundromat experience was so wretched in Ravenswood that when I had to seek outside laundry help in Jacksonville, I found a nice place that washed your clothes and charged by the pound.
I don't like laundromats, but I realize people have to use them. One of those people is my pal C. Jason DePasquale. I see him check in on foursquare at one of Ann Arbor's premier laundromats — Mr. Stadium — every once in a while. His check-ins had me missing the good old days of Ravenswood. I wanted to see how times had changed. I wanted to see if Ann Arbor was different. I wanted to slum it.
Jason agreed to accompany me to three different businesses to give three laundromats a spin. Here is our unscientific appraisal.
1964 S. Industrial, Ann Arbor
Open 24 hours

Sunday night, 8:40 p.m.
I knew this place would be different when I walked through automatic doors (!) and saw a wireless password printed on the wall. After an hour I felt like I was in Vegas. It was hard to tell what time of day it was; there's the constant sound of coins tinkling on metal. I was compelled to make unhealthy choices — eating two bags of chips, a package of Twizzlers and feeding money into the Sweet Shoppe Grabber, a machine where you steer a claw and grab candy.
There's even something called the Lucky Leprechaun that sells bouncy balls for 75 cents but proclaims, "Will the lucky leprechaun return your quarters?" The five-foot-tall machine with its cartoon leprechaun holding a giant quarter with a whistle in its mouth would fit right in next to the slot machines at the Tropicana.

Mr. Stadium is big and clean with plenty of places to sit, read magazines or do homework. A family sat in a booth eating fast food while a hipster boy wearing flip flops with ear buds blocking out the world banged away on his laptop.
You can't escape Mr. Stadium's tagline — "Since 1972." It's everywhere. On the nine giant floor mats (I counted), on all the walls, on a framed article from the Kevin Costner film The Upside of Anger which featured a few frames of Mr. Costner wearing a Mr. Stadium T-shirt. You can buy your own for just $9!
Mr. Stadium is the Cadillac of Laundromats. Clean, huge, full of candy and with a giant television showing sports. I can see why Jason frequents this place.
Pricing
Magnum load: $5.75
Super XL washer: $4.75
Triple load washers: $3.75
Maytag top load washer: $1.75
Big driers: Five minutes per quarter
Small driers: Eight minutes per quarter
Specials: Every Wednesday and Friday is Milnor Time — triple loaders are only $2.75
Highlights: Mr. Stadium brand purified water for sale; the internet is strong enough to stream Netflix; even the bathroom is nice.
Lowlights: It's a little disconcerting that there are so many red emergency stop buttons on the washers and driers.
2750 Jackson Ave., Ann Arbor
A handwritten sign says they now close at 11 p.m. I don't recall seeing when they open.
Tuesday night, 8:35 p.m.
A guy climbs into an old Mercedes with the smashed front end and a backseat packed to the ceiling with clothes. In a decent-sized parking lot with just three cars in it, he's parked diagonally across two spaces. When he pulls out, the Mercedes cuts through the night with one headlight missing and a taillight out. That's my frame of reference for who uses Super Suds.
Have you ever stood with a friend in a Laundromat watching Keeping up with the Kardashians on mute while listening to 104.3 WOMC? I have. No wireless at Mr. Suds — rather they have an old blue iMac that was cutting-edge technology in 1998. I'm pretty sure it wasn't operational. Also not operational was the one Coke machine in the place or the vending machine beside it, which was completely empty. A 7-Up machine was lit up and appeared to be working, but I wasn't taking any chances.
Mr. Suds was also pretty gross. The dirtiest thing in the whole place was the "Clean Up Your Own Mess" sign, which was caked in grit, fuzz and hair. I don't think Mr. Suds has been cleaned since 2009 judging by the decor — no fewer than nine Block Ms pointing to a framed Michigan football poster from 2009 featuring Ann Arbor legend Rich Rodriguez.
If I didn't trust the decor, I certainly wasn't going to trust the machines. Some had buttons taped off, some were out of order and Jason used the one with a "Slam Door" sign taped to it. We were the only ones in the whole place, and I salute Jason for being brave enough to do his laundry here. I passed.
Pricing
50-pound Huebsch washers: $4.25
Triple load washers: $3.25
Wascomat Junior washers: $2
Speed Queen top load washers: $1.75
Maytag top load washers: $1.75
Big driers: Seven minutes per quarter
Specials: None listed
Highlights: February 15, 2010 issue of Star Magazine with Angelina Jolie and Johnny Depp on the cover.
Lowlights: Everything else.

4890 Washtenaw Ave., Ann Arbor
Open 24 hours
Wednesday night, 8:02 p.m.
Washtenaw Wash is like Laundry University. No fewer than 47 signs cover the walls or hang suspended from the ceiling — everything from "Clothes Extra Dirty? Then Select Special Wash" to an LED board with scrolling messages like, "No running. No horseplay." The signs tell you what temperature will be if you choose a hot drying cycle (190 degrees) and how many loads each machine can handle and offer other helpful tips.
Located on busy Washtenaw Avenue, Washtenaw Wash was the busiest of the three laundromats visited and the only laundromat we visited that had screaming kids in it, but it didn't detract from a mostly positive experience.
This is the place to come if you want to start your wash and then get something to eat. It's next to a Burger King, Tuptim Thai and Smoke House Grill and Pub — and that's just within strolling distance. There's also a Cash for Checks store attached to the building, which you can access from Washtenaw Wash during business hours. Convenience!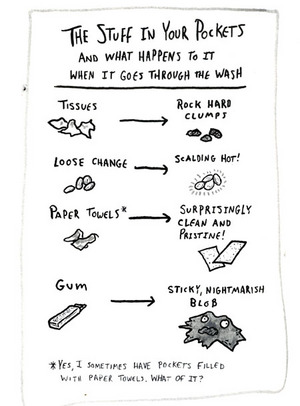 The one knock is very limited seating, but they have wireless, T-shirts for sale for just $5 (the smallest size listed is large, the biggest 3XL) and the vending machine has three trays of Oreos.
Pricing
Speed Queen small washer: $3
Speed Queen medium washer: $4.25
Speed Queen commercial washer: $5.25 and $7.75
Big driers: Eight minutes per quarter
Specials: Washtenaw Wash advertises daily midnight specials, though the attendant couldn't tell me what the midnight special was.
Highlights: Checked in on foursquare with us at Washtenaw Wash was Cheesecake K from Wayne. He holds 135 foursquare mayorships, many for things involving "yo mama" but shockingly he isn't the mayor of Washtenaw Wash. "It's kind of heartbreaking that he hasn't written any tips," Jason quipped while perusing his profile.
Lowlights: Lack of seating.
Final Unscientific Analysis
For value, Washtenaw Wash has the best prices, but Mr. Stadium wins out for the sheer number of amenities. If you have a lot of laundry to do and expect to spend a few hours in a laundromat, choose Mr. Stadium. If you have a few loads to do and want to grab some food, try Washtenaw Wash. But don't go to Super Suds. Ever. Trust me.
Richard Retyi writes the recently infrequent column Lie to Your Cats About Santa and is social media manager at Fluency Media in Ann Arbor. You can follow him on Twitter at @RichRetyi or visiting his website at RichRetyi.com. C. Jason DePasquale lives in Ann Arbor with his wife, two cats, and an unnamed fetus that is due any day. He is licensed to both teach and drive in the state of Michigan, however, he currently does neither professionally. Write to him at gurglesnap@gmail.com.