Posted on
Tue, Mar 5, 2013 : 10:02 a.m.
The Big 400 Maple Festival Pancake Breakfasts will celebrate the awesomeness of pancakes
By Ann Dwyer
Why should you head to one of The Big 400 Maple Festival Pancake Breakfasts? Because pancakes are awesome and you need more pancakes in your life.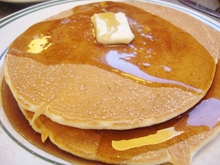 Also, maple syrup wine. Yes, it will now be a thing that exists when it is released at the event. Of course, there will also be tours of tapping areas and the syruping process, and lots of good things to eat.
One event will be held at the American Legion Post 31 in Chelsea. Enjoy a breakfast of pancakes with real maple syrup, sausage, juice, milk or coffee. Breakfast is $6 per person.
The other event will be held at McLennan Maple Syrup in Manchester. Stop by anytime on Saturday beginning at 9 a.m. for a pancake breakfast. That event is $5 for adults, $3 for children. Sides of sausage will be available for an additional charge.
Saturday, March 09, 2013. 9 a.m. in Manchester, 10 a.m.-2 p.m. The American Legion Post 31 is located at 1700 Ridge Road, Chelsea. 734-475-3170. McLennan Maple Syrup is located at 10950 M-52, Manchester. 734-428-7005.