Posted on
Mon, Mar 4, 2013 : 12:56 p.m.
The Big Hair, Big Mouth, Big Fat Fun Show to showcase drag talent
By Ann Dwyer
Shows like "RuPaul's Drag Race" have put a new spin on drag. Pulled out of underground clubs, and into the national spotlight--because they will never miss a good spotlight--audiences can see what an art it really can be.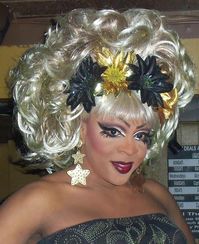 Photo courtesy Hershae.com
The Big Hair, Big Mouth, Big Fat Fun Show
at the Millennium Club wants to prove it's just that. The cabaret production will feature professional entertainers who have performed in theaters, television studios and nightclubs all across the nation. The shows run Friday nights from March 8 through May 10.
The show will star Jennifer Foxx, a former Miss Gay America, and feature Hershae Chocolatae, from "America's Got Talent," and many other drag talents. Go to see the incredible illusions with makeup and costumes, playful performances, interesting fashions and how these not-so-dainty ladies can work a pair of serious stilettos. You may just pick up a few makeup tips.
Friday, March 08, 2013. 10:30 p.m. and midnight. Must be over 18 years of age. $5 /under 21 years. $10/ 21+. The Millennium Club is located at 210 South First St., Ann Arbor, in the Cavern Club complex. 734-913-8890.