Posted on
Thu, Aug 15, 2013 : 6:05 a.m.
'The Butler,' 'Blue Jasmine' and more at the movies
By Russ Collins
Opening at the multiplex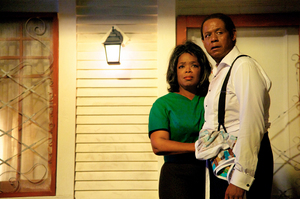 "The Butler"
tells the story of a White House butler (
Forest Whitaker
) who served eight American presidents over three decades. The film traces the dramatic changes that swept American society during this time, from the civil rights movement to Vietnam and beyond, and how those changes affected this man's life and family. Chris Nashawaty of
Entertainment Weekly
writes "As Cecil, Whitaker is mesmerizing. The actor seems to shrink into his imposing frame, summoning a performance of quiet, bottled-up force." The film reads as a "who's who" of Hollywood all-stars, featuring
Oprah Winfrey, Robin Williams, John Cusack, Alan Rickman, Jane Fonda
and many more. Directed by
Lee Daniels
, "The Butler" opens Friday.
In "Kick-Ass 2," the comical superhero (Aaron Taylor-Johnson) faces a formidable challenge in super villain the Red Mist (Christopher Mintz-Plasse). When superhero Hit Girl (Chloe Grace Moretz) realizes that the only way to save Kick-Ass is to emerge from her forced retirement, she fights back with everything she's got. "Kick-Ass 2" opens Friday.
"Jobs" tells the extraordinary story of Steve Jobs (Ashton Kutcher), the original innovator and ground-breaking entrepreneur who let nothing stand in the way of greatness. The film tells the epic and turbulent story of Jobs as he blazed a trail that changed technology - and the world - forever. "Jobs" opens Friday.
In the high-stakes thriller "Paranoia," Adam (Liam Hemsworth) is a charming, blue collar guy trying to get ahead in his entry-level job. But after one costly and illegal mistake, Adam is confronted by the company's ruthless CEO (Gary Oldman). He won't turn Adam in under one condition: Adam must agree to infiltrate the competition as a corporate spy. "Paranoia" opens Friday.
Opening Downtown
In "Blue Jasmine," after everything in her life falls to pieces, elegant New York socialite Jasmine (Cate Blanchett) moves into her sister's modest apartment in San Francisco to try to pull herself back together again. Susan Wloszczyna of RogerEbert.com says, "Blanchett fabulously goes above and beyond her duties as the wilting faux flower of the title. From her sweat-drenched underarms during a particularly intense meltdown to her mesmerizing slit-eyed sensuality whenever Jasmine gets her way, the actress is a tour-de-force tinted-blonde tornado that elevates her every encounter with a member of the movie's estimable ensemble." "Blue Jasmine" opens at the Michigan Theater on Friday.
Limited Engagements at the Michigan Theater
"Storm Surfers 3D" combines cutting-edge 3D technology and bravura filmmaking in the ultimate big-wave thrill ride. The film follows best friends and surfing legends Tom Carroll and Ross Clarke-Jones as they track and chase giant storms in their quest to ride the Pacific's biggest and most dangerous waves. "Storm Surfers 3D" plays August 16 and 17.
In "A Hijacking," a cargo ship is heading for harbor when it is hijacked by Somali pirates in the Indian Ocean. When the seamen are taken hostage in a cynical game of life and death, with the demand for a ransom of millions of dollars, a psychological drama unfolds between the CEO of the shipping company and the Somali pirates. Catch the Cinetopia hit one more time! "A Hijacking" plays August 16-18.
"Museum Hours," acclaimed filmmaker Jem Cohen's new feature, is a mesmerizing tale of two adrift strangers who find refuge in Vienna's grand Kunsthistorisches Art Museum. A chance meeting sparks a deepening connection that draws them through the halls of the museum and the streets of the city. "Museum Hours" plays August 18 and 19.
"Stories We Tell" was my favorite film from this year's Sundance Film Festival! Writer/director Sarah Polley is both filmmaker and detective as she investigates the secrets kept by a family of storytellers. "Stories We Tell" explores the elusive nature of truth and memory, but at its core is a deeply personal film about how our narratives shape and define us as individuals and families. "Stories We Tell" plays August 19 and 20.
"Blancanieves" takes the tale of Snow White and sets it in 1920s Spain, as a little girl learns the art of bullfighting from her famous father, runs away with a troupe of bullfighting dwarves, and becomes a legend. A gorgeous tribute to black-and-white silent films and winner of the Audience Award at this year's Cinetopia Film Festival, "Blancanieves" plays August 21 and 22.
Special Screenings Downtown
"Willow," from legendary filmmakers George Lucas and Ron Howard, plays as part of Summer Classics After Dark tonight, Thursday August 15 at 10 p.m.
The epic of all epics, "Lawrence of Arabia" stars Peter O'Toole in director David Lean's classic. It plays as part of the Summer Classics Film Series Sunday August 18 at 1:30 p.m. and Tuesday August 20 at 7 p.m. In "SLC Punk," Stevo and Bob are two friends who sport mohawks and blue hair, listen to hardcore punk and try to live up to their own anarchist ideals while figuring out what to do with their lives. Which wouldn't make them unusual in New York or Los Angeles, but they're fish out of water in Salt Lake City, Utah. "SLC Punk" plays Saturday August 17 at 11:59 PM at the State Theater. See you at the movies!
Russ Collins is executive director of the Michigan Theater in Ann Arbor. Tune in to the audio version of "Cinema Chat" on WEMU radio (89.1-FM) each Thursday at 7:40 a.m. and 5:40 p.m., or listen to it online at WEMU's web site.