Column:

30 Before 30: On cultivating a fighting face and fancy feet

Posted on Tue, Mar 22, 2011 : 5:25 p.m.
"You want to see me self-defend myself? Go over there and pretend to be a sexual predator. Go on, I dare you!" — Rachel on "Friends"
Being a lady is complicated. After all, we're complex creatures. We have odd plumbing, our brains are wired like a subway map, and we watch people on TV solely because we hate them.
Actually, that last applies to men, too.
Perhaps the hardest thing is that we're lesser. We're treated differently by society and by men, and it's both a crime and a shame.
While there's really no denying it, I'm not about to get up on a pulpit and rail that it's unfair — it is, but 1) it's been done, by people with much better arguments than I care to put forth and 2) it's obvious.
Not satisfied with feminist diatribes, I chose to dispense with the how and why of female subordination and get right to the so what: While I can vote for change and protest chauvinism, what happens in a dark alley in the meantime? Can a woman be expected to fend off an attacker twice her size with anything other than the argument 'it's not fair?'

In my case, the answer was, sadly, no.
I decided that 30 years was way too long to leave such a staple of survival. Self-defense may be scary, inconvenient, even embarrassing — but it's also one's own responsibility. Take a self-defense class, at least once, and get the basics. Such was my argument when I invited five other ladies to come with me for a night of bracing interaction with would-be attackers.
Come the night, I went alone to a self-defense class taught by a Russian ex-military trainer. I considered my lack of backup fairly fitting and doubly terrifying. Upon parking in the Running Fit lot, I braced myself, prepared to get Unagi.
Lee Shaykhet's class was, in a word, eye-opening. I was expecting some kind of karate moves — pressure points, using weight against your opponent, that kind of thing.
What I got was entirely different, and loads more effective: simple, three-seconds-or-less techniques, and a good dose of things to remember (what not to do, for example — which is a lot easier to remember than what to do).
After I put a six-foot-tall basketball player on the ground with barely any force, I decided the class had been worth it. (I apologized, of course.)
Although this poor man was the only male in the group, we all took a good deal of knocks — to the floor, in the head, on the leg — less soundly than they would be if played in real life, but enough to give us all a sense of what we could expect. We weren't spared, not even the girls — and I appreciated it.
Post-toughening, I realized I had accomplished another goal on the list that spoke to hardness: my first tattoo.
Eschewing dolphins, tribals and various flora and fauna in the varied colors of a Lisa Frank notebook, I instead went with three hieroglyphs on my left back: truth, beauty and the symbol of life, the Ankh. I was 21, and those three symbols summed up most of my aspirations, as well as mitigating their naivete by being in a different language.
While I've occasionally regretted them, I've never been ashamed to show them — an embarrassment scale somewhere between a classic pin-up and Baby Taz.
While I wouldn't classify physical confrontation or tattoos as male-only behavior, I realized I am more comfortable exploring 'mannish' (tire-changing, stick-driving) aspects of my list than those more 'feminine' in experience.
Makes sense: With my tendency to swear openly and fart in public, I am arguably more rough than ladylike. And I make no attempt to mitigate my behavior, but rationalize that minor steps to pretty the package may forgive a somewhat crass interior.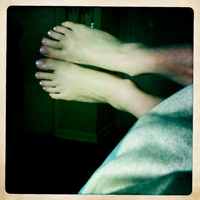 Smallwood pedicure
And so I received my very first pedicure. Without a doubt, it was much more embarrassing and more painful than the self-defense class (it took all my hard-earned Unagi not to kill an overzealous woman with her own pumice stone).
Drying under the UV light in disposable flip-flops, I felt tired and puzzled, like a bit of brick in a rock polisher, and amused myself with a quandary: Which is more likely to put me in the White House: the toes, or the tattoo?