30 Before 30: Where the finish line is 26.2
Posted on Sat, May 29, 2010 : 6:10 p.m.
It occurs to me that the things that normally end up on this list are rather epic. While my novel gathers dust on my desk, snickering and waiting for me to welsh on my promise of completion, I can at least take comfort in the knowledge that I have completed one of the physical goals. During college, I lost 60 pounds--the normal way, eating right and exercising--and while it was a wonderful choice, I never really had that one elated, Rocky-esque "climbing 500 stairs and punching the air" moment. So I decided that, along with (and unbeknownst to) my brother, I would put myself at the mercy of that midlife-crisis physical challenge known as the marathon. Specifically, the Detroit Marathon, in October 2007.

I went to bed perfectly calm and not at all freaked, which I took to be a sure sign that something was going to go wrong. I dreamt that my brother left the start line without me, because I couldn't find my shoes. Woke up on time, ate breakfast, stretched, felt good. Dann arrives, we geek out over the homemade decorations and chatter about nothing to avoid nervous barfing. We and our entourage piled into the car looking good and ready to go, our stomachs doing flip-flops all the way there.
We were able to park about 5 blocks from the starting line. It was colder than expected, so I put on the free dri-fit that came in the goody bag, hoping the long sleeves would help against the 20-mph winds. The sun is not yet up.
We said goodbye to our cheerleaders and made our way behind the Runners Only barricades. Dann scanned the signs to locate our corral; I searched desperately for a place to pee. Three blocks later, we found a huge cordoned-off area filled with about 40 port-a-johns, queues of hopping runners in front of each. Dann hesitantly asks if maybe I can hold it for a mile, as it is now 6:45 a.m.—and I affirm that I cannot run if I do not pee, since all the blood that should be keeping my body warm is keeping my bladder warm instead.
Dann and I queue up and, although it seemed interminable to me at the time, the line moves pretty quickly. Ten minutes and a probable case of Hep C later, I emerge from the port-a-john with all the energy an empty bladder endows, plus endorphins.
We hit our corral, a little surprised to find ourselves among competitive walkers. We estimated our finishing time six months ago at 6 hours, 15 minutes—far back enough to be considered "walkers." I knew our 11-minute mile training pace would put us at least 45 minutes ahead of that, so we push ahead as far as we can. But as the rules of corral-jumping were pretty strict (and I wanted to run today), we stayed just short of the dividing line. We heard the national anthem, which went more quickly than I have ever heard it. Then they played "Right Now," which Dann tells me is Sammy Hagar. I tell him it's Jesus Jones; we fight, I bet him a dollar. Next came the countdown for the wheelchair racers, and everyone cheered.
And then 16,000 people were silent. Waiting. We jumped up and down, staying warm. Sporadic wooting and hollering. Random good-lucks. Five, four, three, two …
The bullhorn rang out. The crowd rushed a few paces, then stopped. A few more, and stopping, edging to the Start Line. Then all of a sudden they moved in a wave, five paces ahead, then two, then we were running, spreading out—staying together but moving ahead. The crowd was screaming. Dann and I reached the timing mat and hit start on out wristwatches. We see our group's posterboard, a giant skull and crossbones; they see us and holler as we turn the corner. Everyone's running, most are smiling. We pass walkers. We pass runners. We're passing everyone, and we love the people ahead of us because they're here, and it isn't a race yet. It's just running.
The first mile marker is a surprise. We pass Tiger Stadium, my last chance to see it before it goes on eBay. Both sides of the street are filled with people, cheering, stomping. We keep our eyes on the road to leap discarded gloves and shirts—I keep my shirt on, not warm enough yet. There's a live act on the corner: rappers, Detroit, 7:30 a.m. I know Dann hates it and he says so, still grinning like an idiot. He can't get over the number of people, all here so early, just to run. The sun starts to come up.
For the next nine miles, we are a machine: a moving human steam engine fueled by pure energy. We come to the approach on the Ambassador Bridge, curving one way and then another on the wide, sprawling ramps meant for automobiles. We don't feel like people because here, half-asleep, the wind in our eyes, we're ethereal: one weird serpentine force, the suspension cables painting lines over our nebulous edges. The sun, sick of its pink innuendo and ready to start the day for reals, is in full glow inches from the water's surface. It's too much for anyone, even those plugged into iPods have tears streaming into their hair. Dann says he doesn't even feel like we're running. We coast into Canada, all together and never all on the ground at once. The border patrol goes wild with honking and clapping.
Miles fly by. We make defection jokes and lame "eh?" references. Across the water, Detroit looks beautiful; the GM building glinting yellow. Somewhere along the river, I need to lose the long-sleeved shirt. I have to move my race number to the undershirt, which—"safety" pins notwithstanding—means slowing down. I tell Dann to walk; he protests. I tell him to call out times every 15 seconds to make me switch my number faster. Last pin in and I'm running again, tying my shirt around my waist as I go. We pass most of those who passed us in those two lost minutes, including the 4:45 pacing team. Oh, those 4:45s; we would pass them and they would pass us—many, many times.
How long were we in Canada … 5 minutes? Forty? We're already coming up to the tunnel entrance, back to the US. Dad did his best to freak us out about the Windsor tunnel: "water pours down the walls, you can't breathe, it's completely dark!" Shockingly, none of this is true. Although packing that many people—heaving, sweaty people—into a tiny elongated space did make for a whiffy experience, we made up for it with whooping and leaping. The carbon dioxide level made it quite close—I'm not claustrophobic, but the sudden whoosh of fresh air came just in time. The tunnel opened, we stomped on the timing mat and pushed into daylight, crowds cheering from the criss-crossing on ramps above us. Lots of people, lots of signs. None were ours, but it didn't matter.
Twelve miles. The volunteers are calling the half-marathoners to split to the left, down to the Finish Line. Marathoners keep right. My ankle hurt now—it had hurt earlier, just a bit, not worth mentioning—I was starting to lean on it a bit. The half-marathoners branch off; we can hear the distant cheering for them as their race is over. Less than half the crowd is left, making us less and more impressive at the same time. Dann and I spread out—we have more than enough elbow room now—and scan the sidewalks for our people, our supporters, the Ubergrupies, who got just as little sleep as we did.
They wouldn't be there; we were early.
We hit the halfway around 9:30 a.m., 20 minutes earlier than we told the family to meet us there. We'd been running under a 10-min mile for the first nine miles or so, but now we'd slowed to pace … or rather I slowed to pace, and hollered for Dann to follow suit. Since the half-marathoners had turned, our cheering crowd had thinned out ("right when we really needed them," Dann later pointed out) and "half done" meant facing the same distance all over again, with less enthusiasm and more pain in our legs.
We made our way along the water to Belle Isle, turning onto the bridge. Here is where I start to break down. My ankle hurts; I'm landing on it too hard, and there's no real way to fix that. My legs are stiffening under the repetitive stress, and there's no way to fix that, because to keep running, I need to put one foot in front of the other, really fast, repeatedly. I start to feel incomparably stupid. Coming off the bridge, I note that my old friend Butt Cramp has come to see me through the final miles. Touching. Well, inasmuch as I am now touching my own rear, trying to massage the pain out. While running. No, there are no pictures of this.
My brother hurts, he says, but he's "pushing through it." I say he can't possibly hurt like I do, or he wouldn't be moving. He tells me to keep going, that I can do it, we're almost to mile 18. He's smiling and I hate him. Out of nowhere, a giant speaker starts the opening notes of "Break My Stride," and I actually laugh. Dann laughs, and we start singing along, and I hallucinate that the cordon around us breaks into song and gravity-defying choreography. It doesn't happen.
We hit Mile 18. I'm still in pain, but the second I see the sign I know we're going to make it. Or rather, I'm going to make it; Dann is still infuriatingly happy. I take an apple Jolly Rancher from a volunteer, choking hazard be damned, and try to focus: I think of my grandmother, who is proud of us, proud before we even started. I imagine her running next to us, and she's faster than me. I concentrate on the green sugar blob hurting my back teeth; swallowing at the right intervals helps measure my breathing. The sun is burning my right cheekbone—on the return, it'll burn my left, so there's that. I squat low to lengthen my stride, hoping that'll take some stress off my butt and hamstrings. It does: Now my quads hate me. They'll have to get in a very, very long line.
Back over the bridge, we're about to hit Mile 20. The pain is too much. I packed ibuprofen, but forgot to pin it to my shorts; it's with my mother back at the half. On the upside, my ankle doesn't hurt as much anymore. On the downside, it's because everything else hurts 10 times more, making that a very small upside. We walk through a water stop, and I take a minute—literally 60 seconds—to stretch my gluteus hater-us. Ankle circles. Twists. Anything to make the pain subside. We start again, and I realize stopping was a very bad idea; the reprieve is not worth the exquisite pain when you start going again. I'm hobbling; Dann tells me to take it slow. I don't have the energy to kill him. I hurt so much I actually sob, just once—and realize I can't cry, because I physically have no water left.
I don't know exactly when I started counting. All I know is it's the only thing that makes the pain bearable, like all these steps suddenly equal progress if I put a number on them. I can only get as high as eight before I forget numbers I learned as a child, so I go up to eight and start over—again, and again, and again. It helps. We come up on the next water stop, almost passing the small booth in front of it, with tiny little cups lined up on the tabletop—of IBUPROFEN.
"DANN—STOP!"
I dodge back to the small, wonderful table, bellowing "IS THAT IBUPROFEN?"—as if I wouldn't recognize the little burnt-orange saviors anywhere—to the ladies not four feet from my face. Yes, I am told, and given some. Dann trots over with a cup of water and we down two pills each. I may have promised to certain favors to the people at that table, which I'm sure was very flattering to the 40-year-old woman and her tween daughter; I tell you now: the offer stands.
I still hurt, but I know that in 10 minutes I won't—especially since my metabolism's on 11 and the only thing in my system is Gatorade. We round the corner and I hear the first live performance in two hours: a jazz trio playing a tinkly version of a song I know … what is it? I know I know it—it hits me, and I laugh out loud. Dann: "Is that …? "
"Girl from Ipanema," I smile. For it is. And tall, and tan, and young and lovely? The girl from Ipanema goes walking. And if you didn't know that, then you weren't running next to me; because all those people got an earload of bad karaoke as I thought of my friend Jackie, Chi-town representin', running next to me with her iPod and singing along. It fades into the uptown residential area where I am handed another hard candy whose flavor I can't identify. The high-income residents are waving from their front porches, one of whom has aimed a boom box at the street. He's playing Margaritaville. Poor runners—I'm singing again, thinking of my friend Gen. My candy, oddly, is peach.
We're getting closer now; the crowds are back. A 30-ish woman in a reflector vest is standing just before the overpass, yelling "C'mon guys—looking good, looking good!" The reply from the man behind me floats over my head, "You're not so bad yourself, ma'am!" She laughs, and we laugh, and it's the funniest thing ever for 10 whole, glorious seconds. Over the bridge, a school marching band is playing us into the 22 Mile mark. I notice I'm a few paces ahead of Dann, forcing the realization that my pain has decreased significantly. I'm telling him we're almost there, and let's run it in—I'm insane here—let's go faster! He tells me he feels dizzy; he drank water instead of Gatorade at the last stop. I tell him to keep going, make it to the next water stop, and get Gatorade even if his stomach hurts. He chugs along four paces behind me, I scan for the next stop. We get there and down one of each drink, more people than ever on the sidewalks.
The last leg through downtown. People in the streets as well as sidewalks, shouting, blowing airhorns, egging us on. We round a bend and see runners on the sidelines with medals around their necks—must be a different-class medal; it's huge—telling us it's right around the corner. Dann is really suffering now; I can hear him breathing. I start counting again, one, two, three, four, five, six, seven, eight. One, I tell Dann to breathe. Two, three, and lean back. We're almost there, just keep breathing—and he tells me to keep counting; it was helping. Heh.
We can see the Finish Line—or the sign above it, anyway: a big white banner declaring F I N I S H. People are lining both sides, just like at the start, leaning over the gated barrier to cheer for the people they drove in. We pick up speed. I'm running, and counting—yelling, at this point—and see my sister snap our pictures. Yards to go, Dann grabs my hand and holds it up as we cross over the last timing mat, the bug yellow numbers read 4:57:02.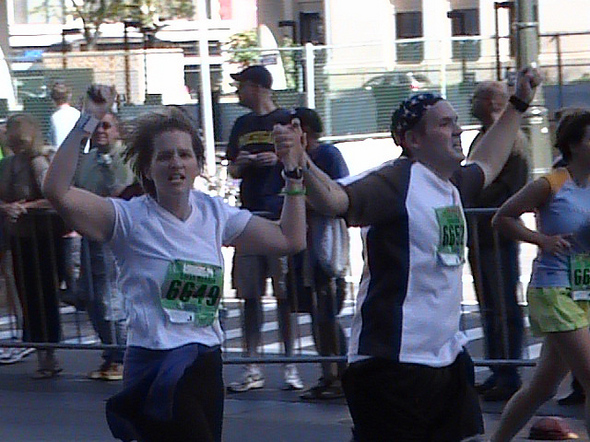 We stop. We are handed medals—the same medals as the runners from earlier, which are superlatively large. And heavy. I put Dann's over his head and he puts mine on me, because we're dorks. We meet up with the family behind the barrier; I ask Libby about "Right Now"--Van Halen. Jesus Jones sings "Right Here, Right Now." I owe Dann a dollar. Everyone is happy, and crying, and just insanely proud. Dann feels good; I feel my butt again, and I realize it'll be a long road to recovery. But we're happy, because we don't know it yet, but there's nothing left now—nothing to train for. Just a massage, nap, and pancakes, in that order.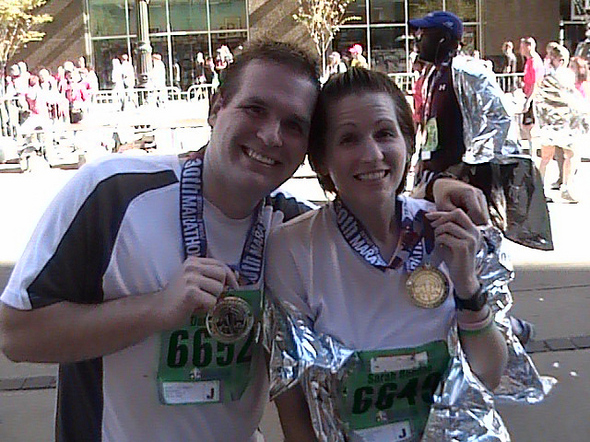 Until the next midlife crisis.